2010 Annual Meeting

The mind, once stretched by a new idea, never regains its original dimensions.
- Oliver Wendell Holmes, Jr.
An idea is salvation by imagination.
- Frank Lloyd Wright
I can't understand why people are frightened of new ideas. I'm frightened of the old ones.
- John Cage

We know what you're thinking: "I'M TOO BUSY TO ATTEND THIS MEETING. I already know everything I need to know. There's nothing new out there anyway." Oh really? Do you have more customers than you can handle? Are you making an insane profit on the work you do? Do you know about the new technologies which are changing the way materials are being converted? Have you collected all the money that your customers owe you? Are you unconcerned about your rising health care costs? Because if you answered "no" to any of these questions, you can't afford not to attend. These issues and more will be addressed by our thought leaders and your colleagues. You'll soon see how the POWER OF ONE NEW IDEA can transform your business if you will take the time to attend and participate.
As George Bernard Shaw said, "If you have an apple and I have an apple and we exchange these apples, then you and I will still each have one apple. But if you have an idea and I have an idea and we exchange these ideas, then each of us will have two ideas." Without NEW IDEAS, you are bound to your OLD RESULTS. The value of one new idea will be improvement to your operations, efficiency, or cash flow. The power of one new idea can be measured in competitiveness, saved time, clear action, and inspired leadership. Ideas are the building blocks for your success. Come see how the power of just one new idea will make attending the IADD Annual Meeting worth your investment!
Program

How to Drive Innovation/Overview of New Technologies
Thought Leader: Clint Medlock, Stafford Cutting Dies, Inc.
To innovate, you must follow a few basic steps such as determining a need, defining the solution, testing, marketing, field execution, and follow up. In this presentation, you will learn the critical points of each step. You will be given an overview of new technologies within our industry and see how many of our latest innovations evolved from thoughts to reality.
Peering into the Crystal Ball—Economic Outlook for 2010 and 2011
Thought Leader: William A. Strauss, Federal Reserve Bank of Chicago
The "Great Recession" of 2008 and 2009 appears to have ended around the middle of 2009, with significant impact on the economy. The economy experienced outsized losses in housing, manufacturing, and jobs. Yet what should be a robust recovery is not expected. Consumers are saving at an increased pace, limiting the growth of consumer spending. Credit conditions, while significantly improved from last year, remain relatively tight and will act as a headwind to growth. Mr. Strauss will look at the performance of the overall macro economy, with specific attention paid to key economic sectors and indicators.
Accounts Receivable Collection Techniques that Work
Thought Leader: Steven Gan, Stellar Risk Management Services, Inc.
Your company's accounts receivables are one of its most important assets, and their continuous monitoring and collection are of the utmost importance. As each day goes by that an account remains unpaid, the risk that it will become uncollectible greatly increases. This program gives you proven techniques and pointers of what to say under different scenarios which will help you develop highly effective collection skills. Whether responding to reasons for non-payment, resolving problems preventing payment, handling difficult conversations, or attempting to reach an equitable conclusion, these ideas and tips will encourage a positive dialogue and outcome.
Talk Your Way Into a Million Dollar$—The "ATES" of Controlling Rising Medical Costs
Thought Leader: Jill A. Kopanis, SPHR, Dynamic Dies, Inc.
It's time to face rising medical costs head on and win!! Learn how Dynamic Dies rose to the challenge of controlling medical costs and saved almost two million dollars, while improving benefits, no increse in medical premiums to employees for five years in a row, and rewarded their employees with one month of free medical premiums annually. Through this informative and exciting workshop, you will learn about the "ATES" of controlling medical costs - EvaluATE, EducATE, CommunicATE, and MotivATE - and discover how you can achieve the same results. You will leave this session with the tools and resources to implement the same program back in your company to positively affect your bottom line.
Fast Press Changeover: An Adaptive Process
Thought Leader: Kevin B. Carey, Die-Cutting Works
Generating consistent, fast diecutting press changeover, high press speed and maximum yield, and producing consistent, exceptional quality diecut parts is the mission, the benchmark, and the challenge for every converting operation. Whether using individuals or teams, implementing SMED (Single Minute Exchange of Die), Just-In-Time, 6 Sigma, 5S, and/or combinations of every discipline, the struggle has been to develop a simple, an effective, and an easy-to-learn system of manufacturing which can guarantee predictable performance. The Adaptive Process is the most realistic, the most practical, and the most effective method of getting the best results from existing personnel, from available resources, and from old or new technology. If you are involved in diemaking or diecutting—as a technician, a supervisor, a manager, or a company owner—it is vital you do not miss this innovative transformation of the press changeover challenge.
Makeready Perceptions that Impact Your Bottom Line
Thought Leaders: John Dickison, Bobst Group, Inc.
Beginning with an open discussion of the definition of makeready, we will review the cost of this procedure from conception to end product in the finishing line. We will cover who is involved in this process and how makeready affects design, diemaking, printing, diecutting, and folding and gluing. Whether you are a folding carton supplier, trade finisher, or commercial finisher, learn what makeready means to you and how it impacts your processes and your bottom line.
Emerging Technologies for Diecutting Specialty Graphics
Thought Leader: Paul Kapolnek, WPM
Many commercial printers can increase profit margins and reduce lead times by attending this program. Discover the latest technologies which incorporate inline finishing systems for your offset, flexo, or gravure printing operations. As a modular unit or as an integral part, kiss cutting, through cutting, microperfing, or custom specialized patterns are all possible while you print. Do away with the transport costs and additional time associated with off line diecutting and finishing.
Proper Creasing Techniques = Quality Press Output + Happy Customers
Thought Leader: Joe McDowell, Channel Creasing Matrix, Inc./CCM Die Supply
Today's diecutter cannot afford an idle press. You make money only when your press is running with proper job output. What does it take to achieve productivity and proper output? What are your creasing problems? What causes them? This session addresses creasing problems on both platen and cylinder type presses. Learn to recognize the problems and how makeready set-ups can correct them; how and why a crease works; various substrate reactions; how variances in substrates, paper conditions, and inks can cause a job to work one day but not another; proper die manufacturing for certain press types; and much more.
Save Time and Money with Reverse Converting
Thought Leader: Greg Zimmer, Zimmer Industries
This program will provide a description and discussion of the methods of creating one or more of the following properties or effects: a reverse score, a reverse cut score, and/or a reverse perforation. Each effect is created with a chemically etched or machined flexible die, converting simultaneously on the underside (the reverse side) of materials being conventionally diecut on the front side. These capabilities may offer huge time and money savings by eliminating a second pass through the press.
Why Managers Fail and Good People Leave
Thought Leader: Kevin Koelsch, National Steel Rule
Despite the purchase of thousands of management books and high-cost training programs, organizations are still plagued by a good deal of bad management. A failed management relationship is a primary cause of poor performance, work dissatisfaction and loss of talent as well as other organizational ills. This program will discuss the role of the manager, what inspires people to excel, what inspires people to leave, and the Mars/Venus thought processes of managers versus those they manage. Get inside their heads and discover how you can effect dramatic improvement in your company.
Rubbering and Nicking—If You Think It Isn't Important, You May Have Already Lost a Lot of Money
Thought Leader: Dave West, Essential Products
The last step in completing a die is sticking rubber on it, and so often that is rushed, without much thought. In this program you will see how not taking it seriously can cost you a lot in lost time and margin. If your business involves using or making flat steel rule dies, you will want to attend this seminar. Come hear the Whys, Hows, and Wheres of rubbering a die that can make your diecutter virtually print you more money. Good information, handouts, samples, and a demonstration will help you understand that there is lost money to be found.
Frank Wagner Receives IADD Unsung Achievement Award
In addition to the coveted PEAK Award, our Saturday night dinner will feature presentation of the IADD Unsung Achievement Award. This award posthumously recognizes leaders within our association who have gone unrewarded for their significant contributions to the diemaking, diecutting and converting industry. The award is given to deceased individuals who have contributed significantly to the advancement or recognition of the industry throughout their professional lives in service to the IADD or related organizations; been a frequent contributor or organizer for presentations, workshops, publications or related events; and openly shared valuable experience with other industry members. Although they are no longer with us, their contributions live on.
The IADD is pleased to announce the second recipient of the Unsung Achievement Award is Frank Wagner of Wagner Die Supply. Frank helped develop the first seamless cutting punches that were sold commercially, he designed and developed what is now known as the Helmold Bendall bender, the Feed-Thru punch, and several production machines. Frank opened his own company and continued innovative developments, including a new style of Wagner Rule Bender which became the basis for other benders once the patent expired. We hope you will join us on Saturday to celebrate his many contributions.
Also on Saturday will be the presentation of the IADD PEAK Award, which recognizes someone who has made a unique, meaningful or emerging contribution to our industry during the past few years, clearly demonstrating Passion, Excellence, Achievement and Knowledge (PEAK). While the recipient is kept secret until the time of the presentation, we know you will want to join us in applauding this year's innovator and popular leader.
IADD Annual Meeting Co-Locates with GRAPH EXPO - Free Attendance
To bring even more value to you, IADD is co-locating this meeting with Graph Expo, which will convene October 3- 6, 2010, at McCormick Place South in Chicago. GRAPH EXPO is the largest graphic communications exhibition and conference in the Americas. It will offer graphic communications professionals a fully customized show-going experience under the theme, "The Next Generation of Print." The comprehensive exhibition has been designed to cater to a diverse spectrum of attendees, including: commercial printers, quick printers, transactional printers, creative professionals, package printers, mailing and fulfillment pros, in-plant printers, wide format imaging specialists, newspaper printers, book printers/publishers and even print buyers. All IADD Annual Meeting attendees will receive FREE ATTENDANCE to the exhibits at GRAPH EXPO.
Schedule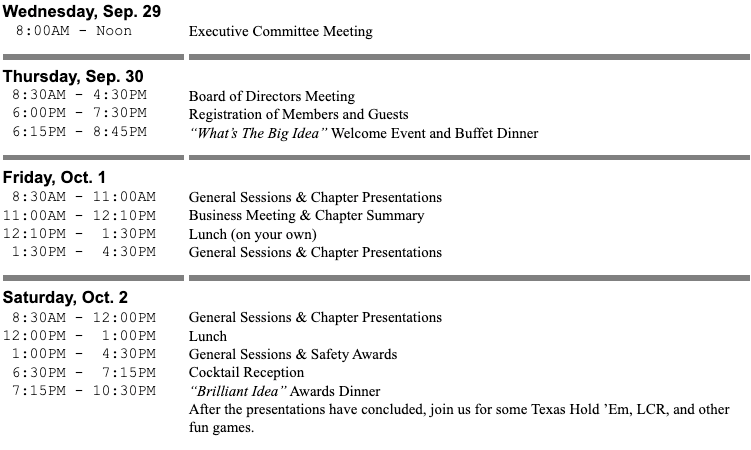 Hotel
All hotel room reservations are being handled through GRAPH EXPO Housing. More than 25 hotels are holding special room blocks at a variety of rates. Click a link below to make reservations online or to download a GRAPH EXPO 2010 Housing Form.
CLICK HERE FOR GRAPH EXPO HOUSING RESERVATIONS
RESERVATION CUT-OFF DATE IS AUGUST 27, 2010
Room blocks cannot be held past this date. After cut-off date, room availability and rates may change.

The IADD headquarters hotel is the Sheraton Chicago Hotel & Towers. All IADD programs and events listed in the Meeting Schedlue above will take place at the Sheraton. Shuttle buses will be available from the Sheraton to McCormick Place beginning on October 2.
Other Information
All registrants will be emailed a link to download program materials and meeting information, including sites to see, things to do, dining recommendations, airport and ground transportation info and general travel tips to help you enjoy your stay.