President's Column - April 2023
Date posted
March 15, 2023
Hello Loves,
This weekend was a mainly adventure-less but fun-filled and much needed reconnection time with one of my favorite people on this planet.

As you are all aware, I am struggling through a long recovery that has not yet miraculously just gone away when I open my eyes one morning. A few weeks ago, I spoke to Jackie, my oldest friend, we've been friends since the first grade! She could tell I was in need of a visit. I was so excited when she told me she was coming out to visit but also a little nervous because I wasn't sure I'd be a great hostess at the moment.

It was a non-typical Thursday for me that started with a round of Physical Therapy (PT) in the morning. I went into the office and had a whirlwind of a day with meeting after meeting starting the moment I walked in the door. I left the office early to pick her up. Immediately after getting her, we hopped on I-95 North to head home. This was an unfortunate choice because I live south. Let the non-adventures begin!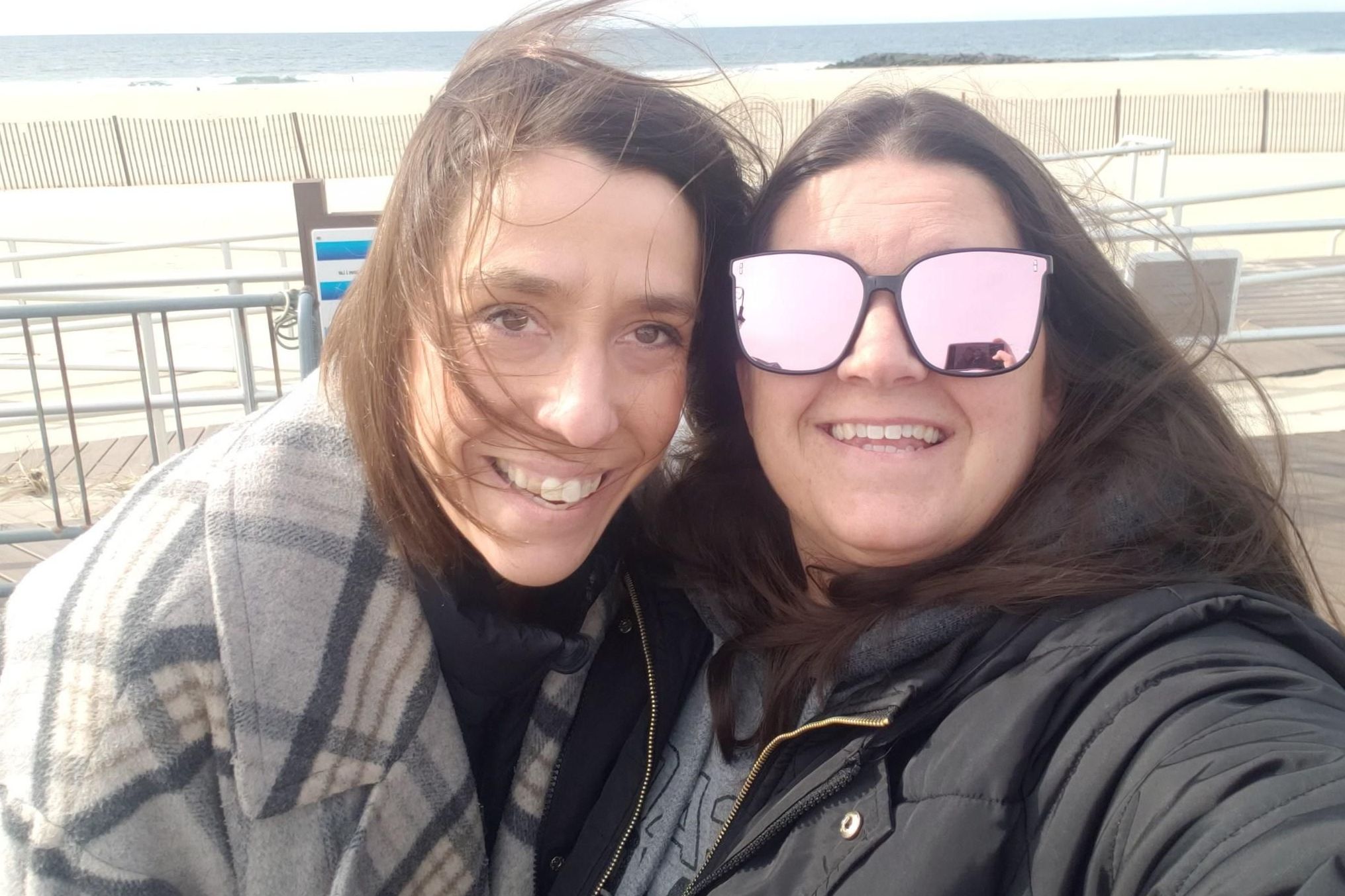 Friday was our big day in the city. Our plan was to do a driving tour of New York City, NY, USA with a few photo stops. This trip marked the furthest East Jackie has ever been. With it being the coldest day of the year with 25 mph winds, I put on my sweet new heated vest and was ready to see what the day had in store. First stop was to Liberty Park to see Lady Liberty. The ferries weren't running due to high winds, which was fine by me…after taking three steps out of the car, Jackie yelled out, "Do you need a hand?" I stubbornly shouted back a "NO!" but took two more steps and quickly changed my "no" to a "yes." The wind was literally pushing me around! Thankfully I had my best friend's arm to hold me steady!

Our next stop was supposed to be the 9/11 Memorial pools. After some solid navigation from Google maps and my co-pilot, we ended up in Brooklyn, NY, USA, which is not the correct borough. We decided to change course and check out the Brooklyn Bridge. We are resilient though, so after crossing the bridge to get back in the correct borough, we attempted to make our way to the 9/11 Memorial once again. We immediately found ourselves back in the tunnel headed back to Brooklyn. Attempt #2 was not a success. Most would have given up by now, but it was not until our third trip to Brooklyn that we decided our next stop should be the Empire State Building. Instead of being upset, we were laughing so hard we were crying at how swimmingly this NYC tour was going for us. We officially re-named our trip the NYC Tunnel Tour.

We finished off the day driving past many other iconic sites in New York, USA and just laughing and joking the day away. It was not your typical sight seeing day, but it was just what we needed.

The rest of the weekend was mainly spent just being homebodies and having Jackie's help to run some errands and help with some odds and ends, including typing this article! In all fairness, she types way faster than I can right now!

I know I didn't need to worry about whether I was a good hostess. It wasn't any amazing sight-seeing adventure that Jackie needed to have a great trip. She just needed to see me and to help me, to joke with me and to laugh at, and with, me. However, I have to share one of the comments she made to me. She was really not expecting to see my balance be so off and stated, "I don't mean to be mean, but its just kind of funny cause you look drunk." Sigh. Suspicion confirmed!

I try to keep a good attitude and sense of humor. Sometimes you just gotta laugh through life and not take it too seriously. I will keep taking things one day at a time and continue to build my strength and balance until I am strong enough for people to question my sobriety! LOL

All in all, I would say this weekend was a smashing success!! As we drove to the airport we heard…

"If you're lost you can look and you will find me
Time after time.
If you fall, I will catch you, I will be waiting
Time after time."

One of the greatest things is seeing great friends in person. This is why I am so pumped that the Odyssey Expo is back this year! I am looking forward to seeing you all in Milwaukee, WI, USA. Please make sure to come out and join us!

Jennnifer Thoroe,
IADD President

jennifer@steelrule.com
Jennifer Thoroe is Director of Customer Service & Business Development for National Steel Rule, a steel rule manufacturer based in Linden, NJ, USA. She joined forces with National on November 1, 2018 after working in the industry and volunteering with the IADD for over 15 years. She moved up to NJ from GA in the summer of 2019. One pandemic and three moves later, Jennifer is finally settling into her home near the Jersey Shores with her awesome super-fantastic brother Tom and his even cooler dog, Kelowna.

She has consistently used her time and talents to bring greater value to IADD members, whether through chapter activities, managing volunteers, Board service or overseeing myriad membership recruitment and retention activities. For this, Jennifer received the 2017 IADD Cutting Edge Award, one of the Association's highest honors. She is the first woman to serve as IADD president.
The President's Column appears in The Cutting Edge, the IADD's monthly magazine.