President's Column - November 2022
Date posted
October 15, 2022
Hello Loves!

I very graciously accepted the role of President-Elect for the IADD full on knowing I was/am terrified of it. I had passed on this opportunity in the past because of that. But I kept hearing that annoying little voice inside of me that challenges every thought I have. I didn't want to be the first female. I already don't like the thought of all the attention the role brings. I didn't want to commit at the wrong time. Am I technical enough? I mean after all, what do I know about diemaking and diecutting? Is Secret Service provided to me or do I have to provide my own? My list of concerns goes on and on...

But eventually, I realized it came down to this: I don't want to let anyone down. When I swam through all of my sub-fears and landed on this main fear, I knew I could no longer buy into the reasons I had turned the role down in the past. I knew, if the opportunity should ever present itself again, I'd toss my name in for the chance. I had really thrown myself into the thought of what this all means for me and it was not an easy yes for me. It took me years to get here. But somehow, I feel it's exactly where I am meant to be right now.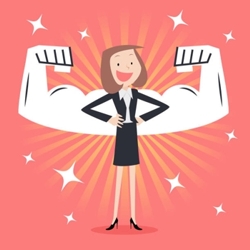 So, I am the first lady prez. Turns out, it was supposed to be me. Big Deal!! Seriously, it is! And I am proud of it. But also, so what? Big Deal. Don't like it? That's okay. But baby, I was born this way. So, plz kindly get over it. Thank you.

I have come to realize that there is no "right" time. Life will throw you curve balls that you can't even dream of. Trust me, I've had my fair share of them. Even when I felt I was finally mentally ready for this next step, a new curve was thrown. Mainly a "fun" story for future articles… All I'll say now is that I am beyond fortunate to have had immediate past-prez Gino Gualtieri tag on an extra year to his term due to unprecedented times/circumstances with the pandemic. That time has allowed me to knock some of those curve balls out of the park! The way I feel about the time being right or wrong for an experience like this is; you simply must decide if you think this is an experience that you are willing to make some sacrifices for or not. Because no matter when the timing lines up, there will be some needed.

Does my technical level truly matter? Do I need to be the expert of everything there is to know? Doubtful. If anything, that would probably be a major turn off. What I do have is very good listening skills. I will hear you, and I will help you.

I hope my strength in connecting with people and connecting people with one another continues to grow. I want to deepen our connections with our existing members to help identify their needs and share or come up with new solutions just as much as I want to bring new members in. I feel that no matter what I say or how I lead, I will have some haters. But I hope they are few. I hope more than anything that my passion for learning and sharing knowledge in positive ways helps many and even proves to inspire some to embark upon their own IADD journey.

So, finally my loves, we are here. Now is the time where the "Elect" drops off my title and I begin to serve you humbly as President.

Saying thank you to the amazing Gualtieri family doesn't even begin to cover it. Much love to you all! I also want to give a special thank you to the owners: Eddie Mucci, David Bialoglow and BethAnn Bialoglow-Masiello as well as all of the amazing employees who make up National Steel Rule for their continued support. I hope my honest approach and truest effort serves you all well. Because I don't doubt for a second that this continuation of my IADD journey will prove to be one of the best experiences for me.


Let's do this!!!!



Jennnifer Thoroe,
IADD President

jennifer@steelrule.com
Jennifer Thoroe is Director of Customer Service & Business Development for National Steel Rule, a steel rule manufacturer based in Linden, NJ, USA. She joined forces with National on November 1, 2018 after working in the industry and volunteering with the IADD for over 15 years. She moved up to NJ from GA in the summer of 2019. One pandemic and three moves later, Jennifer is finally settling into her home near the Jersey Shores with her awesome super-fantastic brother Tom and his even cooler dog, Kelowna.

She has consistently used her time and talents to bring greater value to IADD members, whether through chapter activities, managing volunteers, Board service or overseeing myriad membership recruitment and retention activities. For this, Jennifer received the 2017 IADD Cutting Edge Award, one of the Association's highest honors. She is the first woman to serve as IADD president.
The President's Column appears in The Cutting Edge, the IADD's monthly magazine.