2009 Midyear Conference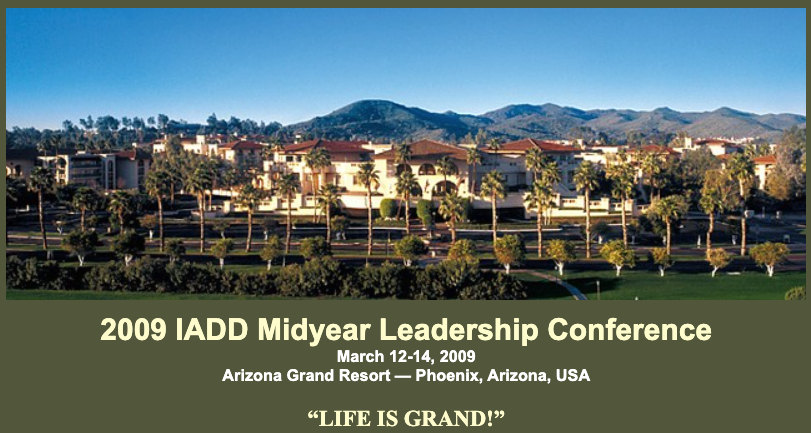 I like living. I have sometimes been wildly, despairingly, acutely miserable, racked with sorrow, but through it all I still know quite certainly that just to be alive is a grand thing.
-Agatha Christie
All grand thoughts come from the heart.
-Vauvenargues
Life is something that happens when you can't get to sleep.
-Fran Lebowitz
I like life. It's something to do.
-Ronnie Shakes
The longer I live, the more beautiful life becomes.
-Frank Lloyd Wright

The Arizona Grand Resort puts you in the midst of one of Phoenix, Arizona's most naturally beautiful places. The only AAA Four-Diamond, Preferred® all-suite hotel is just six miles from Sky Harbor International Airport, but a world beyond any Phoenix resort you might imagine. Located at the doorstep of 17,000 acres of South Mountain Preserve, the largest municipal park in the world and the second most visited tourist destination in Arizona, the Arizona Grand Resort serves up stunning perspectives and unique Southwestern touches that make your visit feel naturally grand. No matter what time of year you visit Phoenix/Scottsdale, you'll find plenty of things to see and do. More than 300 days of annual sunshine mean you can count on exceptional weather as you experience the rich diversity of this Sonoran Desert playground.

Program

Growing Your Business During Recession
Speaker: Andy Birol, Birol Growth Consulting
With all the media talk that we're in a recession, the weakening dollar, mortgage crisis, and the collapse of financial institutions, your fears are increasing that your business will take a bad turn. For many of us, coping with this recession has been a lot like going through the four phases of loss: denial, anger, self-pity and acceptance.
In this recession, there seems to be a fine line between success and failure. Success may be defined as not failing. And failure can come from simply maintaining past success. As we consider our circumstances and recognize that our business lives must continue, what can we do to grow and save our businesses during these times?
Andy will share specific strategies to grow your business during this recession. Known for his creativity and his candor, Andy's presentations, based on an owner's Best and Highest Use®, provide renewed passion, new potential, and profitable results.
During this presentation, attendees will:
Identify three areas of your buisness that need triage immediately.
Discuss specific steps to triage customer relationships, evaluate ongoing projects, and manage cash.
Discover four areas where you can respond to the new reality.
Explore strategies on how to price for profit and avoid loss.
Compare your Best and Highest Use to your company's Best and Highest Use and how it ultimately impacts your success or failure during recession.
Determine three strategies that you can implement immediately to profit now and later.
Social Networking and Web 2.0 - Where to Be
Speaker: Andy Birol, Birol Growth Consulting
Feeds. Widgets. Social media. Search. Facebook. MySpace. Twitter. Blogs. Wikipedia. Wikis. IM. You read about them all the time and your kids and grandkids use them constantly. You may even use them at your work. And according to social media experts, consumers are adopting these new technologies faster than industry pundits would lead you to believe. Are you ready?
This facilitated discussion will explore the impact Web 2.0 and social media is having on culture and how media has moved to a dialogue instead of a one-way conversation. Whether you know it or not, your customers are talking about you and they're doing it online through social media. Do you want to be part of the conversation?
During this facilitated discussion, attendees will:
Discover how to build business relationships using social networking.
Explore how social media is becoming as important and sometimes more important than the traditional way of doing business.
Identify several Web 2.0 technologies that you can use in your business today.
Discuss current facts about the use of social media and how some businesses have tapped into this trend successfully.
About our speaker: A consultant, coach, author, and keynote speaker, Andy Birol is a nationally recognized leader in the field of business growth. Based on interviewing more than 5,000 businesses, Andy Birol, author of The Five Catalysts of Seven Figure Growth (CareerPress, 2006), has advised more than 400 business owners and is an expert contributor to The New York Times, The Wall Street Journal, CNN's Dollar Signs, Entrepreneur, Business Week, and Inc. Magazine. By averaging a $100,000 impact on each of his clients, Andy has had a $35 million impact on the economy.

Schedule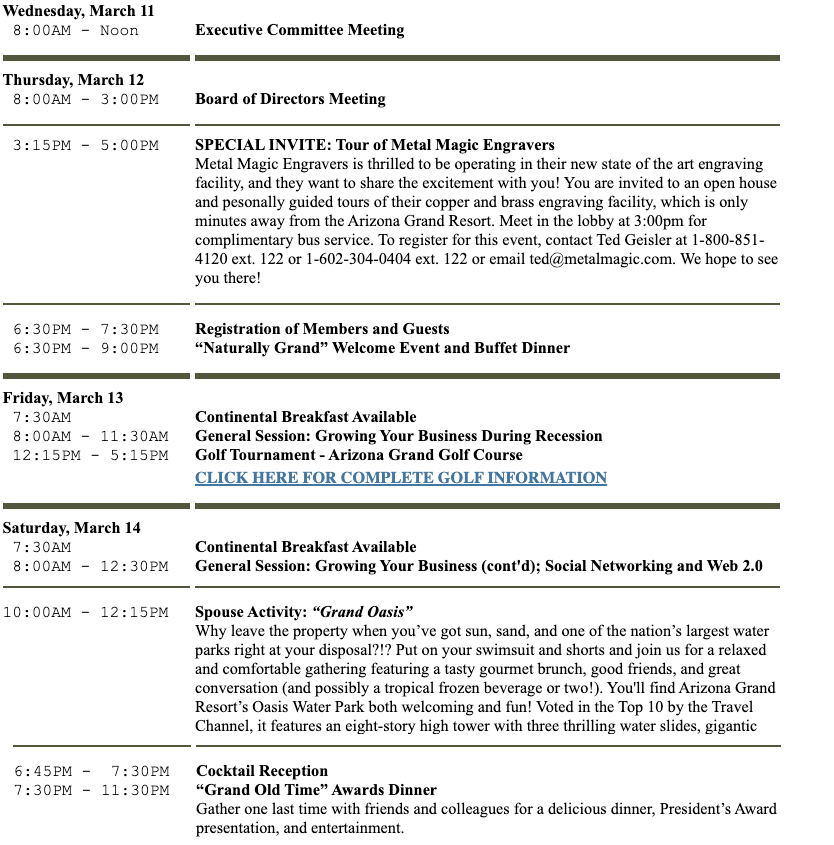 Other Information

All registrants will receive information on sites to see, things to do, dining recommendations, hotel and shuttle information and general travel tips to help you enjoy your stay.