2010 Midyear Conference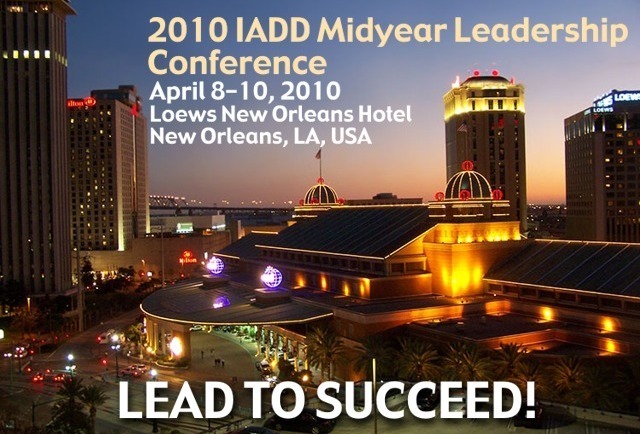 A man who wants to lead the orchestra must turn his back on the crowd.
-Max Lucado
Don't manage - lead change before you have to.
-Jack Welch


ARE YOU READY TO LEAD YOUR COMPANY TO SUCCEED IN THE EMERGING ECONOMY? Indicators suggest that the economy is slowly recovering. It's time to rethink your strategy and open up to new trends, markets, and ways of doing business. Simply surviving is no longer an option. You need to re-evaluate, investigate, and implement a smart plan to move your business forward. Attend the IADD Midyear Leadership Conference to gain practical ideas and valuable industry knowledge from veterans in the field who will share what is working in the changing marketplace – and what needs to change. The following sessions will help you get ready to take on today's challenges and guide your company to tomorrow's victories:

Program

Keynote: Flexibility - The Difference That Matters
Speaker: Laurie Harbour, Harbour Results
If you're going to survive in today's changing climate, you need to be flexible. Discover differences that separate profitable finishing companies from unprofitable ones. Learn tactical solutions to improve your business and become more profitable. Ms. Harbour will share case studies and real life solutions of companies that have improved their business in tough economic times. Discussion on how company management teams handle the everyday battles that add up to differences that truly matter also will take place. Additionally, she will baseline the FSEA membership with a new survey conducted by FSEA to address operational readiness for flexibility. Laurie Harbour is president of Harbour Results Inc. With over 20 years of experience in benchmarking, operational assessments, performance enhancement, and strategic planning, she works closely with companies and their suppliers on analyzing their strengths and weaknesses, identifying existing gaps and risks, and developing a strategic transformation process to achieve sustainable improvements, ultimately mitigating risk and improving the health of organizations. Ms. Harbour has lectured and presented on numerous topics, including supplier transformation, manufacturing, and overall business operations improvement. She has a BA from the University of Michigan-Dearborn and sits on the board of directors of the Society of Automotive Analysts (SAA).

Streamlining Operation Costs to Decrease Overhead
Panel Moderator: Greg Greenwald, Scarab Printing Arts
This facilitated discussion will explore the following:
Efficient Workflow on the Shop Floor to Cut Waste - Dan Mauer, Heidelberg, USA. Production workflow is an essential element in saving both time and maximizing productivity. Learn how to analyze the design of the product proactively to minimize makeready time and increase production speed. Examine the flow of a job from pre-press and pressroom to shipping in order to optimize efficiencies. Explore the best overall strategies for finishing equipment placement on the shop floor. Discover the most resourceful makeready strategies in regards to placement, tools, and aids to reduce press set-up and increase job turnover.
Integrating Software Technology Into a Production Environment - Mark Porter, Dienamic MIS Software. Sometimes the easiest way to gain productivity and decrease cost is right under your nose! Learn how the integration of a comprehensive software system on the shop floor can become a critical part of your business to improve communications with customers, decrease turnaround times and waste, and substantially increase productivity.
Sustainable Practices That Will Drive Opportunity
Panel Moderator: Jeff Peterson, FSEA
This facilitated discussion will explore the following:
How to Create a Tactical Plan for Sustainability Success - Karen Gross, Sustainable Green Printing Partnership. Learn how to devise and implement a systematic plan to carry out sustainability within a printing and/or finishing organization, from creating a sustainability policy and management system to implementation of best management practices. Understand the key components of sustainability; explore its social aspects; and discover the parameters of environmental, health, and safety compliance.
Lean/Green Tactics for Reducing Waste - Dave Boyer, MCD. Leaders in manufacturing businesses are on the front lines of the growing movement to be responsible for the impact of our operations on the environment. It's up to us to make the investments, take the risks, educate, change habits, and measure the results. What are the specific tactics we can implement that truly "move the needle" in environmental results and which will simultaneously help us with growing customer requirements and our business operations? Share in the perspectives, planning, and specific tactics and approaches of a print finishing/packaging company that have been successfully implemented over the last 15 years.
Latest Green Initiatives and Trends in Packaging - Dave Hutchison, Brightmarks. Explore the role sustainability plays in today's packaging arena and its relationship to the print finishing industry today and in the future. From defining standards (such as current Wal-Mart "Score Card" initiatives) to creating/changing perceptions and mapping sustainability, attendees will come away with a better understanding of how print finishers and suppliers can unify in educating brand owners, managers, and designers to ensure the long-term growth of print enhancement processes and the industry at large.
Green Opportunities for the Finishing Industry
This session will explore:
SGP Certification for Bindery/Finishing Operations - Karen Gross, Sustainable Green Printing Partnership. Learn about the Sustainable Green Printing Partnership and its new certification program. Currently tailored to commercial printers, SGP soon will launch certification criteria specifically for print finishers, binderies, and loose leaf operations. Discover what certification can mean for your organization. Why certify? What are the advantages? What is entailed in the process? These questions and more will be addressed in this informative presentation.
FSEA Green Initiatives - Jeff Peterson, FSEA
Selling Tactics for Efficiency, Profitability, and Market Gain
Panel Moderator: Laurie Harbour
This facilitated discussion will include:
Selling Efficiently with a Small or No Sales Force - Kevin Bennitt, Fine Arts Engraving. Learn several ideas to increase a company's exposure to sales when working with a small (or no) sales force. Too many print finishers only worry about getting the order out the door but fail to consider how they will get the next order in the door. Learn practical, simple examples of ways to help increase sales.
Value-Added Approach to Capturing Business Beyond a Local/Regional Area - Chandler Young, LPI. Attracting new business outside a local/regional area is a process that requires strategic planning, research, and the implementation of new ideas – a different approach that can reap powerful rewards. Discover ways to target and research potential receptive geographic areas; identify new customer prospects; research the competition; critically define what differentiates your organization; formulate an action plan; and much more in this powerful presentation.
Marketing Outside of Your Comfort Zone - Dave McIntosh, McIntosh Embossing. Selling direct can be advantageous if properly planned, researched, and implemented. Explore the many rewards, as well as possible disadvantage, to be gained by selling direct. What parameters must be in place to get started? Are you up to the task? How do you identify clients who can be serviced directly and how do you avoid conflict? Learn the answers to these questions and more in this critical session. Plus, learn several ideas to increase a company's exposure to sales when working with a small (or no) sales force. Learn practical, simple examples of ways to help increase sales now.
The Value of Social Networking for Optimum Returns and Visibility
Speaker: Dianna Brodine, Peterson Publications
The marketing world has long known that word-of-mouth is the most effective form of advertising (personal testimony will always trump a brochure) and social networking is the ultimate in word-of-mouth promotion. This presentation will introduce the major social networking sites and discuss ways in which to use them to promote your business and educate consumers.

Concurrent Breakout Sessions
You may choose one from each set:
Adding Value With Decorative Services - Defining Opportunities in New and Existing Markets (Part 1) - includes "Cold Foil and UV Cast and Cure" by Jeff Peterson, FSEA (Q&A Panel: Karen DeMaio, 21st Century; Dave Hutchison, Brightmarks; Michael DeBard, DGM). Explore new opportunities for print finishers with both Cast and Cure™ and cold foil processes. Learn about machinery that can retrofit to existing UV coaters to offer both processes on one machine. With recent growth in sheet-fed cold foil, opportunities exist to offer cold foil overprinting such as replacing more expensive foil laminated board, and many more. Discover how Cast and Cure can work with your existing UV coaters, adding value to the services you offer. Our expert panel will answer real-world questions on the processes and share what they are seeing in the marketplace.
-OR-
New Technologies for Efficient Diemaking - Moderated by Kim Moravec, ABC Die Cutting and Embossing. Panel: Mark Bibo, Gerber Innovations, and Greg Baker, Wagner Die Supply. From equipment to supplies, technological advancements and new trends in both flat and rotary steel rule diemaking continue to emerge, providing a variety of options for the diemaker including flexibility and cost savings. What are the on-press benefits of water jet-processed rubber? Should you buy a laser or a router? Are there rule processors/benders that can process both rotary curved and straight rule? In addition to these questions, learn ways to maximize the vendor/customer relationship in the areas of purchasing and inventory management on materials and supplies that can add up to bottom-line savings.
Adding Value With Decorative Services - Defining Opportunities in New and Existing Markets (Part 2) - includes "Laser Cutting" by Kathrine Headrick, Laser Excel and "Specialty UV Coatings" by Dennis Drummond, Henkel Coatings. Learn more about laser cutting, including how both the process and the laser equipment work. Discover how to incorporate laser cutting into a variety of projects; how to determine cost; and how to get the most visual impact from your laser art. Attendees will see a variety of samples showing how laser cutting complements other graphic processes such as diecutting, embossing, and foil stamping. Specialty UV coatings can serve an important role in any off-line finishing project. Most of these coatings can be applied using standard finishing equipment in use today, offering all the benefits associated with UV (i.e., instant curing, zero VOC's). Some of these coatings have the potential to replace expensive film laminations or laminated visual effects, providing further benefits in recyclability and ease of use. Discover interesting new coatings and techniques currently in use that create stunning sensory effects, as well as their associated benefits.
-OR-
In-Line Options for Folding/Gluing to Expand Services and Capabilities - by Yvan Magni, Bobst Group; Chris Leary, W.H. Leary. Explore ways to make the most of your in-line folding/gluing capabilities, including using existing equipment to its utmost potential, as well as adding new modules that will help expand box styles and markets. In addition, new technologies in cold glue and hot melt ranging from high-speed folding/glutting applications to simple pocket folders will be covered. This session also will address numerous quality assurance options that will allow a machine to run at maximum production speeds without jeopardizing quality and cost effective systems that can retrofit to existing machinery to build a company's value proposition.
Schedule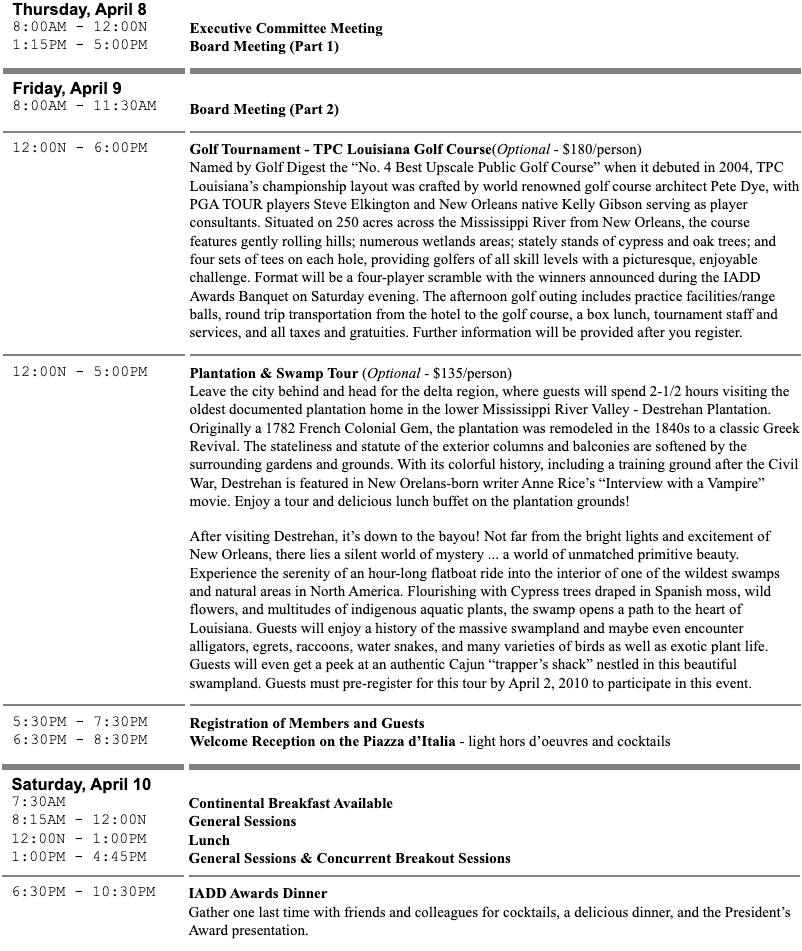 Hotel
The Loews New Orleans Hotel's big easy charm, with its plush surroundings, lively flavors, and extraordinary service, captures the spirit and style of New Orleans. Oversized, luxurious guest rooms offer magnificent views of the Mississippi River or city skyline, while onsite restaurants offer delectable dining. This is the perfect place to experience the best of New Orleans - located 3 blocks from the French Quarter and Riverfront; adjacent to the Arts District; and across from Harrah's Casino.
Other Information

French Quarter Fest
April 9-11
New Orleans never needs an excuse to celebrate, with a festival taking place around every corner, and the annual French Quarter Fest is no exception. Alive with great music and bountiful food, the popular festival is the largest free festival of its kind in the south. Visitors can enjoy more than 250 hours of entertainment featuring more than 150 musical performances on 17 stages throughout the French Quarter over this 3-day weekend.
NEW Exciting Co-Location and Reduced Registration Fees
Our goal in 2010 is to bring you even greater value for your membership. You tell us that networking and visibility are top reasons why you attend the IADD Midyear Leadership Conference. This year we're co-locating the meeting with the Foil and Specialty Effects Association (FSEA) annual meeting in order to exponentially increase both! Not only will we hold joint programming sessions which will allow you to be exposed to fresh insights and more participants, but several of our social activities such as the golf tournament and opening night reception will also be expanded to include both groups. We've also reformatted the schedule to allow you to spend as much or as little time away from the office as you would like. And to sweeten this deal even further, we have lowered the cost of the meeting. We can't wait to see you in New Orleans.