2012 Joint Conference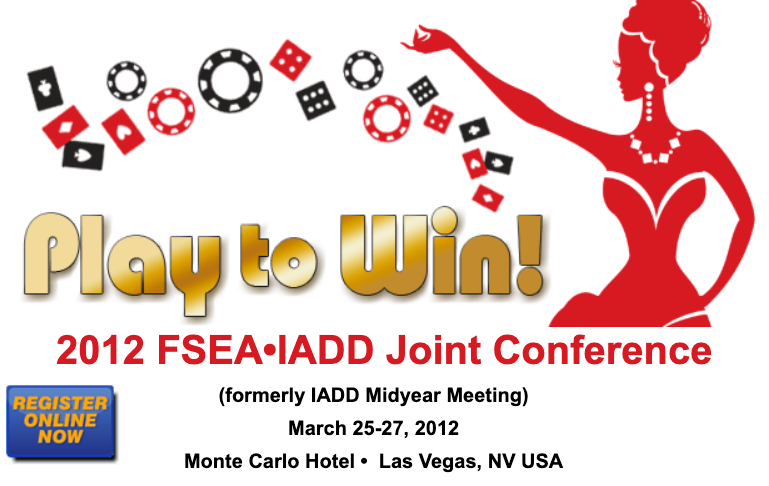 The City of Lights frames the stage for the 2012 FSEA•IADD Joint Conference at the beautifully renovated Monte Carlo in Las Vegas. The International Association of Diecutting and Diemaking (IADD) has again partnered with the Foil & Specialty Effects Association (FSEA) to deliver a powerful program focused on industry trends, operational best practices and leadership strategies to excel in today's business environment:
Strategies to Drive Business and Open Markets
Best Practices Information from Leading-Edge Finishing and Folding Carton Executives
Operational Tactics for Improved Efficiencies
Peer-to-Peer Exchange Forums, and More
In addition to a strong program line-up, attendees will have numerous opportunities to share valuable industry knowledge with veterans in the field at the Welcome Reception and Supplier Trade Fair, IADD Awards Banquet, golf outing, Red Rock Canyon tour and more. Playing to win in an ever-changing marketplace requires serious strategy, flexibility and focus. Don't miss your chance to emerge a winner. Early bird registration discounts end March 2!
Program

Keynote: Thriving on Change - The Art of Using Change to Your Advantage
Dr. Nate Booth, Nate Booth & Associates, Inc.
Rapid and never-ending change is a fact in today's world. What isn't a fact yet is how all this change is going to affect your group and you. Some people live at the mercy of change and avoid it at all costs. Others try to cope with change and just "hang in there." Change Masters are a different breed. They thrive on change! They know that rapid change levels the playing field and creates tremendous opportunities for those who know the new rules of the game. In changing times, the same set of beliefs, strategies and skills that have gotten your group to where you are now will not get you to where you want to go. When things change, you must change. The thrill of running a business is knowing what to change, what to keep and when and how to do each. In Thriving on Change, you will learn the skills needed to use any change to your advantage, creating greater success on all levels.
Diecutting and Foil Stamping Efficiencies for Makeready and Set-Up
Tom Orlando, Atlas Die and Jeff Peterson, FSEA
This interactive presentation will call upon industry experts and conference attendees to discuss innovative makeready and set-up techniques for today's competitive landscape and shorter runs. Tom Orlando, Atlas Die, will share specific tips on how diecutting and diemaking departments can save valuable time with simple but important makeready and press adjustments. Jeff Peterson, Foil & Specialty Effects Association, will outline off-line alternatives that can save literally hours of makeready and set-up on multiple-up foil stamping and/or embossing jobs. Others from the audience will share, first hand, other time-saving techniques for a variety of diecutting and foil stamping jobs.
Get LinkedIn to New Business – Best Practices from Industry Leaders
Dianna Brodine, Peterson Publications
With 135 million members in more than 200 countries – and, adding 10 new members every 5 seconds, according to the company's senior vice president of product development – you need to be on LinkedIn. A social media tool with an exclusive business focus, LinkedIn is a research tool, a lead generator and a marketing juggernaut. Discover ideas from industry leaders who are utilizing LinkedIn to drive business and penetrate new markets.
It's a Mad, Mad World - The Most Important Economic Trends Impacting Our Industry
Dr. Chris Kuehl, Armada Corporate Intelligence
Is 2012 the Year of the Dragon or the Year of Still Dragging? This is an auspicious year in China; we can only hope that carries over for the rest of us. The news so far is better than in the past few years, but the there are the big three issues to worry about. Will this be the year that inflation rears its ugly head? Will Europe and its return to recession drag the US down with it? Will the US elections change anything, and what has to happen to improve the economy's prospects? Then there are all the usual issues – joblessness and the cratered housing market, budget slashing at the state and local levels, and challenges from the emerging market nations.
What Would Steve Do? – How Steve Jobs Would Run Your Company in 2012
TJ Tedesco, Grow Sales, Inc.
When asked about research for the iPad, Jobs replied, "None; it's not the consumer's job to know what they want." Then, why do we spend so much time holding our finger to the wind to see which way the wind is blowing rather than providing real industry leadership? Isn't leadership what our clients really want? Join T.J. Tedesco and his panelists for a lively 90-minute discussion wrapped around four core questions: 1) What is being sold today and what should be sold tomorrow? 2) How is the service provider/client relationship changing? 3) What changes need to be made to accommodate rapidly changing print technology? 4) How will the needs of tomorrow's end users change? Steve Jobs wouldn't allow changing market forces and economic pressures to prevent him from doing the right thing for his company and the marketplace. Neither should you.
Steps for Success - Getting the Help We Need for Global Competitiveness
Terry Culp, Nevada System of Higher Education
The manufacturing industry is widely recognized as a critical component of economic recovery, but it is important that we provide small to mid-size manufacturers with the tools to continue to be competitive in the global market. World class capabilities in areas such as customer-focused innovation, a changing workforce, sustainability and global engagement will drive manufacturing growth and profitability into the 21st century. Join this discussion of key trends affecting our industry and manufacturing in general and help brainstorm steps that you can take now to be ensure continued growth and success in the next generation.
TRACK 1, PART A: Sustainability in Today's Landscape - Where the Buck Really Falls
Victor Bell, Environment Packaging International (EPI)
What is the true sustainability landscape today, where is it going and how will current trends affect the finishing and packaging industries? What is the appropriate environmental claims language for product packaging, including recyclable claims? How are the Federal Trade Commission Guides affecting the finishing and packaging industries, based on materials used such as hot stamping foil, foil board and more? Does a company need to be FSC-certified? How are foil stamped and specialty-decorated products being accepted by community recycling programs? This presentation will address these questions and more as Victor Bell provides real life examples of what is happening globally and here in the US in regards to recycling and sustainability, discussing the disconnect between the mills, brokers and the communities.
TRACK 1, PART B: Walking the Green Talk
Panel Discussion: Steve Keyser, Utah Paperbox and Reg Cunningham, Walter G. Anderson
Hear from industry peers on how they have transformed their operations to reduce their carbon footprint, save on energy consumption and significantly benefit the community – producing substantial cost savings throughout their organizations. From simple-to-implement tips to more time-consuming projects, attendees will come away with practical ideas to impact their bottom line.
TRACK 1, PART C: Specialty UV Coatings – How Can I Get Started?
Panel Discussion: Steven Barry, ACTEGA Kelstar, John Hopkinson, Diversified Graphic Machinery and Tim Cain, Breit Technologies
Learn from industry experts on what is necessary to begin offering specialty UV coatings to your customer base. What type of machine is needed to offer Glitter UV or Profile (raised) UV? Can I perform Cast & Cure™ on my existing off-line UV coater? What types of speeds are achievable through specialty UV processes versus standard gloss UV? What markets are utilizing these processes? These questions and more will be answered through an interactive panel with encouraged participation from the audience.
TRACK 2, PART A: Don't Gamble with Your Business - The Strategic Use of Economic Information to Succeed in an Uber Competitive Environment
Dr. Chris Kuehl, Armada Corporate Intelligence
How low can you go? The only option for the majority of the business community during a recession is to cut costs relentlessly, and that generally includes putting intense pressure on suppliers while slashing staff. When does the cost cutting stop and growth strategies take over? Is 2012 the year that demand provides some wiggle room? There has been no inflation and thus no room to hike prices – is this the year that some flexibility returns and companies can finally start to compete on something other than price – service perhaps or maybe reliability? The strategic decisions you make today can result in higher margins, more effective service and a higher quality of products and services in our industry.
TRACK 2, PART B: SHAZAAM!!! Re-Energizing Your Workforce
Jill A. Kopanis, SPHR, Dynamic Dies, Inc.
In current economic times, we all struggle to keep the motivation and energy going while faced with many cost reduction efforts and the push to produce more. Add to this the ever-changing dynamics of the workforce, and you begin to drain the energy out of the corporation. This high-energy, highly interactive session will help you to motivate, energize and SHAZAAM your workforce. Take yourself, your career and your employees to a whole new height as you learn how to re-energize your workforce.
S.et goals and priorities
H.old backs not allowed
A.ttitude = Altitude
Z.one checks – what's my comfort zone and why am I in it?
A.djust your sails to new horizons
A.pply yourself and begin to soar
M.ake it happen!
Optional Events

Golf Outing to Badlands Golf Club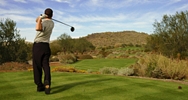 Badlands Golf Club

Set against majestic Red Rock canyons, deep-flowing arroyos, canyons and natural washes, Badlands Golf Club is a desert treasure. Featuring scenic views of the entire valley, Badlands is unequaled by any golf course in Las Vegas. Ranked among the 1997 and 1999 Top Ten Best Courses in Nevada by Golf Digest, the Johnny Miller-designed Badlands Golf Club has three distinct nines: the Desperado, Diablo and Outlaw courses that will challenge your game at any level. The format will be a four-player scramble with the winners announced during the joint FSEA and IADD reception on Tuesday evening. The afternoon golf outing includes practice facilities/range balls, round trip transportation from the hotel to the golf course, a box lunch, drink ticket and a 20-percent discount on all golf shop non-sale merchandise. Rental clubs available upon request.
Red Rockin' Coach Tour and New Mob Museum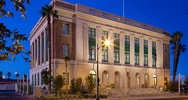 The Mob Museum

Break away for a Wild West desert adventure into Red Rock National Conservation Area. Experience stunning views, brilliant red washed landscapes and Native American history as you journey to this "jewel in the desert." Your motor coach departs from the hotel with an experienced guide offering unique insight into Red Rock Canyon. The tour winds along the 13-mile scenic loop through the canyon. Your guide will stop along the way for up close and personal information on the rock formations, petroglyphs and pictographs; geology and Native American folklore abound in this stunning tour. Next, stop at the new Mob Museum, a world-class destination in downtown Las Vegas dedicated to the thrilling story of organized crime and law enforcement. It presents an exciting and authentic view of the mob's impact on Las Vegas history and its unique imprint on the world. Box lunch is included.
Schedule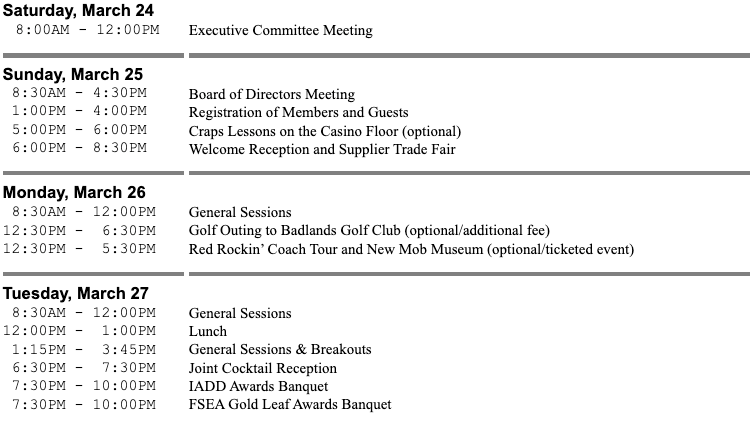 Hotel

The Joint Conference headquarters hotel is the Monte Carlo, where you'll be welcomed to extravagance, without extravagant prices. Service without snobbiness. And unpretentious luxury from the moment you walk through the door. At Monte Carlo, you'll get all this and more, whether you're in their luxurious AAA 4-Diamond rooms, poolside cabanas, tranquil spa or one of their many amazing restaurants and lounges. And with their best location on the Strip, you'll be right in the middle of the action. This beautifully renovated hotel and casino is just steps (or a free train ride) away from the famed CityCenter – a blend of shopping, entertainment and luxury hotels amidst breathtaking landscaping. Everything you need for an amazing Las Vegas experience is at the Monte Carlo. Feel like a VIP, as your resort fee (see below) includes the following accommodations: guestroom internet, daily fitness center access, daily newspaper, local and (800) calls, and complimentary faxing, copying and boarding pass printing.

Other Information

All registrants will be emailed a link to download program materials and meeting information, including sites to see, things to do, dining recommendations, airport and ground transportation info and general travel tips to help you enjoy your stay.