2013 Annual Meeting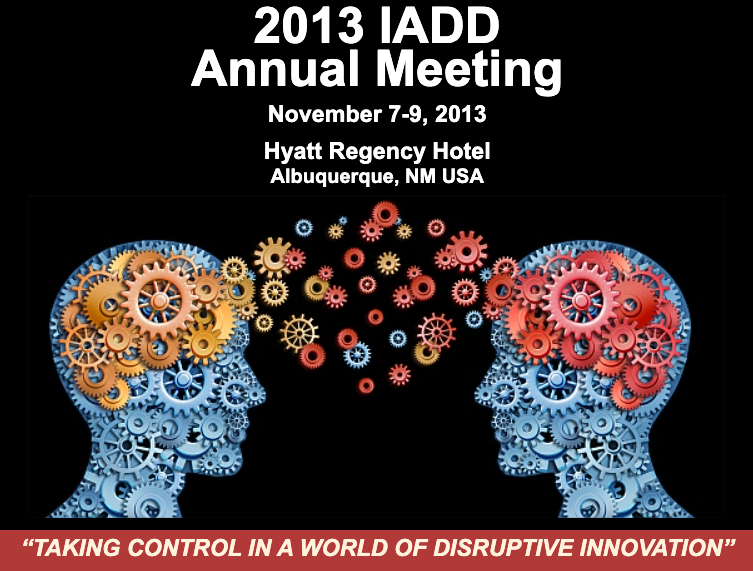 Technology, like art, is a soaring exercise of the human imagination.
— Daniel Bell (sociologist, educator)
We're accustomed to seeing mature products wiped out by new technologies and to ever-shorter product life cycles. But now entire product lines—whole markets—are being created or destroyed overnight. Disrupters can come out of nowhere and instantly be everywhere. Once launched, such disruption is hard to fight. That kind of innovation changes the rules.
— Larry Downes and Paul F. Nunes (Harvard Business Review)
Innovation distinguishes between a leader and a follower.
— Steve Jobs
Never before in history has innovation offered promise of so much to so many in so short a time.
— Bill Gates

For a number of years, uncertainty, crisis and chaos have been key words that describe our work-related and personal experiences. The advent of disruptive—and interruptive—technologies has changed industry models, business processes and the marketplace, as well as the way we communicate with customers, vendors, colleagues, family and friends.
Our session topics range from what our industry can expect in the future, to advances in digital printing, to expanding time and creating space for you in a busy world. Despite the variety of subjects, all will be designed to help you transform both your performance and enjoyment, giving you a sense of empowerment and balance of work and play. We know you will find value in these programs.
Program

The Digital Revolution - Will You Survive?
Thought Leaders: Todd Hanrahan, INX International Ink Co.; Kristof Dekeukelaere, Highcon Systems Ltd.
Mind-boggling advances in digital printing and digital packaging are turning the industry on its end. What does it mean to your business when one can print without printing plates? Diecut without dies? New digital technologies give brand owners and converters the ability to streamline printing and converting, making short-run production a profitable option by saving time and money while maintaining a high level of quality. Learn about the trends affecting packaging production in today's digital world and how disruptive technology is likely to affect this industry. What is the latest digital cutting and creasing technology and how might it affect supply chain simplification, shelf appeal and responsiveness in the world of short-run, on-demand packaging?
A Picture is Worth a Thousand Words ... A Video is Worth a Million!
Thought Leader: Roger Dibble, Cliffdweller Digital
Learn more about the importance of video in today's marketing and how you can use it to develop and increase sales. This informative and interactive discussion on the many different cost effective ways of showing what you do and who you are through the use of a well-produced video presentation. Roger Dibble has over 40 years of experience in marketing, advertising and video production. He has worked with local, regional and national companies as a producer/director, videographer, graphic designer and in account management. He has produced everything from television commercials to half hour shows. By his own admission, Roger calls himself a "mixologist" and living proof that "you can teach an old dog new tricks."
See It Coming - Top 10 Manufacturing Safety Violations
Thought Leader: Melissa Barker, New Mexico Occupational Health & Safety Bureau
Learning to recognize the possible hazards in your workplace is key to preventing injuries and deaths. Citing the Top 10 OSHA Safety Violations, our speaker will help you learn from the past in order to make your workplace safer. She'll discuss what to expect from, and how to prepare for, a safety audit and provide information that will help you safeguard your employees, no matter where your business is located.
The Great Game of Business - A Lesson in Open-Book Management
Thought Leaders: Jeremy Guest, Diansuply, Inc.
Too often in business we fail to show the players the big picture, the overall score of the game. We tend to focus on individual performance and on process results and attempt to manage performance from the sidelines, while the employees who have their hands on the ball and the greatest opportunity to change the score and win the game are left wondering… "What's the score?" Opening the books allows everybody to see how business success is ultimately measured. The Great Game actually creates a playing field on which employees have major involvement and input into: creating the financials, driving financial results, learning what drives financial outcomes, learning to forecast financial outcomes, and communicating progress with each other. Before you dismiss this strategy as "something that could never work in my business," listen how members of our industry have successfully used this process to improve business results and the lives of the people who drive those results.
2013 - The Year of the Experiment
Thought Leader: Dr. Chris Kuehl, Armada Intelligence
This is the year where almost every nation on earth has a plan to break out of their economic crisis. The Japanese will try spending like a drunken sailor on leave and Europe will try austerity to the point of agony. The US is trying to go both ways at once to some degree. What does the economy look like heading into 2014, and what are the issues that will likely make any prediction made now look foolish six months from now? Dr. Kuehl promises to address "these and other cheery subjects." One of IADD's favorite speakers, his programs combine valuable information and deep insights with unexpected humor.
Living An Extraordinary Life - The Science of Work-Life Balance
Thought Leaders: Karen and Kevin Carey, Ruby Red Road
The key to professional and personal success is simplicity. Life is fundamentally about two disciplines: achievement and fulfillment. Achievement is about doing – which includes everything we do to create a healthy, secure and successful life style. Fulfillment is about being – which includes your purpose, vision and personal values – combined with your self-awareness, self-esteem and self-confidence. To achieve optimal work-life balance, to be accomplished and happy, it is essential that achievement and fulfillment are in harmony. This interactive program will show you how to make practical and important changes in…
How you function and how you control self-discipline and self-management to become the person you have always wanted to be.
How you manage your time – in a radical, and comprehensive new approach to time and resource management.
How you eliminate procrastination, accomplish your goals, work less and achieve more.
How to recalibrate your business into an adaptable, rapid innovation, lean and efficient organization.
How you can optimize work-life balance to improve your health, happiness and fulfillment.
If you are seeking greater success, balance, achievement and fulfillment in your life, this program will kick your rear, bludgeon your status quo and get you moving!
Quick Share - A Knowledge Forum
Group Activity
We all recognize that "knowledge is power," but let's face it—you don't know what you don't know. This program is designed to facilitate the sharing of ideas among and between all attendees. Just bring one good idea about anything you've found or bought or do that you love and think others would too—and you'll leave this session with at least 20 more. It might be about enhancing productivity, a new product that makes things easier, a particular technology that saves energy, an app that saves you time, a book that changed your life, etc. It doesn't have to be industry related; anything that you find interesting, fascinating or helpful is fair game. Maybe you'll hear about Evernote, Asana, HootSuite, Pinterest, Audible.com, Wunderlist, Dropbox, PicMonkey ... or maybe not. But you get the idea!
Who Will Receive the IADD PEAK Award?
Saturday night's dinner will feature the presentation of the IADD PEAK Award, which recognizes someone who has made a unique, meaningful or emerging contribution to our industry during the past few years, clearly demonstrating Passion, Excellence, Achievement and Knowledge (PEAK). While the recipient is kept secret until the time of the presentation, we know you will want to join us in applauding this year's innovator and popular leader. Who will it be?
Schedule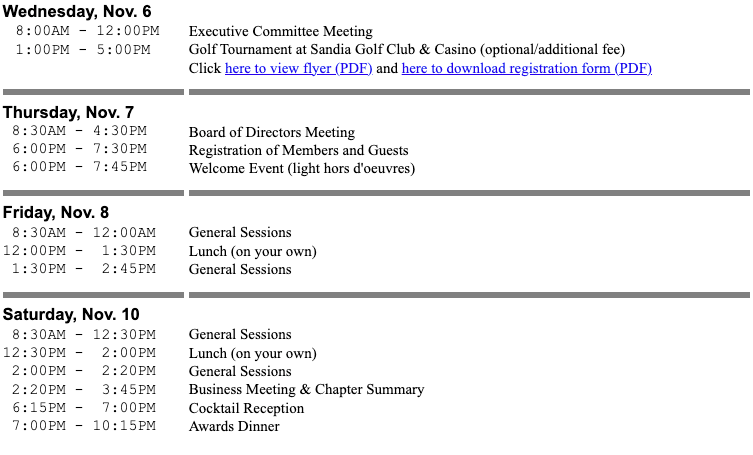 Hotel
The IADD headquarters hotel is the Hyatt Regency Albuquerque. Within this distinctly "Southwestern" feeling New Mexico hotel, you'll find state-of-the-art meeting venues, award-winning dining and spacious guestrooms that reflect the beauty of the surrounding Sandia Mountains. Stroll along Albuquerque's avenues to explore the quaint shops in historic Old Town and art galleries of this inviting city. Whether you're an exercise enthusiast, a shopping buff, or a relaxation addict, Albuquerque has just the right activity for you and your family. Discover great adventures near the hotel and resort by exploring the Sandia Peak Mountains, just a short drive away. The ideal setting of the Hyatt lets you explore all New Mexico is famous for, including Petroglyphs National Monument, the Atomic Museum and the Fine Arts Districts. Discover the roots of the Southwestern North American people at the Hispanic Cultural Center and Indian Pueblo Cultural Center. All IADD programs and events listed in the Meeting Schedule above will take place at the Hyatt.
Other Information
All registrants will be emailed a link to download program materials and meeting information, including sites to see, things to do, dining recommendations, airport and ground transportation info and general travel tips to help you enjoy your stay.