2014 Annual Meeting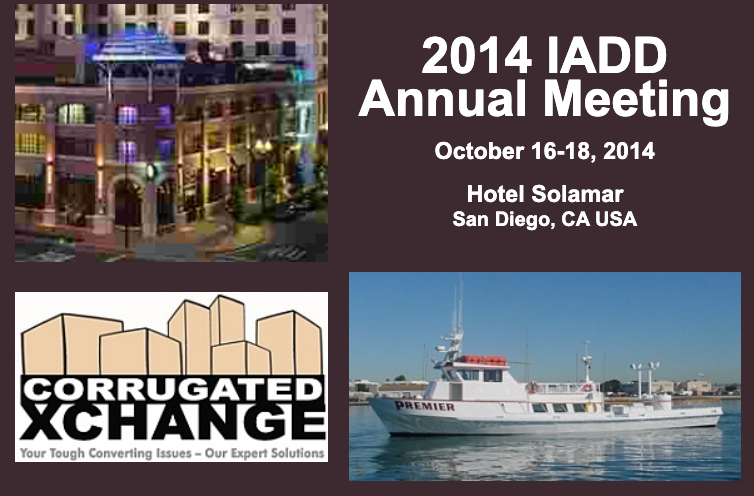 Beautiful San Diego, CA, USA provides the backdrop for three great events rolled into one. Early registration discounts end October 2, so register now!
Program

Corrugated Xchange: Your Tough Converting Issues – Our Expert Solutions
Expert Panel: Rick Putch, Dicar, Inc.; Brent Singer, Metsa Board Americas Corporation; Josh Jones, Bohler Uddeholm Precision Strip GmbH; Ben Hazard, Dynamic Dies, Inc.; Gil Romero, PCA Manufacturing Services
Corrugated Xchange is designed with converters and diemakers in mind and features a panel of corrugated experts who will provide an intensive day of answers for the most challenging issues you face. Xchange is an opportunity to have experts troubleshoot your toughest jobs, giving you the knowledge you need to convert your trickiest materials.
Corrugated Xchange's day-long program will address the "5S"s to solve your most common corrugated converting issues:
Stripping - Understand and identify the root cause of why unwanted waste remains within or attached to your finished diecut product.
Stacking - The production game is "won" after the diecut section. We will review nicking techniques, bundle breaker operation, effective flexo folder gluer production and layboy belt management to create square and consistently stacked units.
Score cracking - It has often been said the best way to eliminate score cracking is not to fold them! Bring your sample cartons with creasing and perforating issues and discover materials and techniques to eliminate the problems.
Size variation - Dimensional accuracy is not limited to soft anvil rotary diecutting. If your finished cartons are not the dimension you intended, let's discuss your specific challenge and resolve it.
Structural design improvements - Many diecutting lines run at a fraction of their potential capacity. Understand why tool design and package design are two totally different concepts. Many plants submit a CAD sample to customer for approval before they know the quantity and machine routing through production. We will show how subtle differences in structural design will have no impact on package performance, but huge differences in profitability.
We want to know: what are YOUR most difficult and challenging jobs? Submit yours in advance to xchange@iadd.org and our panel of experts will provide an in-depth answer during the program. The more tough jobs we receive in advance, the even more jam-packed the event will be with information and solutions!
Also included are a networking lunch and tabletop trade fair where you can learn more about the latest products and equipment. If you are not able to attend in person, we are also offering a live video webinar option.
Embracing and Managing Conflict
Workshop Leader: Mark Batson Baril, Resologics, Inc.
Simply put, extreme innovation relies heavily on people banging their ideas and heads together, without drawing blood. The complex part is understanding how to manage that fine balance between positive and negative outcomes from conflict, especially in fast moving businesses that are diverse and under enormous pressure to produce. This very interactive course explores conflict from a human dynamics and systems perspective. Mismanaged conflict can cost you money, wasted time, absenteeism, turnover and a long list of other expenses. Learn how to use conflict to find new ways to innovate.
You will gain an understanding of:
The cause, structures and cost of conflict
How to spot conflict and identify techniques to proactively manage conflicts inside and outside your organization
Your personal conflict management style
How to normalize the occurence of conflict in teams and organizations
Developing your ability to productively work with conflict in your team
The building blocks for mutual gain engagement through interest-based negotiation to strengthen innovation and productivity in your team
How to analyze conflict to support productive operations, while avoiding unnecessary costs and missed opportunities
Participants will have the opportunity to develop a conflict management strategy for current real conflict issues using learned conflict management knowledge and skills.
Facilitator Mark Baril, who spent over 30 years in the converting industry, now has an MS in Mediation and Applied Conflict Studies and is an experienced non-attorney mediator and a contract ombudsman.
Boating/Fishing "Welcome" Event
Sponsored by the IADD Southwest Chapter
You won't want to miss this fabulous opportunity to enjoy a day on the water and beautiful sunset while networking with industry colleagues and experts. The Premier departs from H&M Landing and offers an extra wide beam and lots of deck space, with an upper sun deck and spacious galley which provides food and libations on board. Fishing is optional (space is limited).
Who Will Receive the IADD PEAK Award?
Saturday night's dinner will feature the presentation of the IADD PEAK Award, which recognizes someone who has made a unique, meaningful or emerging contribution to our industry during the past few years, clearly demonstrating Passion, Excellence, Achievement and Knowledge (PEAK). While the recipient is kept secret until the time of the presentation, we know you will want to join us in applauding this year's innovator and popular leader. Who will it be?
Schedule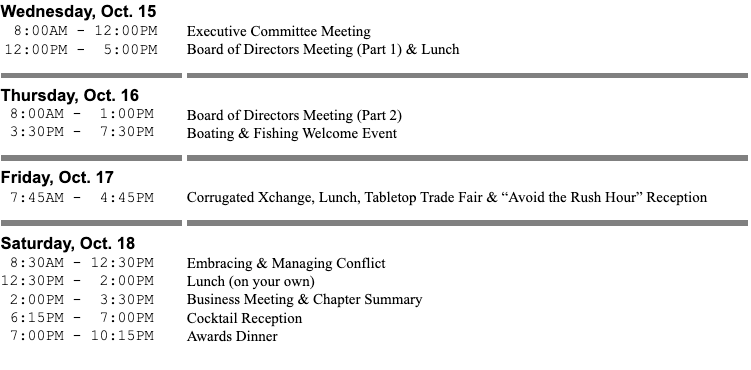 Hotel
The IADD headquarters hotel is The Hotel Solamar, a boutique property located in the heart of San Diego's pulsating Gaslamp District. Enjoy exceptional Kimpton style and service with the best of San Diego at your doorstep! Within walking distance of baseball games at Petco Park, Hotel Solamar's unbeatable location in this historic 16.5-block district makes it easy to indulge in all of the Gaslamp's dining, shopping, nightlife and entertainment.
Hotel Solamar is now certified to the industry-recognized Green Seal standard, having earned a Silver ranking by passing rigorous testing ~ from the kitchen, to your guest bathroom, from the care and attention to towels and sheets, to the recycling for guests, to the waste water, to the plants. Even the housekeeping cleaning products used throughout the hotel are green. The environment thanks the Hotel Solamar. Except for the Boating/Fishing Welcome Event, all IADD programs and events listed in the Meeting Schedule above will take place at Hotel Solamar.
Due to the popularity of our program, Hotel Solamar may be sold out over selected dates. We've also made arrangements with the following nearby hotels: Comfort Inn (2.5 blocks north), Horton Plaza (2.5 blocks west) and Ramada Inn Gaslamp (3.5 blocks north).
Other Information:
All registrants will be emailed a link to download program materials and meeting information, including sites to see, things to do, dining recommendations, airport and ground transportation info and general travel tips to help you enjoy your stay.