2015 Annual Meeting

October 15-17, 2015
Embassy Suites Savannah Historic District
Savannah, GA USA
Programs

To Tweet or Not to Tweet?
While we all recognize the ubiquitous blue bird icon when we see it, many of us have steadfastly refused to join the worldwide Twitterfest because we just don't have time or want to deal with learning another program. But there is still a part of us that worries: are we missing out on something? Will we be left behind? Bring your smart phone, tablet or laptop to this session where we'll quickly walk you through the basics of setting up a Twitter account, sending tweets and deciding whether and who to "follow." You'll see immediate results posted on our Twitter Wall screens throughout the event, and by Saturday night you'll know whether you view Twitter as a fun and useful source for breaking and potentially life-saving news and group information, an important tool in an increasingly competitive market or a giant time suck.
Disruptive Technology—Threat or Opportunity?
Daniel Harvey
What do email, advanced robotics, smart phones, 3D printing and social networking have in common? All are considered disruptive technologies, something that shakes up an industry by creating a new market and value network that eventually threatens the status quo. It is not unusual for companies to dismiss the value of a disruptive technology because it does not reinforce current company goals, only to be blindsided as the technology matures and gains a larger audience and market share. Instead of viewing them as a threat, learn about technologies that are poised to impact our industry and how you can capitalize on the potential efficiencies, cost-savings or new marketing opportunities they create.
Real World Example: Use of Traditional and Robotic Technologies to Deliver Customer Satisfaction
Bob Rice and David Massengale, Material Handling Solutions
To succeed in today's business environment of increased customer expectations and higher demand for faster delivery, converters must meet production goals and ensure on-time shipments. Learn how some companies have optimized new and existing technology to improve material handling in manufacturing operations, warehouses and distribution systems. Our speakers will cover automated case handling from the case packer through finished pallet loads, including conveyors, palletizing, stretch wrapping and accessories( i.e. label application, auto sealing, check weighing, etc.). Learn how integrated technologies can reduce mixed loads, injuries and person-power while improving load strength and appearance, protecting loads from damage and allowing for data collection.
A Look at Lasers
Bob Kloczkowski, Rofin-Sinar, Inc.
Whether used by you, your customers or your customers' customers, laser technology has made a huge impact on our industry. Knowing the correct and most cost-effective solution for your material process application results in highest peformance and provides a competitive advantage. Everyone will benefit from a look at the different types of carbon dioxidelasers (slab vs. FAF) and their features and benefits, including how they are used in dieboard, packaging and converting.
Paper and Board Manufacturing
Brent Singer and Steve Rote, Metsa Board Americas Corporation
To achieve a consistent, accurate result when converting paper and board, it is important to choose the right tools, machine settings, types of paper and board and surrounding conditions. Everyone involved in this process—even suppliers—should be aware of the impact paper and board choices has on satisfaction with the finished product. Learn about different types of paper and boards, key characteristics and especially the interactions between machinery, tools and substrate. All grades can be cut and creased, but to achieve the best result for each application, it is important to fine-tune the treatment to give the desired result.
The Good, the Bad and the Ugly - Economic Trends in the US and the World
Chris Kuehl, Armada Intelligence
Thus far this has been a year with something for almost everybody: fears of inflation one minute, and fears of deflation the next. A Fed that looks poised to hike rates, and then a Fed that doesn't think that is such a good idea. A strong dollar which is really more of a weak currency situation for everybody else. Jobs gaining ground one month and tanking the next. What does the rest of the year promise? Likely more of the same and with increasing political overtones as 2016 gets closer and closer.
Strategic Business Succession
Tom Cullen, HunterMaclean Attorneys
Creating a business succession plan is vital to ensure the continued stability of any privately-owned company. Whether your company is large or small, the overall goal is to plan for a smooth transition by establishing a solid framework in advance, reducting the potential for friction and disputes at moments already filled with stress. This session will provide an overview regarding creating a buy-sell agreement, identifying successors, transfering ownership on a tax-advantaged basis, making the transition as easy as possible and other important considerations.
An Inside Look at Retirement
Russell Jacobs, Jacobs Coolidge & Company
Retirement living conjures up various images. Some see retirement living as traveling. Others envision more family time. Still others simply look forward to more free time. No matter what your view, there are a number of questions and concerns that should be addressed to help you better prepare for retirement living. Because in order to pursue your goals and dreams for retirement, it is necessary to determine a strategy for your future. Otherwise, your choices may be limited and your options few.
Schedule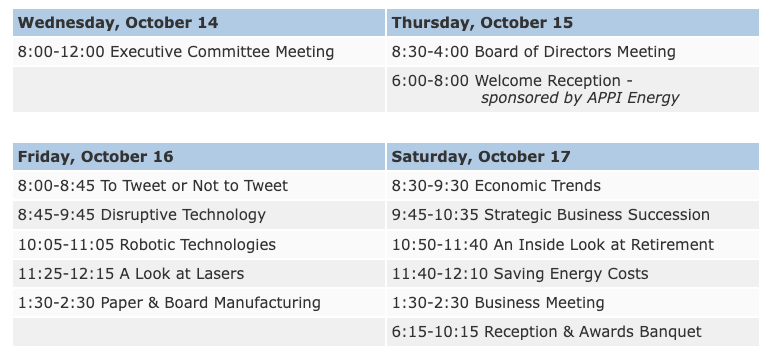 Hotel and Transportation
Embassy Suites Reservations:
Click here to use our personalized web page or call 1-912-721-6900 and mention "International Association of Diecutting and Diemaking" to get your special rate of $199 single/double (The special room rate will be available until September 16 or until the group block is sold out, whichever comes first).
Airline and Rental Car Reservations:
Delta Airlines: click here, enter code: NMLZP (2-10% discount)
United Airlines: click here, enter code: ZV94991779 (2-10% discount)
Avis Rental Car: click here or call 1-800-331-1600 and mention code J990601