2016 Joint Conference

April 5-7, 2016
Rosen Shingle Creek Hotel Orlando, FL USA
Overview & Programs
Exciting Co-Location
One of the IADD's strengths has always been the diversity of its membership. This allows for valuable cross-pollination between and among various industry segments.
For the first time, this year's conference is co-locating with the Gasketing/Converting Expo which features a cost-effective tabletop display format that allows suppliers to have unprecedented exposure to gasket fabricators and converters without having to arrange for elaborate displays and logistics. This event attracts some of the top industry professionals and provides attendees with a unique and valuable chance to meet with both new and existing suppliers. Past events have each drawn 500+ attendees and over 100 exhibitors.
Technical & Industry Breakout Sessions
Programs are both technical and business-oriented, meeting everyone's needs. Industry leaders will explore and lead in-depth discussions on topics such as:
Business Interruption Planning / Disaster Recovery
Closed-Cell Expanded Rubber
Innovation
Legal Issues
Social Media
You do not want to miss this opportunity to receive timely and relevant industry information that may help you solve a problem or develop your next big idea. Further information will be available on these sessions by clicking here.
"Four Generations in the Workplace" General Session
Join us at the General Session on Thursday, April 7, at 8:30 a.m. to learn how generational change will impact your business! Cam Marston is the leading expert on the impact of generational change and its impact on the marketplace. As an author, columnist, blogger, and lecturer, he imparts a clear understanding of how generational demographics are changing the landscape of business. Marston and his firm, Generational Insights, have provided research and consultation on generational issues to hundreds of companies and professional groups for over 16 years.
Spouse Activities
The spouse registration fee includes admission to all sessions unless otherwise noted on the program. This includes all cocktail receptions and the continental breakfast and lunch on Wednesday. Spouses who are full-time employees of attending companies must pay the full registration fee. At the continental breakfast on Wednesday, the hotel concierge will make a presentation on area and onsite activities, and spouse representatives will also be there to help introduce you to a few of the other spouses.
Golf
The Golf Tournament will begin at 1:00 p.m. on Thursday at the Shingle Creek Golf Club, just a very short walk from the hotel. This challenging yet playable course lies along historic Shingle Creek and features interconnected waterways, undulating fairways and breathtaking 360° views. It presents challenges to players of all levels and has consistently been rated as one of Orlando's best golf courses. T he tournament is a 4-person scramble so that golfers of all skill levels may participate. The cost is $126 per person (including taxes). Club rental is $56. Please note that lunch is not included. All golf fees will be billed to your room if you are staying at the Rosen Shingle Creek. If you plan to stay at another hotel, you will need to stop by the Pro Shop to arrange payment. Golf Cancellation - Due to the golf club's policy, if you cancel less than 14 days in advance, you will be charged the regular fee.
Airboat and Nature Walk
On Thursday at 1:00 p.m., please join us for an educational excursion that will take you into the seldom visited heart of natural Florida. You will see natural, protected wetland hammocks, walk through ancient Flatwoods, and travel by airboat into sections of fresh water marshes and upriver, into the bald cypress swamp. Certified eco-guides are trained to get an up close view of a marvelous assortment of birds, reptiles, and plants - some endangered, some threatened, and a few native species found in this area affectionately called "The Central Florida Everglades." The cost is $88 per person. This includes transportation between the hotel and the Tosohatchee Florida Trail, a 30-minute eco-guided nature walk, a narrated 30-minute airboat ride, and a refreshment break with alligator samplings and drinks. Due to the walking involved in this tour, please be sure to wear comfortable shoes.
Networking Event by Pool
We have reserved an area by one of the pools on Thursday from 1:00 p.m. to 4:00 p.m. exclusively for attendees of the Gasketing/Converting Expo. The area will serve as a meeting place for attendees who are not planning to partake in other activities to gather and network informally. Light snacks and refreshments will be available. Spouses and guests are welcome.
Schedule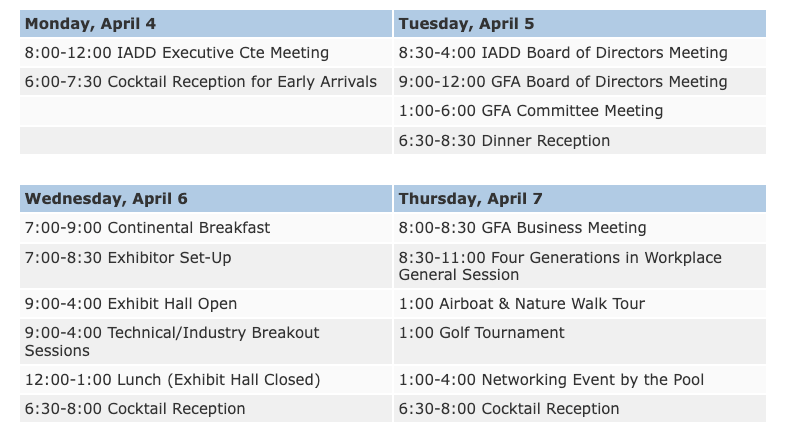 Hotel & Transportation
Rosen Shingle Creek Reservations:
Click here to use our personalized web page or call 1-866-996-6338 or 1-407-996-6338 to get your special rate of $199 single/double (The special room rate will be available until February 26 or until the group block is sold out, whichever comes first).
Ground Transportation/Parking:
You may arrange shuttle transportation through Mears Transpor tation online at www.mearstransportation.com or by calling 1-407-423-5566. The cost is $20 per person for one-way transportation and $32 per person for round trip transportation between the Orlando International Airport and Rosen Shingle Creek. Please note that this company also services other hotels.
One-way taxi service between the airport and the hotel is approximately $40. Self-parking at the hotel is $16 per day plus tax. Valet parking is $21 per day plus tax.
Rental Car Reservations:
The following car rental service providers are conveniently located within walking distance at the airport: • Alamo • Avis • Budget • Dollar • Enterprise • E-Z Rent-A-Car • Firefly Car Rental • Hertz • National • Thrifty. All other car rental service providers require shuttle transportation. Car rental service is available onsite at Rosen Shingle Creek through Enterprise Rent-A-Car, which has a rental desk at the hotel.