2016 Annual Meeting

September 22-24, 2016
Omni Fort Worth Hotel
Fort Worth, TX USA
Programs

Paperboard Xchange
Getting quailty technical answers can be tough. Here's a chance to get your converting problems solved by an expert panel when you attend an incredible day of highly targeted technical solutions focused on your specific folding carton and corrugated challenges. You can also submit your questions in advance to xchange@iadd.org and receive an in-depth answer during the program.
Tool Design for Sucess, Mike Sullivan, Dynamic Dies Inc.
Observe the beginning of the diemaking process where the customer's package design is designated for its specific converting machine. See all the necessary steps within the Computer Aided Drafting process to prepare a rotary cutting die as well as a set of folding carton tools for maximum production efficiency.
Steel Rule Selection, Rick Putch, National Steel Rule Co.
The failure to select proper cutting, creasing and perforating rules for the specific substrate being converted, can nullify all the hard work from CAD. Countless choices of bevels, hardness and edge profiles have been developed to not only improve the cutting process for all sorts of materials, but also for post gluing and customer fulfillment. Learn which ones will be best for your applications.
Maximize Diecutting Press Speed, Reg Cunningham, Everett Graphics
Your profitability depends on getting—and keeping—your press running at the highest speeds possible.
Paper: Fluted and Non-Fluted Peculiarities, Brent Singer, Metsa Board Americas Corporation
To achieve a consistent, accurate result when converting paper and board, it is important to choose the right tools, machine settings, types of paper and board and surrounding conditions. Learn about different types of paper and boards, key characteristics and especially the interactions between machinery, tools and substrate.
Rubber Selection, Dave West, Essential Products/Monroe Rubber& Plastic, Inc.
Complexity is always magnified when moving parts are added. The only moving parts on a die are the ejectors. Rubber and Elastomers can work well when used properly but they can also fail if the application doesn't match the ejection material. Learn how to qualify and identify potential ejection material issues before it goes to press.
Nicking and Makeready Innovations & Practices, John Dickison, Bobst North America Inc.
Review of the filling basics, myths and facts about cutting. Topics include platen cleaning, zero point /zone patching, makeready sheet, nicking size and proper uses for matrix, counters and steel plates.
Embellishing with Foil and Embossing, Efficiently & Effectively, Ross Hutchison, Universal Engraving, Inc.
Are the embellishments you are selling, promoting, and producing actually wooing the customers and consumers? How effective are they, and are you producing these jobs in the most efficient manner on press?

Düsseldorf at Your Doorstep: Highlights from drupa
Intrepid Reporters: Gino Gualtieri, Central Die Supplies Inc.; Sam Vial, Karl Marbach GmbH & Co. KG; Craig Pepper, Pace Punches, Inc.; Derrick Ames, Die Supply Guys Inc.; Mauro Tomelleri, Serviform SRL; Andrew Carey, Cimex; additional TBA
Over 260,000 visitors from 188 countries and 1,900 journalists from 74 countries travelled to Germany to attend drupa, the world's biggest trade fair for print and crossmedia solutions. If you couldn't attend—or didn't have time to scour all 19 exhibition halls—now you can catch the highlights without leaving your annual meeting seat. Learn about technology innovations, new business lines and future themes with strong growth potential, such as 3D printing, functional printing or packaging printing.
Other Topics To Be Announced
Planning is still underway for additional presentations which will prepare you for 21st century diemaking and diecutting and will help your business thrive in an increasingly competitive market.
Schedule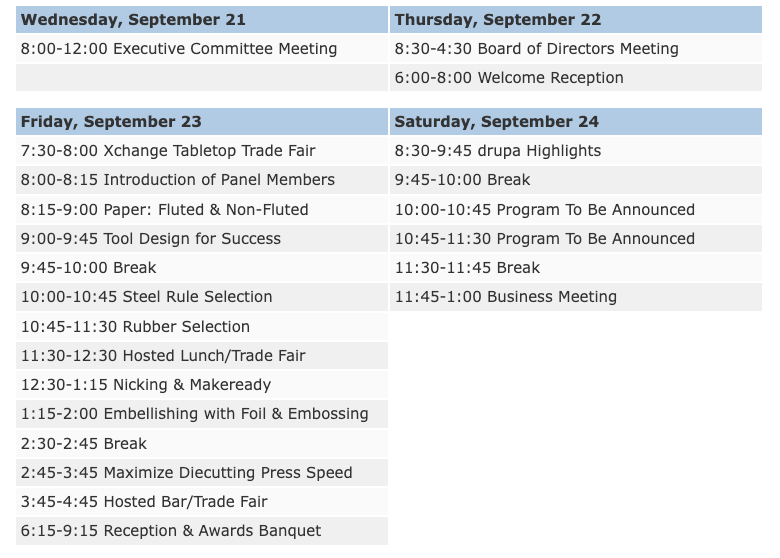 Hotel
Omni Fort Worth Reservations:
Click here to use our personalized web page or call 1-800-THE-OMNI (1-800-843-6664) and mention "International Association of Diecutting and Diemaking" to get your special rate of $199 single/double (The special room rate will be available until August 22 or until the group block is sold out, whichever comes first).