Kevin Carey
2009 Lifetime Achievement Award Recipient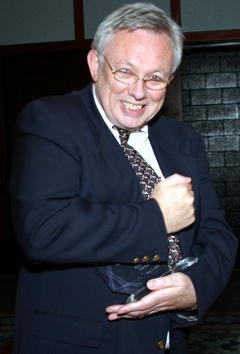 It doesn't take a large boulder thrown into a pond to create a ripple. Even the tiniest stone produces waves that extend far beyond the point of impact.
And so it is with Kevin Carey, Technical Director of DieInfo and Die-Cutting Works, Inc. and partner in Lifework Coaching, who proves it is possible that a single man can affect positively the lives of many.
Which is why then-IADD President Joe Adkison of Adko, Inc. felt it was a great privilege to present to one of our most deserving members the IADD Lifetime Achievement Award, which recognizes exceptional accomplishments in our industry over a span of many years. The honor recognizes a person's ability to openly share valuable knowledge and experiences with other industry members.
Adkison was quick to remind the crowd gathered at Odyssey for the IADD Awards Dinner that Carey's impressive lifetime of experiences—while greatly and positively influencing the converting world—are still ongoing, as Kevin continues to reinvent himself and create new and unique opportunities for bettering our industry.
Carey's impact on our industry began about 50 years ago when, in 1960, he started out as an apprentice diemaker in a large folding carton company in Merry Olde England.
Over the next decade, he became a diemaker, a diecutter, a press operator, a technical trainer, an emergency medical technician, a printer, a trade union leader, a supervisor, and a manager of a number of companies in the UK and Europe. His thirst for knowledge and experience led him on divergent paths, but always kept him within our industry.
In 1979 Kevin came to America and formed Lasercomb America. As President and CEO of the company, he led the organization to become one of the largest diemaking operations in the US during the 1980s.
He was, and continues to be, a man ahead of his time. He helped to introduce laser diemaking and CAD-CAM systems to the packaging industry.
Dennis Garrity of Bar-Plate Manufacturing in Woodbridge, CT, USA, who nominated Carey for this award, stated that in his early years at Champion Packaging in Chicopee, MA, USA, they used Kevin's technological innovations to provide them with a definite advantage over their competitors.
Adkison stated, "How fitting that we are able to bestow this award during our Odyssey, where attendees have the opportunity to learn about new products, processes, and equipment so they can stay on the competitive leading edge. Kevin has promoted and participated in Odyssey and many other industry educational seminars. He has given a lifetime to researching, teaching and sharing his knowledge for the betterment of others."
In 1990, Carey started DieInfo, a consulting firm with a mission to develop converting excellence by collecting, analyzing and documenting key technical information to help optimize diecutting performance. This led to many innovations in the diemaking process as well as a huge database on which his seminars are based.
Carey has given programs for diemakers, diecutters, sales and front-end people, factory floor personnel, managers, and business owners on topics ranging from sales, technical, process and productivity improvements to motivational training.
Starting in 1994, Carey was one of the founding members of DREC (Diecutting Resource Exposition & Conference), and since then has been touring the US and Canada. So far, he has given free seminars on diemaking and diecutting in 94 cities. Over 7,000 people representing 2,800 companies have attended. His only compensation for this remarkable effort and generous donation of time has been the reimbursement of his out-of-pocket expenses. Kevin would say that his real compensation has been the look of newly attained knowledge on the faces of the participants.
As if he did not have enough to keep him busy, in 1996 Kevin started Express Dies in Ludlow, MA, USA. His original intention was for this to be a self-supported training facility. Anyone who visited this facility could only be impressed with the innovative methods, materials, equipment and procedures he had developed.
He soon realized that keeping Express Dies self-supporting was not allowing him the time to concentrate on his first love: teaching. He sold this successful company and redoubled his efforts in DieInfo.
As DieInfo grew, Carey developed DieInfo Magazine, a technical publication for the diemaking and diecutting industry. Many have seen his publications and witnessed his unique ability to explain things with written words and further convey his thoughts with excellent graphic illustrations.
He is now an international editor and publisher. His articles have appeared in DieInfo, The Cutting Edge, numerous vendor newsletters, and foreign publications around the world.
He is a past recipient of the Diecutter/ Diemaker of the Year Award (1986) and has served as both a Vice President and Director of IADD, where he continues to serve and share.
He has been a presenter at the Larson WorldWide Diecutting Symposiums and is a frequent presenter at IADD/FSEA Odyssey and numerous IADD Chapter meetings. He continues to give freely of his time, knowledge and experience. With a sharp, dry sense of humor and passionate, honest—but often blunt—statements about the industry, he is sometimes teasingly but respectfully introduced as our "Industry Insultant."
In reality, he is a great resource for answers to technical questions, and as a consultant he has come into many operations to help them put their best foot forward, improving and optimizing their processes, teaching, and sharing his vast collection of knowledge. This is what Carey does best.
On a personal note, Kevin has taught himself to play guitar, has taken flying lessons, is an avid reader of books of all types, and is an accomplished fresh and salt-water kayaker.
Adkison concluded, "For a young man of only 64 years old, it is hard to understand just how much he has accomplished. With many good years left, Kevin Carey is one of the truly unique, innovative and accomplished men I have had the privilege to know."