John Gordon
2017 Lifetime Achievement Award Recipient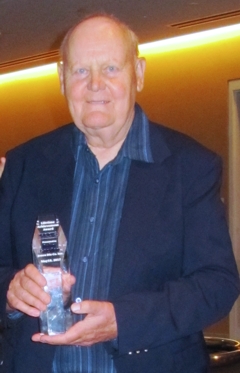 The Storyteller's Story
John Gordon Receives 2017
IADD Lifetime Achievement Award
The beauty of giving the IADD's most prestigious award to a respected and beloved industry icon who is a master storyteller is that introductory speeches and laudatory articles almost become redundant. The most rewarding way to get to know John Gordon—CEO of Jonco Die Co. Inc. in Mounds View, MN, USA and the IADD's most recent recipient of the IADD Lifetime Achievement Award—is to listen to his story in his own eloquent words.
How did you get started in the industry?
In June 1959, as a twenty-year-old, I took a job with Scarp-Heilman Company in northeast Minneapolis, USA. Scarp Heilman was owned by George Heilman and Daryl Scarp. They were designers and manufacturers of flexographic (rubber at that time) printing plates. They also had a small steel rule die shop in the corner of the plant. This was my first exposure to steel rule cutting dies. My first responsibility was molding plates. I did get to work in the die shop and was taught how to make dies by a man named Ray Bates. Scarp-Heilman sold the die shop to Ray in 1962. Ray moved it into his own leased space and changed the name to Precision Die Company. He offered me a partnership to go with him. At the same time, I was offered the plant superintendent job at Scarp-Heilman. I knew I needed experience managing a work crew. Also, I recognized as superintendent, I would gain valuable experience with customer service. Three years later in 1965, Ray got word to me that at age 65 he wanted to retire. Was I interested in purchasing the shop? In November 1965, my wife Joann and I purchased the assets of the die shop and moved them into a corner of our basement in Brooklyn Center, MN, USA. We renamed the business Jonco Die Company. I once read somewhere "if your dream doesn't scare you; it's too small." To quote John Wayne, "Courage is being scared to death but saddling up anyway." When I quit my job and we started Jonco, I confess I was scared. We had three small boys, a mortgage, car payments and no health insurance. We had no customers. The first six months were rough until we started to grow. We worked hard and put in long hours. Joann would often deliver cutting dies with a die under one arm and a baby under the other. We operated out of our home until 1972 when we moved into commercial space. Jonco has since grown to a 45,000 sq. ft. location that employs 82 people. Comments from various extended family members would get back to us as the business grew about how lucky we were. Isn't it amazing how lucky people are who work hard?
Who were/are your role models and why?
In our early years I knew of no industry role models. Maybe I was destined to become one. I'll let you decide if that has come true. I attended a Christian Business Men's Connection meeting with the pastor of our church. R.G. LeTourneau was the speaker. The late Mr. LeTourneau was an industrialist and a contemporary of the late Henry Kaiser. I was so taken by Mr. Letourneau's testimony I purchased an autographed copy of his book, Mover of Men and Mountains. His autobiography both challenged and encouraged me. Mr. LeTourneau invented and built the first huge earth moving machines pulled by his Turnapull. He was the first to put electric drive motors, driven by an on board generator, in the wheels. He was also the first to put rubber tires on big earth moving machinery. If I needed a hero, R.G. LeTourneau modeled what a manufacturer could and should be.
When I think about role models in our industry, two men come to mind. One of them is Ray Miller. The other is Phil Saunders. Both of these iconic men pioneered new technologies to meet the demands of converters needing tooling to keep their presses productive and profitable. Ray Miller, while being a successful businessman, is also known and credited with building the first laser cutting system for dieboards in the US. Phil Saunders once told me that he was in the right place at the right time. Bill Ward had invented a soft anvil rotary diecutter for converting corrugated board. As Ward machines were installed around the country Phil set up his Container Graphics shops close to them. We credit Ray and Phil with pioneering and sharing their knowledge and technology. Their innovations and experiences have profoundly impacted the design and manufacture of tooling for the cutting die industry. We all benefit from their efforts and discoveries.
People say that you are one of the industry's pioneers. Why do you think they feel this way?
It is difficult for me to understand when people remark I am one of the pioneers right up there with the great leaders of our industry. My definition of humility is to not think less of myself, but to think of myself less. However, when someone sincerely compliments me on our achievements and what Jonco has contributed to our industry, it is less than kind to not accept their comments graciously. Our family and our employees deserve the recognition that accrues to them through Joann and myself. I will accept the Lifetime Achievement Award on their behalf.
I do understand Jonco has contributed to the refinement and improvement of diecutting tooling. We have always brought innovative solutions to converting challenges. In part, it has been accomplished by reaching goals set in the process of continuous improvement. More so, though, it is the passion to be and do the best we can. This is why our quality program is so important. It keeps us focused. It forced us to document systems and procedures necessary for consistency. Our quality system gives us control of all company documents which were scattered all over the plant with little or no coordination. It gives our management team tools. For example, there is a simple—yet complex if you don't understand how to use it—tool we call "root cause analysis." When a problem repeatedly comes from a department or an individual, management looks for a root cause. It may lead to understanding a weakness in our training program or a weakness in our system we can improve. Sometimes it brings to light the need to improve our communication process between sales and marketing and manufacturing.
What is the biggest industry challenge you've faced?
I believe all leaders have vision. I have been no different. I could see the industry was about to explode and our growth potential was almost unlimited. What I could not see was accomplishing the growth with current equipment and technologies. I would lay awake at night trying to figure it out. Eventually we were able to purchase our first CAD system and a plotter. We went from drafting by hand on the dieboard to pasting a Mylar film produced on a plotter onto the dieboard. I would go to the trade shows and see the laser equipment and all the other things we needed but did not have the ability to purchase. I was beginning to understand that as a craftsman I had little or no understanding about business.
Joann and I attended an IADD chapter meeting in Chicago, IL, USA in late 1985. Ron Murray of the Rayner Company was the featured speaker. Ron commented that many of us were growing our businesses on the backs of suppliers. I remember turning to Joann and asking "Do I do that?" She said yes, and it made her uncomfortable to meet suppliers at meetings knowing we were 90 to 120 days out with them in our payables. I leaned back over and said "When we get home, let's discuss this." We did and made the decision to pay down payables until we got within terms. By the end of 1986 we were paying all of our suppliers within terms and taking all applicable discounts.
Sometime after that it's like the windows of heaven opened up and we became blessed with a banking relationship that extended us a line of credit and the ability to borrow money to purchase equipment. Coincidence? I think not. There are spiritual laws of right and wrong. If we get in line with them, things work. I had not understood cash flow or the power of a line of credit. I do credit myself as being a quick learner and it wasn't long before we purchased our first used laser system. In retrospect, the biggest challenge of my life at that time was from a craftsman becoming a businessman.
Learning to delegate was challenging. After all, who could do things as well as me? I did learn, as painful as it was at the time. Eventually, I became comfortable with the fact that the emerging leadership within the company contributed abilities I did not possess. I'm proud that today we have a leadership team who functions daily much better than I ever could alone. It's fun to watch young managers mature through the same process I did, learning to delegate. Oh, the power of delegation. At the end of one particular day, I had about eight things that needed doing in a short period of time. It would take me hours doing it all myself. I enlisted a few helpers, gave them each one of the projects and within an hour all were finished and ready to ship. I've never forgotten that many hands make work easier.
What are your greatest accomplishments?
One can be extremely successful in business and lose his/her family. For Joann and me, our family is most important. To raise kids that respect and love Mom and Dad and honor them is priceless. All four of our kids have always been involved in the business. We understood from the beginning that our kids are not little copies of us. Each is an individual and sees the world from a different perspective. It's important to nurture their talents and encourage them to find fulfillment as their individual gifts make room for them in the company. Jonco has afforded them the opportunity to grow as people and enjoy success in their careers. We are now experiencing grandkids entering the business. They are millennials and will be one of the keys to understanding as more millennials enter our work force. We need not be threatened, but embrace the opportunity they will bring to the future.
What advice would you give to someone who is just considering entering the industry?
Be a person of integrity. In other words, let your word be your bond. Integrity also means being true to your own self. When I worked at Scarp-Heilman, it didn't take long to realize most of the employees did what was expected of them every day. There were a lot of obvious areas needing improvement. No one seemed to notice or care. I started making process improvements. I cleaned up the background of the plates I was molding. I brought quality standards up and increased production. Maybe that is why at age 22 I was put in charge of the plant.
Make yourself valuable to your company. If management asks you to do something outside of your job description, do it with a smile. Be reliable. Understand what the company wants of you and how they want things done. Don't strike off on your own unless someone has turned you loose within the organization to do so. The best advice I ever received was to be teachable and have a servant heart.
What makes a good company great?
Often the greatest opportunity comes on the heels of disaster. From the ashes of defeat can come victory. Run to the roar. I heard this somewhere and thought that needs to be part of our training for sales and management teams. How do we respond when we have made a mistake in a cutting die and fouled up the work flow in the customer's plant? In modern converting plants just-in-time is reality. Cartons are printed, diecut, bundled on pallets and flow right into the trucks for delivery. It's much like watching a river like the Mississippi or St. Croix. It flows. When there is a problem, it stops the flow. Our people need to understand this, because how we respond makes all the difference in our relationship with that customer. Our staff have been trained to make it a priority to fix the problem and get it back on press. Rather than avoid the unpleasant, we need to run to the roar. When Ken Holliday had Southeastern Die, I observed how Ken handled things when something went sour. Ken often personally went to the customer, said he realized there was a problem and asked the customer what they could do to make it right.
What three things do you know now that you wish you'd known earlier?
That youth is sometimes wasted on the young. That when it comes to money, there is only 100 in 100. Communicate, delegate and train, train, train.
How has IADD impacted your career?
The DDA was formed in 1972 in the Midwestern US, with the Chicago, IL area being the first chapter. Joann and I attended the chapter meetings before we began to attend the national meetings. Later the name was changed to NADD and still later to IADD. I have had the honor of knowing all the presidents on a first name basis except the first two.
In the history of any successful enterprise there are moments in time I call "tipping points." One of our most powerful opportunities for change came as we attended the 1983 NADD Annual Meeting in Boston, MA, USA. The program title was "Staying in Step with Technology." The highlight of the meeting was a tour of Lasercomb America in Palmer, MA, USA, hosted by Kevin Carey. That meeting began a process of growth and change at Jonco that continues to this day. I came away from it wondering if we could ever be in a position to afford the technology I witnessed that day. Joann's perspective was totally different. She came away wondering how long it would take me to order my first laser. She always knew I could do anything I set my mind to, and she often told me so.
As the business grew, we learned the importance of hiring and training the right people. Once again the IADD was and is an invaluable resource. We have always sent key people to the meetings, helping them gain perspective on our industry. We have supported and encouraged our employees to attend chapter meetings and national meetings. Jonco has given you Dan Johnson as one of our presidents and now Shaun Larson is about to become our current president. After considerable discussion, our management team approved these men to serve. They realize the financial investment and time away from work comes back to us favorably. I'm now looking for the next Jonco employee to become involved and become a director.
To this day, the educational and training programs offered by our Association are available nowhere else. As an organization, Jonco has always supported the Association. I have served on the Board of Directors and on several committees. One of them was serving on the very first Education Committee. This was the beginning of our Association offering training seminars to the industry. Ed Mucci Jr. of National Steel Rule chaired that committee and out of it came the first video in 1995, which I had the honor of producing. I recently watched it, and while the technology by today's standards is primitive, the message is still current. In addition to serving on the Education Committee, it was also my honor to be on the Board that hired Cindy Crouse as our new executive director. It was that Board who approved the plan as an Association to hold trade shows; thus Odyssey was born.
Personally, a most valuable benefit to me and our company is the opportunity to network. The people I have met and the relationships I have formed became some of my most trusted business and personal allies and advisors. To build world class tooling requires world class suppliers and world class friends. We are blessed with suppliers who not only provide us with product but also share their knowledge and expertise as part of this unique network.
Do you have any regrets? Anything you would do differently? Hard lessons learned?
I do not think much in terms of regrets. I'm satisfied that we did the best we could under the circumstances of the time. In writing for this article, there comes a point I need to quit tweaking it, let it go and be satisfied I have done my best. However, in retrospect, I could have been bolder and taken more risks. If I could have matured emotionally and mentally earlier in life, would I have done things differently? I do not know. In the Lord's Prayer, there is a line that says "Lead us not into temptation." Most may think of lead us not into sins but God would never do that anyway. To me, I'm saying "God, please do not allow me to take on responsibility my character is not ready to handle." When I talk about personal growth, I often feel misunderstood. What do I mean? We grow physically to our full potential in a few short years. To mature mentally and spiritually takes a willingness to grow. It is a lifelong process. One of our Jonco core values is giving people the opportunity to develop and grow both in skills and personal development. All our supervisors came up through the shop. It is important they develop people skills. Everyone on our management team once swept the floors and learned how to do it right, as I had a systematic way of doing it. Whether they understood it or not was not important to me; what was important was whether they trusted me enough to perform as required.
What should we know about your family, personal hobbies, likes/dislikes?
Joann and I grew up in a small community called Northern in Northern Township just north of Bemidji, MN, USA. A few area farmers used to grow potatoes as a cash crop. In the fall each year, we were allowed to take two weeks off from school to pick potatoes. After the digger went through, the potatoes lay in rows on the ground. It worked best for two people to work together. Each filled a wire peck basket, then as one held the burlap sack, or gunny sack, the other dumped the two full peck baskets in, making a bushel. We each had a best friend partner, but they were not as serious as we were so at lunchtime the first day we changed partners and Joann and I picked potatoes together.
We were paid ten cents a bushel—a lot of money in the mid-1950s. We would pick 100 bushels a day. We worked so well together we've been doing it ever since. We were just kids and were best of friends for many years. We eventually started dating and in August 1959 we were married. You do the math. Joann and I have been business partners since the beginning. We moved to the Twin Cities area in 1959. We raised five kids. One, Sheryl, passed away in 1991. The rest of our kids (Greg, married to Gwen; Randy to Amber; Kevin to Karla; and Tami to Shaun Larson) started out weekends and summers working at odd jobs in the shop and as they graduated high school worked full time at Jonco. We now also have several grandkids working in the shop.
A question begging to be asked is why did they all elect to work in the family business when they obviously are qualified to do just about anything they wanted or set their minds and hearts to? Well, I don't know. I mentioned earlier the respect they have for Mom and Dad. I know it results from our respect for them. I worked on or around farms most of my youth. I observed the kids in farm families were treated as slave labor. Many of them grew up hating the farm life. We paid our kids well. We paid them the same wage we would pay anyone else to do the same tasks. Our kids love the business we are engaged in together as a family, and we have shared many business adventures together. There is nothing more rewarding for Mom and Dad then when your grown children stand tall beside you and realize, see and understand what you had in mind all the time.
Excerpts from John's award acceptance speech
For most of us, the only problem being honored with a lifetime achievement award is you have to grow old to receive it. Ten years ago I was there when Ken Holliday (SouthEastern Die) received his. Six years ago I witnessed Ed Mucci Sr. (National Steel Rule) receive his. Two years ago I was here as Russ Smith (Ward Machinery) was presented with his. There are others, and now you have added my name to a special group who have been recognized for their contributions to our association and to our industry. I am humbled to be included alongside of these people. On behalf of our family and the employees of Jonco Die Company, I receive this honor as I represent each and every one of them. We recognize that without the members of the Jonco management team and employees, we would never have grown to where we are today.
I believe it is important to remember and honor the pioneers of our industry, men who have blazed a trail we take for granted. Ray Miller, founder of Atlas, pioneered laser technology in the United States for cutting dieboards. Ray also set a precedent for openness and sharing of technology. He allowed us to visit his plant and see his laser system which at that time only cut four inches (101.6mm) per minute. We could jig faster. But it helped pave the way for the technology we employ today. Many of the technologies we take for granted today started out slow and cumbersome.
Another iconic pioneer was Phil Saunders, founder of Container Graphics. Phil once told me he was in the right place at the right time. As Bill Ward installed his rotary diecutting machines, Phil was there setting up his plants in major population centers. Specs for rotary dies were being created as time went on. and Phil gave our industry the benefit of a lot of their trial and error.
There were others, but I single out these two men because they were instrumental in the founding of the Diecutting/ Diemaking Association (now IADD) in 1972. Ray and Phil served as our first and third presidents, respectively. Mark Batterson, in his book "Chase the Lion" says "everything we have accomplished testifies of those who have parented you, mentored you, discipled you, coached you and loved you." We stand on the shoulders of these and other industry pioneers. Their ceiling became our floor.
I've always been a dreamer with a lot of of ideas. Another recipient, Kevin Carey of Die-Cutting Works once told me I had enough ideas for two lifetimes. It is important to keep the dream alive or dream new dreams. Louis L'Amour, in his novel, "Hanging Women Creek," says: "A man never starts to get old until he starts to forget his dream. Some dreams lay dormant for years. They are not dead, just lying there starving because of lack of hope."
It is also important to recognize the impact our IADD has had on our lives and Jonco. There are "tipping points" in life that often change our thinking and propel us in a new and profitable direction. In 1983 Joann and I attended the annual meeting whose theme was "Staying in Step with Technology." The highlight of that trip was a tour of Lasercomb America in Palmer, MA. We witnessed technologies that day I had only dreamed about. I couldn't see the way to bring lasers and the other equipment into Jonco, but Joann could. Since then we've purchased ten laser systems. One was scrapped, three have been sold and replaced and we are in the process of selling two more to make room for the laser you see on the floor at this show. Dreams do come true.
In 1994 Joann and I were presented with Package Printing's IADD Diecutter/Diemaker of the year award. That was the first and only time this recognition has been awarded to a couple. The article was titled, "Family Affair." Beginning 1995 I served seven years as an IADD board director under three presidents: John Schulte of Modernistic, Rex Williams of Dies Inc., and Ken Holliday. I served on the first IADD education committee chaired by Ed Mucci, Jr. of National Steel Rule. That committee had the vision to qualify presenters and facilitate IADD-sponsored educational training seminars, precursers of those held today. Recently I attended our chapter meeting in Minneapolis featuring Pat Quinlan of Channel Creasing as presenter. I've listened to Pat present his folding carton sessions many times and been on a few programs with him. I commend you, Pat, for your dedication to training and education.
I was on the board that studied and approved the concept of an association-sponsored trade show. As Clint Medlock of Stafford Cutting Dies patiently shared his vision with our board, Odyssey was birthed. Jonco's Dan Johnson was instrumental working with Clint and his team to ensure the success of the first Odyssey in 2001. The awesome events and opportunities of these few days of Odyssey testify to the power of vision. Ronald Reagan said, "We can't help everyone, but EVERYONE can help SOMEONE." Odyssey started out simple and grew to become a major component of our association. As an association, we can help anyone willing to get involved.
Networking is one of the most valuable and amazing benefits of association. I have met people from all over the world because of IADD. Some of the most trusted business and personal relationships were birthed at IADD functions. Pat and Pete Quinlan (formerly AccuDie) shared their knowledge with us as we were getting ready to purchase our first laser system. Rex Williams and I have become "buddies" and affectionately call each other Will and Waddie. Ken Holliday and I share a passion for excellence that affects everything we do, from mowing the lawn to manufacturing cutting die systems. With his wife Shirley, we have literally traveled the world together. Clint Medlock became a good friend who is always willing to help or answer questions.
I wish to leave you thinking about our future. Our future is your future. Whether you are employed by a converter or toolmaker, own a die company or are a future entrepreneur, what transpires or trends in the next few years will have a profound effect upon your ability to achieve your dream. It's going to be interesting how the use of robotics will find its way into our industry.
I'm reminded of a cartoon I saw years ago. Two astronauts were seated in their space capsule atop the rocket which would launch them into outer space. One turns to the other and says, "Don't you get a little nervous sitting on top of millions of dollars of parts awarded to the lowest bidder?" Wouldn't it be nice to know the leadership of the companies we serve were to get nervous knowing the tooling systems being used in the converting presses they purchased for millions of dollars were often going to the lowest bidder?
We need to do everything in our power to preserve and foster respect for what we do so well. We must continue to resist the effort to view tooling as a commodity. Today's presses are sophisticated and run at speeds requiring world class tooling to achieve maximum output in quantity and quality. Don't allow anyone to devalue you. Be people of integrity. Treat our suppliers as we wish to be treated.
I leave you with the refrain from "On Eagle's Wings": And I will raise you up on eagle's wings, Bear you on the breath of dawn, Make you to shine like the Sun, And hold you in the palm of my hand.
See past Lifetime Acheivement awardees—and other IADD honorees—online here.