Ken Holliday
2007 Lifetime Achievement Award Recipient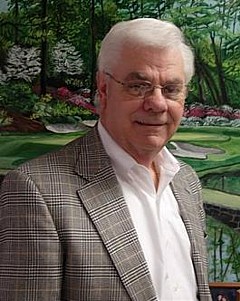 Excerpts from Dan Johnson's address at the IADD Awards Banquet held during the 2007 IADD-FSEA Odyssey
Tonight it is my privilege to present the 2007 IADD Lifetime Achievement Award to Ken Holliday, Chairman of Atlas Die LLC.
It has recently become a tradition to present our most prestigious award here at Odyssey. But this year has special meaning to not just our membership, but to all of you as well. Let me tell you why. Most of you know that Odyssey was a dream of one of our past IADD presidents Clint Medlock. Clint shared with me that when he first discussed the idea of Odyssey with Kenny, Ken was very excited about it and encouraged him to take it to the board of directors. When the board asked Clint to run with it, he knew it would only be possible with Kenny's leadership. In Clint's words "Kenny made the first Odyssey a reality. I was just his helper wanting to support my greatest mentor".
Kens career started in 1964 at Carolina Steel Rule Die. His brother Larry was employed there and mentioned to Ken that they were looking for someone to go into sales but they didn't know if they could afford it. So they agreed to try it for 1 month. Ken went on to work in sales there for 12 years. His starting wage was $80.00 per week, plus draw. When Ken started new dies were .15 cents per inch and reknifes were .10 cents per inch. Ken would at times put on 400-500 miles a day. He would do what he called milk runs on the weekends. Ken enjoyed the excitement of picking it up / getting it done / and then delivering it. Ken brought growth to Carolina Steel Rule, which was evident with a new building and the purchasing of the latest equipment.
In 1975 George Dooley, owner of Carolina Steel Rule Die, signed Ken up as an associate member of the IADD and allowed him to go to an annual meeting, and the rest is history. Ken said the networking was great; everyone was there to help make things better. Ken was excited to be there and participated in as much as he could while having fun doing it. He shared with me one of the phrases his good friend Rex Williams always said, "If we can't have fun doing this we should just go home" During Herb Welch's presidency he saw how much Herb enjoyed that leadership position, and when asked by Ron Ballard to serve on the board; it never entered his mind that he would someday serve as president which he did from 1999-2001.
Ken enjoyed setting goals for the association, as well as seeing that they were achieved, but reminded me that many of the association's achievements can be attributed to Cindy Crouse; she is an excellent leader. Ken was also instrumental in starting the IADD Chapter of the South and has been a frequent author and presenter as well. As stated by one of his nominators, "Ken Holliday is a most remarkable person who embodies the essence of what the IADD is all about."