Eric Anderson and Darrel Griffin
2012 PEAK Award Recipients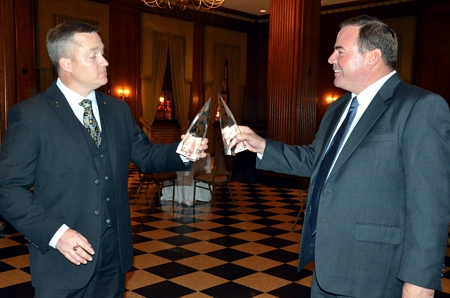 At the IADD Annual Meeting in November, 2012, Association President Andrew Carey presented the prestigeous PEAK Award. These are his remarks from that night.
For those of you familiar with the latest Avengers movie, there is an interesting section of dialog involving Tony Starks (aka Iron Man) while on the ship:
Pepper Potts: Is this about the Avengers? Which I know nothing about.
Tony Stark: The Avengers initiative was scrapped, I thought. And I didn't even qualify.
Potts: I didn't know that either.
Stark: Apparently I'm volatile, self-obsessed and don't play well with others.
Potts: That I did know.
The observation "does not play well with others" comes to mind, and in the movie, that comment seems synonymous with Iron Man's loner attitude and character persona to that point. However, things could not be further from the truth. It is strange that often what makes you think of one quality is actually the opposite—the antithesis of what you believe. The dynamic IADD duo I refer to have been coined Batman and Robin by several, so I will follow that lead and refer to them as so for now.
Batman is involved in making drums, while Robin has had issues staying on perfectly good airplanes. Batman and Robin both follow the San Diego Chargers when it comes to football (the American version with the flattened ball), but live 2,000 miles (3,218.7 km) apart, so one clearly has what I would call location deficit disorder. Batman is a free spirit, Robin a Freemason. Batman is mellow and likes to sail, although he does admit he spends more time washing the boat than using it. Robin admits to attacking a lawnmower—maybe that might start to explain the love of Car Bombs [the drink] which are now a Drogheda staple.
All kidding aside, both are devoted husbands and fathers and each has a pair of wonderful children. Oil and water do sometimes mix, and can do so harmoniously.
One of the association's highest honors, the PEAK Award, stands for performance, excellence, achievement and knowledge. It focuses on the person (or team of people) who made the most positive impact on our industry within the last 24 months by demonstrating a unique, meaningful or emerging contribution to the diecutting and diemaking industry. If we look back over the last 12-24 months, the crowning achievement of that timeframe was a very successful 2011 Odyssey. While we are currently wrapped up in plans for the 2013 Odyssey (again in Nashville, TN, US) how can we forget all that went into and came out of the 2011 show?
The mission of the IADD is to be the definitive resource for the diecutting converting industry, bringing together and serving people who convert soft to semi-rigid materials into various cut parts. By sharing collective knowledge, expertise and information, the IADD leads and stimulates creativity and innovation, provides opportunities for professional growth, serves the diverse needs of all industries engaged in diecutting and demonstrates commitment to ensuring progress through participation.
During the 2009 Odyssey, 769 people attended the education sessions; during the 2011 Odyssey 1,300 people attended the education sessions. We aim to be the definitive resource for the industry, and this statistic shows a 69% increase in people coming to us for knowledge. That alone should mark the show as a great success. However, our dynamic duo weren't done yet. They also increased non-exhibitor and exhibitor attendance, the number of exhibiting companies and the number of countries represented. Seminar revenue and the overall show profit were also up under their leadership, which we're not complaining about either.
Both will be quick to defer credit to the other—or to their Odyssey Committee as a whole—yet all successful projects need a leader or leaders, and Odyssey is no different. Our dynamic duo of Batman and Robin were the co-chairs for the 2011 Odyssey, and graciously agreed to continue on as co-chairs for the 2013 Odyssey next May. By now it is of course abundantly clear that although they may have been coined Batman and Robin, we know this wildly successful duo as Eric Anderson and Darrel Griffin.
Eric Anderson attended Palomar College from 1980-82, where he received his AA degree while working through college in a large restaurant. He was able to fine-tune culinary skills that came in handy later in life, since he did not get married until the age of 39. He continued his studies at Cal State Fullerton where he completed his degree work in business in 1986, while being fortunate to be able to work part-time doing odd jobs and deliveries at Anderson International Trading. The company is a family business started by his father in 1976 and was located just a few miles away from his college in the city of Orange, CA, US. Following his studies, Eric decided to stay with the company and slowly moved up the corporate ladder until he eventually was able to secure the position of President in 1997. He pretty much did every job at this import/distribution company, from unloading containers to fixing trucks, deliveries, office work, computer work, sales and even janitorial duties and washing the trucks. He would not have had it any other way, and makes him feel very comfortable in the position he is in now.
When Anderson International Trading became a member of the IADD in 1979, his father enjoyed the benefits of the IADD (NADD back then) and attended all the local chapter meetings and Midwinter and Annual meetings, as they were then called. There was much to learn with many changes taking place in the converting market in terms of automation and the quality of raw materials, including die-board.
Eric was first elected to the IADD board of directors in 1995 under the presidency of Herb Welsch. He has enjoyed many years of local chapter officer work, and feels that this was probably the most fulfilling position of the many he has held while volunteering for the IADD. He felt it was such a privilege to help set up technical meetings for the local converting market with topics that made a great impact on their bottom lines and their ability to offer new services or products. The people he worked with through those early years at the local level are still his very good friends to this day.
The 2011 Odyssey Committee was actually not Eric's first involvement with the trade show. During planning for the 2009 Odyssey he worked tirelessly on Eddie Mucci's committee with the goal to help increase attendance at the show. He participated in all the conference calls, learning much about the show and listening to all the ideas to improve it. This would lay the groundwork for the work that resulted in his receiving the PEAK Award.
Darrel Griffin said of his partnership with Eric, "Working with Eric has been a real pleasure. I have a very high respect for him as an individual as well as his being the consummate professional in this Association, his business and in working with others. His positive energy is contagious and his integrity is beyond reproach. He was a great co-chair for me because he liked handling the things that I wasn't nearly as good at doing. He kept the team on track, on task, and had a tremendous grasp on the overall picture. He was definitely Batman in this duo! His dedication and commitment to excellence is very impressive. He's a great friend and is clearly a great asset to Odyssey and the IADD!"
When asked why he volunteered for Odyssey Eric said, "I am a firm believer that you can receive more benefits than the time or effort you put in when volunteering for projects that are a bit foreign to your everyday work. I was able to get to know the industry a bit better and learned many new aspects of what the equipment in the converting market can do. Of course the individuals that you grow close to or 'accustomed to' while working on committees or the Odyssey are truly a blessing. The overall learning experience is the greatest benefit I receive."
Eric's advice to others is, "I would summarize by telling others to get involved in a portion of IADD that is interesting to you; there are many facets of service and the rewards are great. You can find your niche and work with some very talented and dedicated people whom you can learn from."
Eric has been married to his wife Fidelia for 11 years, and has two children—Karl, 9, and Susan, 10. He enjoys many new friends in the Mission Viejo neighborhood they moved to 5 years ago from Dana Point, CA. Of course they enjoy the Southern California lifestyle of warm climate, beaches and as much golf as one can fit in, which is unfortunately not much of late! He still has a sailboat that does not get wet very often except by the hose, like a lot of boats.
On the other hand, Darrel Griffin of Stafford Cutting Dies took a somewhat different path. His first job in the industry was back in 1985 when he spent six months as a diemaker for Jamison Steel Rule Die in Charlotte, NC, USA. He then enlisted in the US Army and served four years on active duty, serving as an infantry paratrooper with the 82nd Airborne Division out of Ft Bragg. He was also a certified Jump Master and a Ranger. He went straight from active duty to do six years of Reserve duty where he was a Drill Instructor.
At the same time, he spent two more years back in the industry as a diemaker with Jamison and started college. Darrel graduated from the University of NC at Wilmington in 1995 with a Bachelor's degree in Environmental Biology. Over the next three years he worked in a few different fields until landing back in the industry with Stafford Cutting Dies in 1998. He spent five years on the road and has been managing production and operations since 2003.
His IADD involvement started out with being Vice-Chair for the South Chapter back in 2004. After attending a few chapter meetings and also his first Annual meeting in Niagara Falls in 2003 he knew he wanted to get more involved with the IADD. His participation has led to a better understanding of the industry as a whole, not just from his viewpoint as a diemaker, and has given him a greater perspective on his career and himself as a person.
Darrel says of his IADD involvement, "It's simple—you get out of it by what you put into it. You cannot win if you do not play. Get involved, especially if you want to contribute and/or make a difference."
Darrel saw the opportunity to get involved with Odyssey as a chance to work with some of the best people in the industry and the Association and to be a part of an excellent and unique show. If you're going to be involved and contribute to the IADD, what better way than by being a part of Odyssey! He also saw it as an honor. When asked what was the most surprising thing he learned from his Odyssey experience replied, "It's not surprising, per se, but just how hard so many people work to put this event on and how willing they are to help. How lucky we are as an Association to have CEO Cindy and Exhibit Coordinator Sue as our corner stones for the show along with the advice from all of the past chairs of Odyssey." Darrel also got his feet wet in the planning of the 2009 Odyssey, again gaining invaluable experience that set the foundation for future plans.
Asked about working with Darrel, Eric stated, "Darrel is a well-organized individual who can take a project and see it to completion. I know others who have worked with him at Stafford Cutting Dies and suppliers who have worked with him on projects, and they agree. He is committed to getting the job done efficiently and with an emphasis on quality. Working with him on Odyssey or any IADD work over the years proves the point. Of course being a family man, having the two kids, being a San Diego Charger fan and enjoying many of the same social atmospheres that I do does not hurt. He is orderly, confident and has a proven track record of doing the work firsthand before he would search out to have someone fill a role required. He is my friend, a leader of the next generation and future of our Association and industry. I am honored to have met, worked and enjoyed some great free time with him and look forward to spending more time in the years to come with him and his family."
Darrel has been married to his lovely wife Misty since December 4, 1999. They have two beautiful children, Savannah, 7 and Jacob, 6 and live just outside of Charlotte, NC in a town called Mt. Holly. He likes many types of sports, but currently only participates in golf and mountain biking. He does help coach his son's t-ball and soccer teams. As we learned from the Drogheda trip, he also plays a little guitar from time to time. He likes music, traveling, spending time with his family and friends and his career. On the other hand, he does not like traffic, indecisiveness and pushy people. What gives him satisfaction is helping others, doing his best, making things easier, improving processes, improving organization, self-improvement and, of course, common sense.
I said that oil and water do sometimes mix, and can do so harmoniously. Eric and Darrel work extremely well together, clearly shown by the success of their Odyssey planning. They divided up the two main portions of the show, with Eric heading the overall show management, and Darrel heading the programming. Eric did a superb job setting up the Techshop as a platform for the show as a whole, and for Darrel to base his programming on. Darrel led a very successful team, his "Four Horsemen," and was instrumental in developing programming that increased attendance and built on Eric's foundation. The results are in the books, and we all can't wait to see and be part of the 2013 Odyssey in Nashville in May. What a job they have done, and what an awesome Odyssey Committee we have.
It is a distinct pleasure for me to have presented our own dynamic duo, our own Batman and Robin, Odyssey Co-Chairs Eric Anderson of Anderson International Trading, and Darrel Griffin of Stafford Cutting Dies, Inc. as co-winners of the 2012 PEAK Award.