Kim and Mike Moravec
2013 PEAK Award Recipients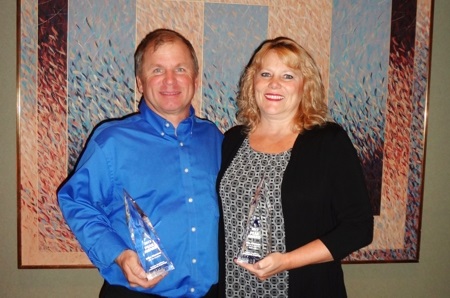 At the 2013 IADD Annual Meeting, Association President Andrew Carey presented the prestigeous PEAK Award. These are his remarks from that night.
Denver, CO, USA is nicknamed the Mile High City because its official elevation is exactly one mile or 5,280 feet (1,609.3 m) above sea level, making it one of the highest major cities in the United States.
How appropriate then that one of the IADD's highest and most important honors—the PEAK Award—has been bestowed upon Denver's own Kim and Mike Moravec, respectively President and CFO of ABC Die Company and ABC Die Cutting and Embossing.
PEAK stands for passion, rxcellence, achievement and knowledge, which are the basis for selecting recipients who have made important industry contributions over the past two years. Honored for their achievements with co-chairing the IADD's TechTeam, founding the IADD's Rocky Mountain Chapter, serving on the Board of Directors, developing substantive programming and more, the Moravecs were presented with the 2013 PEAK Award by then-President Andrew Carey of Cimex at the IADD Annual Meeting held in Albuquerque, NM, USA.
Carey explains, "In an effort to bring in new blood with fresh ideas, a little over two years ago the Moravecs were asked to take over the leadership of the IADD's TechTeam. Their endless passion made them natural choices to be approached for this role. Our TechTeam is a very important component of the IADD and they took over the reins and hit the ground running. Mike used his extensive industry knowledge while motivating the Team to attain greater heights, and by liaising with our IADD staff, led the Team to reach out to try new concepts and ideas. Kim handled the managerial role, distributing information and providing excellent organizational skills. Yin and yang may be different, but they combine to form a full circle. Their children have related to them how audio/visual communication and social networking are upon us, and they are working to help TechTeam communicate using videos that will be introduced shortly. It also helps explain why they relate so well to some of our younger members."
Over the past two years, Kim has served on the IADD Board of Directors and the Finance Committee. She's also been a member of the Annual Meeting programming task force, and both she and Mike have made presentations for the IADD and the Foil & Specialty Effects Association, as they are active in both associations (and to a lesser degree in the Manufacturing Engineers Organization). Kim led an IADD task force spearheading the creation of a new and exciting short video promoting the IADD that is used in attracting prospective members and will soon be introduced on the revamped IADD website. Mike and Kim were the first to volunteer their time and services for the creation of IADD•FSEA Odyssey promotional materials, and despite having already full IADD schedules, they agreed to be beta testers for IADD's grant-winning THINK! Outside the Box project, allowing the IADD cameras not only inside their shop, but also inviting us to attend and record one of their regular in-house safety meetings.
Andrew adds, "They offer fresh blood and new ideas to our industry, and also lead by urging other members to get involved and rise to the top with their own new ideas. Their passion is evident in everything they do."
When asked how they first got involved in IADD, Mike replies, "We joined as soon as we started our business. We became more involved over time, as we found out that the more we invested, the more return we received." Their IADD participation has meant a lot: "In addition to the many friendships, it has added to our business knowledge and personal experiences by allowing us the opportunity to head up chapters and committees, be on the Board of Directors and other 'team' challenges. By doing so, we expanded our knowledge in the industry and got to know many business strategies and were able to apply that knowledge to our own business." Being a smaller company has its challenges, but Kim and Mike justify the time they spend on IADD because, "getting away from the day-to-day business from time-to-time is critical in order to recharge, so to speak. Doing this by spending time with industry peers is easily justified, as we are still using our energy on our business, just in a different way."
They encourage others to attend the annual and/or midyear meetings to take advantage of the opportunity to socialize with the wonderful people in our industry. "I can honestly say that the information gained by attending these meetings has expanded our business knowledge and our personal knowledge, as well as improving our business strategy in tough economic times, allowing us to not only persevere through those times but to thrive in many ways."
Serving as co-chairs of the TechTeam has opened doors and relationships and given them a better appreciation of what goes on behind the scenes. Mike says, "Dedicated individuals who are passionate about their field devote their time and energy to assist others around the globe. The cumulative knowledge of these astounding individuals willing to volunteer their time from the already busy and hectic long days they endure is absolutely incredible. This group of industry peers truly cares about the progression of our industry and the success of others. It's quite a privilege for me to be associated with the IADD TechTeam. I send a huge thank you to all of them."
Mike admits that putting together the Rocky Mountain Chapter of the IADD has been an adventure of sorts, "by expanding my circle of comfort." "I am the kind of person considered a doer. I was born this way. A picture taken of me as a baby disassembling animal crackers is proof of it. In second grade I got a new Peewee Herman bike. When the headlight broke, I fixed it. When the tire went flat, two screwdrivers, a small piece of electrical tape and some rubber cement was all I needed to fix it. I didn't even need to take the wheel off the bike. At the age of ten, I could take apart and reassemble a Briggs and Stratton engine on the go-cart. Being a doer has rewards. I got to eat the crackers, ride that awesome bike and drive that go-cart. Chairing the Rocky Mountain Chapter required assistance and asking for help."
He continues, "Being out of my comfort zone also has rewards—meeting new people, discussing ideas, gaining new perspectives, traveling and problem solving are enlightening. I was never really involved with groups growing up, never really had a group of friends. I wasn't even on a little league baseball team. When I joined the IADD, then started ABC Die, I started to get involved in the group. It was uncomfortable for me to be out of my comfort zone. It also had its rewards. Chairing the first-ever Rocky Mountain Chapter had its firsts—first technical meeting, first social event, first speaker acquisition. Having an awesome person, Brad Price of PG Wood Imports, as Co-Chair sure did smooth out some of the bumps. I will never forget him saying to me, 'What can I do to help?' before our first meeting. Lots of people in the IADD offered help. Hearing members in our chapter saying 'Thanks for bringing this meeting to us' and 'That was a great topic' is rewarding and increased my comfort through the IADD."
Kim adds, "Being on the Board opened my eyes to all the intricacies and challenges of running an association. It was enlightening to see the different opinions from the many different personalities on the Board."
Joe Adkison of Adko, Inc. nominated them for the award. He says, "Personally, my perception is that Mike and Kim studied, researched and discovered how membership in the IADD could be maximized into their life both personally and professionally. Then they jumped in with both feet. I would venture to say that they both have gained exponentially in life-long lasting personal relationships. They have, in a relatively short time, acquired industry knowledge and accelerated business relationships over and above what could be gained in a lifetime of searching. And all of this just from embracing what the IADD embodies. As is often said, 'All of us are smarter than one of us.' Mike and Kim went to work on that by using their passion to get involved. Getting involved accelerates the benefits. I also believe that Mike and Kim would also say that they have received much more in benefits than the energy and passion they put into their involvement. They are just the kind of people I want to associate with. No doubt in my mind, if I needed something they could help with, I know their answer would be, 'You betcha.'"
How does such a power couple get its start? After a 15 year career in diemaking with a national cutting die manufacturer, Mike sat down with his wife to construct a new business plan, one that would not only secure their future, but would also focus on the customer and the employee as key elements to a thriving operation. Working in management in the corporate world, he too often saw employees work hard, but never receive any type of reward or bonus for work well done, and wanted to do business differently, by spreading the wealth around.
In 1992, a year after that fateful conversation, the company opened its doors in approximately 2,000 square feet (609.6 sq m) of rented space. The first tasks to be done were to build all the steel rule tables; order materials, equipment and tools; and of course find some customers. The word CEO quickly became Chief Everything Officer. Building quality cutting dies using a straight edge, a very sharp 4H mechanical pencil and a jigsaw was both challenging and time consuming, and the constant long hours were certainly stressful on their marriage.
During the fourth month of operation, Kim quit her consulting job to join Mike in what was now their family business. Her strong ability to set up and manage the accounting systems, as well as the front office, combined with his expertise in building quality cutting dies gave their American Dream a fighting chance. Now able to focus on working smarter, they purchased a digital scale for a CNC machine that allowed them to cut exactly the right length piece of rule the first time, and with no waste. New customers were coming in the door, employees were hired and a CAD system was added. By the end of the second year, the company was up to 12 employees, and their space had doubled. Five years after they started, the became the first dieshop with a laser in their location and moved down the street to a 10,000 square foot (3048 sq m) facility, growing the business at about a 20% a year clip and producing dies for a multitude of substrates, including paper, plastics, copper, balsa wood, leather and tar, to name a few.
In the late 90s, business was going great. However, when challenged by the question, "How can you be a diemaker when you have never done any diecutting?" they got to wondering. One thing led to another, sparking the acquisition in December 2000 of a long-standing local finishing business, and after the move, they then had both businesses under a single roof. After the holidays, the company opened their doors with 25 new employees. Over the next 13 years, an attention to quality has paid off, propelling a resurgence for the once struggling finishing business, changing it into a healthy and profitable business consisting of 25 employees with over 270 years of combined experience. They now reside in a new 38,000 square foot (11,582 sq m) facility and have succeeded in achieving the American Dream, doing it with style.
Thankfully, it's not all about work. The Moravecs love the outdoors, camping, travel and anything else that allows them to spend time with their loved ones.
Congratulations to Kim and Mike Moravec on receiving this well-deserved award.