Franco Foppa Pedretti
2011 PEAK Award Recipient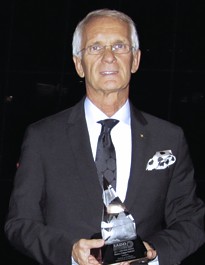 At the IADD Annual Meeting in November, 2011, Association President Greg Zimmer presented the prestigeous PEAK Award. These are his remarks from that night.
The IADD PEAK Award is given annually to that person who has best demonstrated his or her positive contributions to the IADD and to our industry over the past 12-24 months. This year, the person who will be awarded this honor, is Mr. Franco Foppa Pedretti, of Italy, owner of three important companies in our industry: FoppaFustelle, a major diemaking company, Pro Form, an engineering company specializing in diemaking and Serviform, a major provider of diemaking equipment and supplies, both in Italy and around the world.
I had the distinct personal pleasure of meeting Mr. Foppa in 2006 in his hometown of Caravaggio, Italy. Despite my then soon-to-be fiancé Agnes' futile attempts to make me jealous by telling me over and over that she thought he was one of the most handsome and charming men she'd ever met, I liked Mr. Foppa instantly.
He was welcoming, warm, kind, generous and, despite his not speaking English and my not speaking Italian, he still managed to make me feel like an old friend, instead of someone he'd just met. A rare talent indeed!
After an eye opening, informative tour of his very impressive companies, Franco (we went quickly to a first name basis) graciously took us to a wonderful country restaurant, where we enjoyed a meal that was exquisitely memorable—both for the food and for the company.
An interesting fact here about Caravaggio: in a town of only 12,000 people, 154 people work in the diemaking arena. Maybe we should open a chapter there?
Serviform was originally created in order to manufacture innovative diemaking equipment. This move actually resulted from Franco's questioning whether the diemaking industry would continue to be healthy for a prolonged period of time, a question many of us may have also asked more than once, I'm sure. That doubt caused Franco to pursue the use of the knowledge that had been developed in FoppaFustelle, the diemaking arm of his companies, in order to create effective equipment for diemakers. Franco's commitment to our industry is stated as, "To simplify diemaking, and to increase accuracy and profitability."
Touring his plants five years ago, I recognized that this perspective was indeed one of the main elements that made Serviform unique in our industry. This background and experience helped to create a focus on developing machines that would potentially allow diemakers to be more productive, more profitable and more effective. This has been their driving force for many years, starting with the introduction of relatively small diemaking machines and eventually culminating in a full line of automated rule processing equipment.
Originally, the Idea Bender was specifically developed to target the US market and it is now reported that this has led to an exciting new way of steel rule bending. Regarding the global marketplace, at Drupa in 2012, a very important milestone will be reached—Serviform's 1000th automatic diemaking machine will be unveiled.
Mr. Foppa's father, Giuseppe "Pino" Foppa, began the original company, FoppaFustelle, in 1946. Franco was influenced greatly by his father and is proud that he has maintained many of Giuseppe's ideals and principles since taking the company reins in 1980; the most important of these being integrity and fair play in the marketplace. Franco also believes he inherited his father's gift for accurately measuring business risks.
Serviform currently provides both automated and manual diemaking equipment, plotters, and diemaking/diecutting materials. In the last two years alone, 18 major dieshops in the US have been using Mr. Foppa's equipment. In the US and Canada, Serviform is represented by Die Supply Guys and Carton Craft, both active IADD members. Globally, it's been reported that there are over 600 companies in 41 countries now using Serviform machines. There can be little doubt that Mr. Foppa is having a large and widespread influence on our industry.
Franco's original family company is fast approaching their 65th anniversary and it is interesting to note that of the 60 people who work with him, the average age of his employees is less than 30! Franco justifiably prides himself on his ability to find and recruit good people.
Though it may lose something in translating it directly from Italian, the credo that often seems to drive Franco is, "No fear of innovation, and a full trust in the future."
Because Franco so strongly believes in openly and willingly sharing information, a belief he obviously has in common with IADD, it is little wonder that his company is so deeply involved and committed to our association. He is not only a Patron member, but has generously let us "borrow" the services of his valued and talented, if not somewhat "older" employee, Mauro Tomelleri, to serve on our IADD Board of Directors since 2006. Mr. Foppa was also instrumental in setting up the Italian segment of the IADD's 2006 Annual Meeting in Europe.
It was an incredible success overall, but was especially meaningful for me personally, because it was at this meeting, under the combined influences of the incredibly romantic Italian climate and countless glasses of wine, that I eventually proposed to my beautiful wife, Agnese—that's her name in Italian—and because she had consumed a similar amount of wine, she was foolish enough to say, "Yes." Thank you Mr. Foppa for the huge part you played in my getting married. So, now may I call you Zio Franco?
Our magazine, The Cutting Edge, is always found in Serviform's waiting room, and Mauro actively pursues companies who might want to join our membership. There can be no doubt that Franco sees the high value of IADD and works to help us in every way he can.
On a personal level, Franco is an avid sportsman and athlete who consistently performs at a very high level. In the past, he actually played soccer on a professional level. His current passion is bicycle riding in the Alps. And he only rides uphill! That was a joke— I think—but maybe not! He is a long time member of the Rotary Club and also enjoys working with various charities.
Franco is very concerned about the environment and active in environmental issues. Solar panels provide 75% of the power used at one of his companies and all his companies employ increased efficiency heating and cooling units. He often rides to work on his bicycle and or in his hybrid car.
Franco's stance on learning is "IMPARARE TUTTO DA TUTTI," which basically means, "learn all you can, from everyone you can." Again, that seems to perfectly echo our IADD tenets. While he does not consider himself a great teacher, Franco firmly believes in teaching by example.
When asked what he would like his legacy to be, Franco responded that he does not like epitaphs, but if anything, he would like to be remembered for his integrity. He thoroughly enjoys problem solving and states his belief that this is one of the best and most rewarding activities anyone can do. Franco has always taken great pleasure on the occasions when he has been able to help and support people in his life, both on a personal and business level.
Franco lovingly shares his exciting and rewarding life with his partner of 30 years, the very beautiful, Luciana. I obviously share his deep appreciation of Italian women—maybe even a bit more—now that I've met Luciana.
With some possibly understandable envy, I would say that Franco strikes me as a bit of a throwback, a kind of "Renaissance Man," and to use a fitting Italian expression, he is indeed "un verogentiluomo," which in essence simply means "a true gentleman."
He has obviously contributed greatly to both our industry and to our association, and we all have positively benefited from his efforts and his support.
For all the reasons stated here, it is with great pleasure that I present the IADD 2011 PEAK Award to the very deserving Franco Foppa Pedretti.