Shaun Larson
2009 Presidential Award Recipient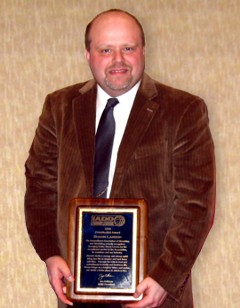 A committed leader, a willing servant, and a gentle friend - Shaun Larson, Sales Representative of Jonco Die Co. Inc. of Mounds View, MN, USA was selected as the 2009 IADD Presidential Award recipient.
Presented by President Joe Adkison of Adko, Inc., the award recognizes emerging leader Larson for his exceptional service to the IADD, its members and our industry.
"Shaun's tireless energy and strong spirit bring new life to chapter and task force activities," explained Adkison. "Through his faith in God and commitment to family and business life, Shaun brings us a brighter future and makes our world a better place in which to live."
Speaking to attendees of the IADD's Midyear Leadership Conference which was held at the Arizona Grand Resort in Phoenix, AZ, USA, Adkison added, "I have set the criteria for the Presidential Award on a very high plateau. I chose Shaun because his actions and deeds set him apart from the mainstream ... he is a person who has demonstrated a sustained willingness to learn, lead, and share. I wanted to honor someone who accepts tasks and turns them into a shared event, teaching others with an obvious passion."
Larson got his start in the industry in the summer of 1987. "I worked part time at Jonco while I was going to a vocational school for architectural drawing. In the beginning, I was a flat steel rule die ruler. In those days we did not have processors, and everything was done by hand. I worked in the ruling department for about four years when I was asked if I would like to try my hand at CAD. At that time I was asked if I knew how to read a ruler. I thought I did, but I was promptly shown that I did not. All my schoolmates who thought we'd never use high school geometry and algebra proved to be wrong, as I used them every day in this job."
"I worked in this department for five years as a CAD operator and department supervisor. At that time Jonco was in the process of building up their customer service and asked me if I would be interested in this, so I went into that and from there moved into sales. I have enjoyed being a sales representative for Jonco for the past five years."
Larson cites Jonco owners (and now in-laws) John and Joann Gordon as strong role models: "They gave me, a young kid just out of high school, a chance in this industry. They believed in me, and although I had some other good role models in my past, I can truly say that they taught me the value of a job well done. They taught me that I can believe in myself and accomplish great things if I am persistent, have integrity, and stay faithful."
In fact, Jonco, a long-time supporter and Patron member of the IADD, has spawned several award winners: the Gordons were the 1994 joint Diecutter/Diemakers of the year, employee Dan Johnson was a Presidential Award and Diecutter/Diemaker winner as well as previous president of IADD, and Jonco has won the IADD's highest Platinum Safety Award.
Larson has become a specialist at managing Jonco's customer/supplier relations. He says, "Challenges come every day; it's in how we react to the challenges that shows the metal you are made of. The biggest challenge I face is being able to stand strong when I know that I have let a customer down. I have found the best way to overcome these challenges is to rise above it and serve your way out of it." In fact, Larson once left a family picnic to deliver an urgently needed cutting die, and then returned back to the family fun without missing a beat.
"This demonstrates that he has a precious talent to balance customers, work and family," stated Adkison. "While maintaining his duties to family and his company, Shaun has become a well-known figure at the IADD, working tirelessly for several years at the chapter level, first as Secretary/Treasurer and then as Chair of the Twin Cities Chapter. He was able to take a strong chapter and bring it to even greater activity.
Larson values his IADD participation. "Early in my career, I did not have a consideration of all the companies around that were like ours; I just did not think of them. IADD has given me the opportunity to network with others in the same industry and work together to bring solutions and education to areas that challenge our businesses."
At Adkison's request, and after securing support from Jonco and his family, he didn't hesitate to chair the planning task force for the successful 2008 IADD Annual Meeting in Kansas City. He compiled a very young group of future leaders to network and not just plan, but also participate in, the meeting.
Adkison elaborated, "Shaun used his talents for creativity and uniqueness to capture the attention of our audience. They presented new and different programs. I was impressed at the quality and amount of Q and A during the meeting. He led his team and accomplished his task helping me, Cindy and our Association with great professional skill."
One clever presentation, which involved the use of hand puppets, clearly was influenced by Larson's service as Children's Ministry coordinator for pre-school aged children at his local church. He also serves on the elder board. Larson quips, "The die salesman thing is just a clever disguise for the real me."
Perhaps because of his love to serve, Larson transitions easily between the two worlds. He explains, "A great company is earmarked by their desire to serve, their ability to respond and their drive for creativity. Over the years I have been involved with Jonco, I have gained an understanding of staying on the cutting edge of technology. Your company can only prosper by being able to provide better practices and greater efficiencies with the proper tools. I also believe that when you enter into a relationship with a customer, you are partnering together to see both companies succeed. I believe that both parties have equal responsibility to make success happen."
He believes in the future of the industry. "Like so many things, momentum brings transition, and as we build momentum in this industry, transition happens. My vision would be to see this industry adapt to these transitions as new technology is added and we find ways to use this technology to benefit our businesses. As a new generation comes into this industry, we find ways to use the passion they have for the things that make them come alive to benefit our businesses. As global markets emerge, we need to find ways to bring value to the global market equation and thus continue to build momentum and embrace transition."
His advice to others? "Stick with it! This industry is fun and full of challenges; for the most part the people in it are great and willing to help. There is a sense of family in this industry and as I look around, I think that is a fading reality in other industries."
For Larson, it all comes back to family. "I have a wonderful wife who is patient with me and my crazy ideas, an amazing daughter who is very talented, an incredible son with an eye for the creative world around him, and another powerful son with the ability to lead at the age of 8. I could not ask for a more dynamic bunch to experience life with than what I have been blessed with."
"I feel my greatest accomplishment will be and is when I can look back on my life and know that I have been a good father and husband for my family. Considering my career, I have gained knowledge in many areas of diemaking and applied them to my profession. I have played an intigral part of a great sales team here at Jonco, and have felt fulfilled in doing so."
"I want to be known as a man who loved God, was a good husband, a good father and a good employee who was willing to serve whenever the opportunity arose."
Adkison concludes, "Shaun Larson stands in my mind to be one of our great future leaders."