Natalie Pepper
2008 Presidential Award Recipient
migrate from: https://iadd.org/awards/pepper-profile.htm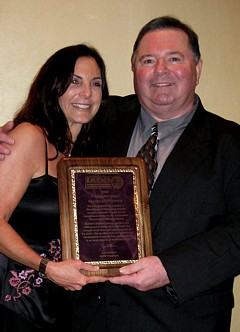 Each year the IADD President is afforded the opportunity to present a deserving candidate with a special award. Calling it "an honor and a privilege," IADD President Joe Adkison of Adko, Inc., Fort Smith, AR, USA thought long and hard about the criteria he would use to choose a deserving candidate to receive the 2008 Presidential Award.
His search for a person "whose actions and deeds set them on a high plateau, apart from the mainstream and above the others" led him to Natalie Pepper of Pace Punches, Irvine, CA, USA. She received the award in front of an appreciative crowd at the IADD Midyear Leadership Conference in Clearwater Beach, FL.
Adkison explains that while the IADD is fortunate to have many hard working and supportive members, once he fine-tuned the criteria, his choice was made easy. His ideal candidate was "someone who has been active in our Association, demonstrating a sustained willingness to learn, share, and lead. One who accepts a project and turns it into a shared event, teaching others with an obvious passion. Someone whose name is synonymous with personality, energy, friendliness, helpfulness, determination, and dependability. That someone is Natalie Pepper.
To understand how she came to possess all of these traits, it is important to "look to the tree." Natalie is the youngest of four siblings born to Madeline and Ed Pepper, well-known leaders who helped build our industry. Adkison says, "Their company has participated in IADD functions for longer than I can remember. From over 25 years ago when I joined the IADD, I have called on them many times. Natalie learned how to become dependable from her strong, dependable family."
In 1978, when Natalie was 8 years old, her father Ed started Pace Punches, Inc. On weekends her brothers, sister and she would go to work with her dad and help out by putting springs in punches, filing, and trying hard not to get in dad's hair. Natalie admits, "Hands down, my parents were—and still are—my biggest role models. At a very young age I can remember both my parents working long hours, and yet they would always make the time to attend any activities my siblings and I would have on the weekends. They taught us what a work ethic is all about and the rewards to be gained by working hard." Eventually she left for college, but would always come home during breaks and help out with the company. She graduated in 1993 and started working full time at Pace.
"Two of the biggest challenges for me in our industry were that I started out very young and very green with no real selling experience under my belt. Also, being in a male-dominated industry meant I would have to go above and beyond in my knowledge and determination to do well." However, Pepper soon found that listening to everyday business conversations over dinner while growing up had given her a natural edge. When called on to bring in new ideas to the company, she did just that. She found new and different lines to sell with the reasoning that if you make a sales call, why not sell several quality items in addition to your own products on the same sales call? This gave Pepper a chance to move about the industry, ask questions, learn and grow, gaining confidence and the desire to climb even higher.
She also learned a lot about service and loyalty. "Our company motto has been something my dad has instilled in us since the beginning: never forget where you came from, or the help you had along the way. He started out in a two-man shop that has grown into a successful business. If it were not for customers giving him a chance, we would not be here today. It is very important to us as a company to do whatever it takes and go the extra mile for our customers. We don't stop working because the whistle blows at 5:00pm. If things still need to get done before the next day arrives, our employees are willing to stay and do whatever it takes without a complaint. We are very fortunate to have such dedicated employees who see the benefits of working as a team to allow our company continued success."
Another natural for Pepper was her involvement in the IADD. She explains with a touch of humor, "My parents were involved in the IADD back when it was the National Association of Diemakers and Diecutters (NADD). From the time I was 10, I can remember them attending the national meetings, mainly because they always occurred on my birthday and I wasn't very happy about it! They really enjoy the friendships they developed and would look forward to meeting up with everyone from around the country."
As time passed and she began working full time with Pace Punches, she started to attend local chapter meetings. Her brother Craig was the local Chapter Secretary/Treasurer, and she would help him out with planning, marketing, and the meeting logistics. In this way she became familiar with how the Chapters were run. Soon after she began attending some of the IADD midyear and annual meetings and became friends with different people in our industry.
Not long after, when Craig moved to the IADD Board, Natalie was elected Chapter Secretary/Treasurer and ultimately Chapter Chair, where she demonstrated her leadership abilities by taking a strong chapter to even greater heights. Adkison elaborates, "Natalie is a popular leader who works tirelessly, using good judgment, excellent people skills, and a sense of humor. She built a team of Chapter officers who worked well together to break previously high attendance records and to bring quality technical education on a wide variety of creative topics."
Following in her brother's footsteps, she become a Director on the IADD Board and currently she serves as IADD's Secretary/Treasurer, the first woman to hold an officer position for the international association. She also chairs the Finance Committee and serves on several task forces. "Whenever I call on her to further serve our association, her answer is always 'YES, show me what you need and I'll do my very best," says Adkison. "She chaired our most recent Annual Meeting Task Force, putting together and mentoring a very young group of our future leaders who not only planned our program topics, but participated in very visible ways. Natalie taught them how to network, and she used her theatrical talents to capture the audience's attention in a series of educational, but hilarious skits." Numerous compliments on the programs at the Vancouver meeting highlighted Natalie's ability to bring a freshness and new approach to the experience.
Pepper says, "My participation has not only helped me grow on a business level, but on a personal level as well. The IADD has given me the opportunity to challenge myself and be able to contribute my own ideas to the industry as well as learn from them. I have developed working relationships as well as personal relationships with a lot of members whom I know I can count on for advice and knowledge whenever I need it." She continues to support the IADD by promoting membership to customers and through her attendance at international, national, and local Chapter meetings. She feels, "The more people who join and get involved in our association, the more ideas and knowledge we can bring as a whole to make our industry stronger. The exchange of ideas is what brings innovations to the table and helps make them become reality."
In presenting the award, Adkison said simply, "I believe in Natalie. I can depend on her. I appreciate her service to the industry and to the IADD. Her positive "can do" attitude and creativity are things that we can all look forward to. I believe that she will see to that."
Congratulations to Natalie Pepper, 2008 Presidential Award recipient.