Bob Pettijohn
2011 Presidential Award Recipient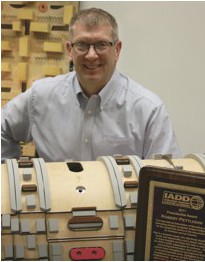 Making His Mark
Bob Pettijohn Receives 2011 IADD Presidential Award
Ability abounding
When then-IADD President Greg Zimmer, CEO of Zimmer Industries Inc., was defining the criteria for the 2011 IADD Presidential Award, he kept coming back to the word ability: capability, responsibility, accountability, dependability, reliability, likeability, availability, leadership ability.
Such an impressive list of qualities might have proven hard to find, but fortunately Zimmer did not have to look far. Over the past several years Bob Pettijohn, President of Mark-Maker Company, Inc. in Wyoming, MI, USA, has quietly, yet effectively, been making his mark on the Association, most recently as the IADD's first Vice President of Membership.
In this role, Pettijohn chairs the Membership Committee, and he has built upon some simple foundational activities to fire up the Association's member recruitment and retention efforts. Despite what can politely be described as several challenging years hampered further by a difficult economy, Pettijohn kept a keen focus on the drive for membership as a cornerstone strategy for IADD's success and continued viability. He helped develop and implement the membership mentor program, pairing up experienced members with new members to maximize value and connection in those first critical months. His suggestions to create or fine tune various reports allowed Board directors and Chapter officers to become more involved in the recruitment and orientation process. By increasing the visibility of membership activities, he's made membership everyone's responsibility.
His unwavering belief in—and generous support of—IADD has aided in the recent turnaround of declining membership. Under his leadership, the IADD has increased its communication with and engagement of members, with many positive results, including a number of former members who are now returning to the Association.
As a longtime Board member, Pettijohn is a proactive leader, seeing trends and opportunities and sharing his thoughts and suggestions to make IADD a better association for all. One idea led to revamping the evaluation form used for midyear and annual meetings, increasing both the response rate and quality. He's always open to others' thoughts and ideas, is not afraid of change and constantly seeks to keep the IADD fresh and relevant. Pettijohn is also very generous with his company's resources, supporting everything from local meetings to the bi-annual Odyssey trade show.
As Zimmer explains, "Bob is someone who never shies away from IADD projects or tasks, and if he agrees to take something on, you can rest assured that it will be completed, done well and followed up to the very end. He believes in IADD so much, he even got his son Aaron involved as an officer at the local chapter level."
Focused leadership; good values
Clearly the leadership style which led Pettijohn to receive this award is a direct reflection of his business philosophy. He says, "At Mark-Maker we treat customers and suppliers like we would want to be treated, with respect and honesty. We have a company Mission Statement that reads: 'Our mission as a supplier of flexographic printing plates and steel rule cutting dies is to be a company that is customer and product focused. Through employee teamwork and customer partnerships, we provide quality products and services to meet their expectations. We strive to be open minded, ethical, professional and honest in dealing with our internal and external customers through focused leadership and good values. We are driven by the voice of our customers in a never ending effort to improve. This is based upon empowerment, commitment and training of our employees. Through teamwork, we challenge each person to grow and improve the quality of life, services and products.'"
He explains that Robert Stout, who founded Mark-Maker in 1970, said, "The job can be done better than just good enough when you take pride in the skills that produce a product. Pride in oneself is born when people dare to achieve levels above what they thought themselves capable of doing." Pettijohn adds, "Company Teamwork and Customer Partnership is not just a saying at Mark-Maker Co; it is our philosophy. Our leadership prides themselves on integrity and dealing fairly with customers, suppliers and employees."
Obviously they are doing something right, as the average employee tenure at Mark-Maker is over 16 years. Pettijohn credits this to the company treating employees with respect, as well as providing opportunities for employees to be involved with making decisions, offering suggestions and being a part of the quality process.
Pettijohn elaborates, "When I look at the strength of the company, most of that comes from the employees. I try to surround myself with knowledgeable people who can be trusted to work hard to get the job done. Whether it is an employee, our banker, our accountant or someone else I deal with, I know I need to have faith in that person and trust that they are working alongside me to do what is best for Mark-Maker. Lastly, one has to constantly look for and expect changes in all aspects of the business. Years ago, our management staff read the book "Who Moved My Cheese" by Spencer Johnson. Change will happen; we need to anticipate change, we need to monitor change and adapt to change. In business, it is not always easy to enjoy change, but if we try, we can work together through the changes. With the help of good technology, loyal customers, quality products and a great staff of employees, we will continue to be a positive force in the industry."
A reward that lead to an award
Pettijohn and his wife had their first taste of the IADD when they were encouraged to attend a midwinter meeting in California over 20 years ago as a reward for a job well done. Over the years they have attended and enjoyed many IADD gatherings. Zimmer says, "When it comes to wives who support and participate in IADD functions and trips, there are very few people who measure up to Bob's lovely wife, Carole. Together, they brighten up any room they enter, and they certainly have always put the word 'associate' in our Association. They reach out and are friendly with everyone."
Pettijohn felt a strong desire to get more involved, so he decided to volunteer for committee service, and then eventually was elected to serve on the Board. He says, "IADD participation has provided me with an opportunity to grow personally and professionally. I have benefitted from the relationships and advice that others in the industry have offered me, and the networking that takes place at IADD meetings has been extremely valuable to me and to my business. Whether it is another business owner, a supplier or a speaker that I get the chance to spend time with, we always seem to have some new avenues to explore once we get back to work, and we enjoy bouncing ideas off of each other. The people that we have become associated with over the years, we now call friends. I can contact someone across the country or across the continent and know that I will not only get a response, but it will be handled quickly and efficiently. This is something that I do not think you will find in other associations. Perhaps it is the size of the Association or the longevity of people in the industry, but the IADD and the people associated with it have been a source of my personal and professional growth throughout my career."
Looking back
Pettijohn grew up in the Detroit, MI area, in a family of four boys. He had a wonderful and close family life and to this day, always enjoys time spent with family. He met the love of his life in high school and has been very happily married for 37 blissful years.
In 1975, Pettijohn graduated from Alma College in Alma, MI, with a degree in Business Administration. He started his first full-time position at a corrugated box plant in Grandville, MI as a production supervisor in charge of the printing and diecutting departments. This plant also made their own cutting dies, another area Pettijohn oversaw. He continued his education at night and received his MBA in marketing in 1982.
Pettijohn wanted to get into sales, so in 1978 he took a job at Mark-Maker selling flexographic printing plates. The company had plans to diversify and produce steel rule dies so he added that part of industry sales as well. He is now President. He is proud to have brought his son Aaron into the family business.
Pettijohn and his wife have four children. Aaron and daughter-in-law, Leah, have three children, one of whom is an adopted girl from Ethiopia. Daughter Jillian and her husband, B.J., are both special education teachers who have a son and another child on the way. Their son Stuart is a dentist, and Stuart's wife, Erin, is currently in her residency at Northwestern in Chicago, IL. Dixon, their adopted son from Honduras, is currently attending college.
There have been numerous challenges over the years, and Pettijohn says one of them has been keeping up with and staying on the cutting edge of technology. He laughingly remembers the days when a fax machine took two minutes to send one page of print. His challenge as a sales person was to learn where all the pay phones were in each town. He says, "Being on the road and making calls from a gas station with my head out the window in the winter was an experience that shaped me and prepared me for much tougher times ahead. The entire technology field has changed so rapidly, I have found myself needing to rely on outside experts at times in order to keep ahead of the competition."
Sharing the love
Pettijohn loves his business, IADD and the large group of friends he and his wife have met there—and he truly enjoys just being with people and making new friends. He is equally happy on the golf course, on a family trip, at a sporting event or walking the woods and fields with Shadow, his trusty Boston Terrier. Over the years, he has served on numerous boards for his church and schools—anything that captures his passion and aligns with his faith.
"I know very few people who devote themselves to charity work as much as Bob and Carole lovingly do," says Zimmer. "Their major focus is on the world renowned charity, Healing the Children. Over the years, this wonderful couple has selflessly hosted 10 youngsters from all over the world in their own home, as the children were being brought to the US to receive free medical care to cure or improve various and serious medical conditions. The work they do for this very worthy charity is phenomenal and a true reflection of their willingness to help others." Carole adds, "This has been a great blessing to all of us and the best thing we have ever done!"
They also share a deep love for animals and there are many heart warming stories of their caring for strays and hurt animals through the years.
Pettijohn firmly believes that he is where he is today "because of my beliefs and the support of my wife and best friend, Carole, and the rest of my family. They have always encouraged me in my role at Mark-Maker. I would want to be remembered as a man of God who loved his family and always approached everything with honesty and integrity."
Zimmer adds, "Bob does all he does with a deep and sincere sense of humility. I can tell you, it never even entered his mind that he might be getting this award. That's just how he is. I hope he knows how thankful we are for all he does, and the grace he does it with."