Ollie Bohrer
2009 Unsung Achievement Award Recipient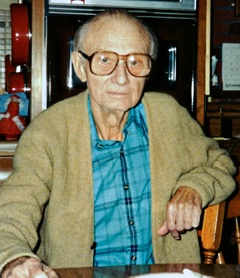 Labor(saber) of Love
Ollie Bohrer Receives 2009 IADD Unsung Achievement Award
Editor's Note: At the IADD's Annual Meeting this month in Savannah, GA, USA, Ollie Bohrer of Diansuply received the very first IADD Unsung Achievement Award, given posthumously to leaders within our Association and industry who have gone unrewarded or unrecognized for their significant contributions to the diemaking, diecutting, and converting industry. What follows is the original heartfelt nomination by Ollie's grandaughter, the likes of which the Awards Committee had never before seen.
The year is 1942. A four year old blonde haired, blue eyed little girl presses her nose up against the window of her family's apartment. Every day she would wait. She would wait for that bus to pull away and her daddy to come in to sight. She would run to the steps and wait for him to come up to their 2nd floor apartment. Her father would pick her up and toss her in the air. As he wrapped her in a hug, she could feel little scratches on her arms. She would look at her father's hands that were covered with scratchy bandages. "Daddy has boo-boo's" she would whisper. Her father would hold up his finger tips, look long and hard at them…and with a far off look in his eye say…"Some day I'm going to do something about that."
And that he did.
In 1941, at the age of 26, Ollie Bohrer started working at Gaylord Container as a diemaker. Diemaking back then was a world away from today's methods. Lasers were only found inside imaginations. Let me take you back to a time when dies were jigged with a blade. A blade that had to be hooked, saw, stop, unhook, move die board, hook, saw, stop…well, you get the idea. And with every stop and every start, every spec of sawdust was blown and brushed away by the very breath of the die's maker. The fingertips of diemakers were sometimes unrecognizable. Burns from touching hot blades hundreds of times each day were part of the uniform. These burned and callused fingertips were the spark that ignited a passion. A passion to make life easier for the next guy.
Ollie continued working at Gaylord Container. In 1949, Ollie and his brother Joe decided to open their own die shop and sell supplies. Thus the name, Diansuply (die-and-supply). Through the 1950s, Ollie and Joe worked hard to establish Diansuply as a top diemaking firm. Ollie continued working full-time at Gaylord Container and made dies for Diansuply at night and on weekends to make ends meet for his growing family. Years of labor spent hovering over dieboards only fueled Ollie's desire to find ways to make the job easier. Instead of complaining or becoming complacent, he spent his time trying to figure out better, time saving and cost-effective ways to make dies.
In those days there was no such thing as pre-cut rubber for rubbering dies. Diemakers would have to get scrap rubber or cork from local gasket companies and cut the rubber on the spot as they were rubbering the die. Specific heights? Forget it! They took what they could get and tried to make it work. Ollie began taking the rubber home on the weekends and pre-cutting it. He would bring a little box of pre-cut rubber and place it next to his work area. Customers would come in and ask where he got it from. Ollie would tell them that he made it. They soon began asking him to make some for them. Word of mouth spread quickly, and Ollie and Joe began purchasing rubber and fabricating it specifically for their local diemaking industry. Their operations were based in Ollie's basement and Joe's garage.
The year is 1956. That same blonde haired, blue eyed little girl is all grown up and dating a man of her own. Her dad has been really busy lately. He's been working on his "jig saw" and has started building a prototype in his basement. The mechanics of the jig saw came to Ollie over the years as he watched his wife making their children's clothing on an old Singer sewing machine. As Ollie gazed off while sketching ideas on scraps of paper, his eyes would fall upon the foot operated pedal of that old manual Singer. He watched that retractable sewing needle move fluently in and out of the fabric seamlessly. Now if only he could translate that to a jig saw…
And that he did.
On March 12, 1957 he wrote a registered letter to himself explaining how the jig unit operated, a drawing and description of it, and an explanation that this saw was "built to be used as a time and labor saving machine in the manufacturing of steel rule dies." The letter served as protection for his prototype until patents could be secured in 1968. His prototype worked! Now he just needed the perfect pedal. No ordinary pedal would do. His daughter's new husband was a 1950s hot-rodder. Souped up Chevys were his game, and Frank was his name. Ollie knew that Frank would know the perfect pedal for his new invention. Frank came up with a pedal that looked like an old work boot. A pedal for the boots of future diemakers to retract the blade of the world's first retractable jig saw!
This was Ollie's baby. It was his dream in the making. Ollie spent the next 11 years perfecting the saw in his basement. Everything had to be perfect. Ollie was a man of invention, using it to saw Diansuply's dies on a daily basis.
Diansuply moved out of the basement and garages in early 1960 to 7712 South Broadway, St. Louis, MO. Through the 1960s, as the company expanded its position as a premier supplier of ejection rubber, its diemaking activities were phased out. Demand for the ejection rubber encompassed coverage from coast to coast. Ollie eventually left his job at Gaylord Container to devote all of his energies to the development of Diansuply and his jig saw.
It was also during this time that Ollie's other innovative ideas were formed. Everyone knows how the diecutter likes to blame the diemaker for not putting enough rubber here or there. As the diemaker, Ollie got tired of this hassle and decided that the diecutter needed his own box of rubber to add "a little more here or a little more there" based on the needs of the run or the press. Ollie started putting pressure sensitive adhesive (PSA) onto his rubber. Ollie called this "Instant Stick" because it did just that. It would instantly stick, thus eliminating any press downtime waiting for the glue to dry. Again…seeing a need, solving a problem, and making it easier for the next guy.
Ollie's invention of Embosso Type was an effective method of stamping corrugated cartons for identification. Ollie's Embosso Type was the first of its kind, allowing boxes to be identified without printing. Ollie toyed with an invention similar to what is today called Perfatype, by using phonograph needles as a prototype. Walk by the graveyard today and you might still hear the echos of a wife wondering where her damn phonograph needles went! But the idea of using metal seemed too expensive to Ollie and the nylon of that day wasn't strong enough to actually perf. Ollie just stuck with inventing the Embosso Type. As I walk through die shops and see the Perfatype still being used today, I just shake my head. Can't win them all, I guess.
Ollie's invention of Reverse Score and Grooved Rubber was awesome in and of itself. You could actually score both sides of a sheet in one diecut operation! This was unheard of before this. Simple, but it worked. That was Ollie's method. He never tried to complicate things, he just tried to make it better.
The year is 1970. Ollie, his wife Elizabeth and his daughter Beverly pack up "The Saw" and head to Chicago. Ollie appropriately named his saw the "Laborsaber." They went to Chicago to unveil the world's first retractable jig saw. It was hailed as a "Show Stopper" at Chicago's Expo 70 Convention. Crowds gathered to see the saw operate. Ollie's dream had come true. If that little girl heard it once, she must have heard it 1,000 times: "All I ever wanted to do was give back to an industry that had been so good to me. I just want to make it easier for the next guy."
And that he did.
The first production saw had been shipped in May 1969 to Schroeder and Bogardus in California. They were still using it in 1999 when Laborsaber bought it back and started using it again as their in-house saw. Ollie had a dilemma with the "first" saw. Two companies wanted saw #1, and Ollie could not alienate any new prospective buyers. So two saws went out as #1. The second #1 went to Triangle Die Supplies in Chicago, IL. They purchased several Laborsaber saws over the years and were still using #1 up until just a few years ago. Mr. Al Skinner from Triangle did the sawing at the unveiling of the Laborsaber Saw at the Chicago Expo Convention in 1970. Ollie's daughter was proud to witness that Mr. Skinner walked away from sawing dies all day without burning his fingers. "Someday" had finally come. Ollie was a man of his word.
It was also in Chicago in the early 70s when Ollie, Phil Saunders, Ray Miller, Bob Larson and some others were sitting around and talking about organizing the diemakers and diecutters into a group; thus the conception of the Diemakers and Diecutters Association (DDA) in 1972 which later changed to the National Association of Diemakers and Diecutters (NADD) in 1980 and then to the now existing International Association of Diecutting and Diemaking (IADD). Diansuply is proud to say that we have been a patron member since the very beginning. We thought it was a good idea then, and an even better idea now.
In 1974 the South Broadway location fell victim to arson. The firefighters found the cause of the fire located in the basement of the building. A ladder (that didn't belong to Diansuply) was burned but recognizable leading down to an old coal chute in the basement of the building where the fire is said to have started. It was believed that ladder was used for the arsonist to enter the building. Ironically enough, the ladder rungs were made from old 5/8" dieboards. Within 24 hours of the fire, one of Ollie's diemaking competitors came to Ollie and Joe eager and happy to offer to take on any of Ollie's customers. Oddly enough, they had "just purchased" a press that could cut rubber too. Hmm. Convenient, wouldn't you say?!
And from the ashes, Ollie would rise. After the fire, Ollie bought out Joe's interest in the company and moved his companies to the current location on Green Park Road in St. Louis, MO. Throughout the 1970s and 1980s, Ollie continued to dedicate both Diansuply and Laborsaber to serving the needs of diemakers and diecutters everywhere. Periodic enhancements and additional patented modifications took place over the ensuing years. Diansuply and Laborsaber built their foundation on innovation, integrity, service, and a dedication to product improvement. Ollie always wanted to have personalized, prompt, courteous service at a competitive price. What he promised, he delivered. As a matter of fact, Ollie always wanted his "service" to be as easy as possible for his customers. The Laborsaber was built with as many parts as possible from Grainger Supply so if something ever needed to be replaced, his clients could do it easily and economically.
Ollie's health diminished over the years. In 1992 Ollie celebrated over 50 years of dedication to the diemaking industry. Ollie poured his heart and soul into serving the needs of diemakers. He died in March of that same year.
Ollie died at one of the darkest and saddest times in Diansuply and Laborsaber's history, amidst a family's nightmare. It's a story all its own, that can be told unbiased by Federal Lawsuit No. 4:91 CV 1448 DDN United States District Court Eastern District of Missouri Eastern Division. Suffice it to say that while Ollie's health was ailing, his heart was breaking. Ollie never lived to see the outcome of the lawsuit that ripped his family apart. Ollie never lived to know that his dreams would one day live on. He died a very sad, old man. His wife Elizabeth died 6 months later in October 1992. They were survived by their three children, Beverly, Joan and Steve.
Diansuply and Laborsaber continued to operate together until 2000 when Beverly took over Diansuply and Steve took over Laborsaber.
The year is 2009. The little girl who used to watch her daddy come home from work is now 72 years old. She holds the great grandaughter of Ollie, and kisses her little head. She whispers her name, Trevi Elizabeth, named after Ollie's wife. She watches out the window and she waits. She waits to see her daughter and son-in-law come home from work. The son-in-law comes in the door, picks up his daughter and tosses her in the air. A single tear rolls down her cheek. Beverly used to pray for Ollie to send her someone who could take over the reigns of Diansuply. Someone who could lead Diansuply with the same integrity, honesty and passion that Ollie had so lovingly built his company on.
And that he did.
In June of 2004, just days before our son was born, my husband Jeremy and I purchased Diansuply from my mom, Beverly. We run and operate Diansuply today. I sit at the same desk my grandfather did, looking out the same window and dreaming of a good life for my family. I am the youngest grandaughter of Ollie Bohrer. My grandpa died when I was 17 years old. 2009 marks the 17th anniversary of Ollie's death. It's hard to believe that he's been dead as long as I knew him. I'm sad that I wasn't a part of his business while he was still alive to tell me about it. I'm sad that Jeremy never met Ollie.
Long before there were Green G'rillas and Red Rhinos roaming around, Ollie's "Red Tiger" ruled the land. Long before lasers and water cut wood and rubber, Ollie's Laborsaber rocked the industry. Perhaps this nomination should have happened years ago. But it doesn't change the fact that one lowly old diemaker wanted to make things easier for the next guy. Ollie Bohrer was a good, honest, hard-working man. He lived, breathed and literally died for this industry.
I've only been in a few die shops, but those that I've had the pleasure of touring have all had a trusty old Laborsaber. "This is how we have to jig saws when our laser is down," or "This is how we jig repairs on our dies" are still words spoken today. Ollie's contributions are enduring. They span generations, and they span far corners of the world.
I nominate my grandfather, Ollie Bohrer, for the Unsung Achievement Award. The award seeks an individual who made significant and enduring contributions to the diecutting industry.
And that he did.
My grandpa's dream was to make life easier for the next guy. My dream is to provide him a good note on which to end his career. I dream of doing it while there are still a handful of people that actually had burns on their fingertips from removing the blade for every single bridge on a dieboard. I dream of a day when my mom can close her eyes and know without a doubt that Ollie's life and sacrifices made a difference to the industry that he loved. I dream of the day when the "next guy" who Ollie tried to make life easier for steps up and says...
And that he did!