John Veres
2011 Unsung Achievement Award Recipient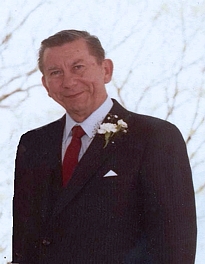 Super Man
IADD 2011 Unsung Achievement Award Recipient John J. Veres
At the IADD Annual Meeting in November, John Veres was recognized as the 2011 Unsung Achievement Award recipient. The award recognizes deceased leaders within our Association and industry who have gone unrewarded or unrecognized for their significant contributions to the diemaking, diecutting and converting industry.
The early years
John was born in Chicago, IL, USA the first child of immigrant parents. After graduating from Farragut Junior High School, the world was waiting for him to continue his life's adventures. He always said his favorite class was "shop," and he loved working and making things with his hands.
One of John's first adventures in life was hopping boxcars out west to California, USA with a bunch of his friends with little more than what was on their backs. The California police assisted John with making his next decision to join the Civilian Conservation Corps, better known as the CCC. He was stationed in Camp Minnewawa in California for a year. While there he said he worked putting out forest fires and building roads. A letter of recommendation from the CCC he received upon his completion stated he was a "splendid worker, willing, dependable and conscientious. I am happy to recommend him to you. His character is excellent." The author of this reference letter even underlined "his character is excellent." This is an attribute John would carry his entire life.
John eventually made it back to Illinois for even bigger and better adventures. It was there that he met Veronica (Vera) who would not only become his beloved wife in 1941, but also later his partner in business.
John worked at the Jos. T. Ryerson & Son steel company on 16th & Rockwell in Chicago from March 1938 until the day he enlisted in the U.S. Navy, August 15, 1942. After receiving training in Aviation Repair, he was eventually shipped off to Hawaii and stationed at Barber's point where he served in the Pacific Theatre. Upon his honorable discharge in 1945 the U.S. Navy gave him $1.60 travel money to make it back to Chicago, where he again started his life with his wife and newborn son.
Soon after returning from overseas, John's diemaking career began. After investing some of his money into a die shop where he was told he would be considered a partner, he learned the hard way that everyone in business is not honest. It was then that he and Vera decided to go into business for themselves.
Super Die is born
As scary as it must have been with three children to take care of, John borrowed a little money from family and started Super Die in the garage behind his parent's home in Chicago. His business card said it all. On the front was a picture of a little boy and girl looking down into their underpants and it read, "There IS a difference….See for Yourself". The back of his card read, "When your steel rule dies are made by Super Die Co., Inc." He built his business on printing, diecutting, creating folding cartons and great customer service. John was the salesman, diemaker and delivery guy all rolled into one.
With the growth of their business and after actually hiring their first employee, that garage became too small and Super Die moved across the alley to a bigger garage. More growth and more employees meant it was time to get an actual manufacturing site, so they moved to their first plant at 2011 South Western Avenue in Chicago. Unfortunately, the Chicago Transit Authority wanted the property, which was next to the Western Avenue elevated train station. After years of fruitless attempts to stay, they were forced to move their factory and ended up at another location on Western Avenue. John spent many years in the flat and rotary diemaking business. John and Vera eventually sold their business in the 1980s to Dynamic Dies, Inc in Holland, OH, and John stayed on for a couple years as a consultant and sales person.
Accomplishments
John was keenly aware of the value of associating with industry peers, and he got involved with the Diemakers & Diecutters Association (DDA) right from the start, as it was formed in September 1972. He attended the very first Annual Meeting of the DDA on May 9, 1973, and he was quite vocal in raising issues and making suggestions. During a discussion on needed amendments to the newly created Constitution and By-Laws, John raised the possibility that an unbalanced quorum might possibly make decisions unfavorable to those in the minority. While it ultimately was decided to rely on built-in checks and balances rather than legislate at that time, John proved that he was a spokesman for the many and a champion for all industry companies, no matter what size or type.
John was greatly interested in the possibility of establishing local chapters of the DDA, and just as he did in his business, he took a very pragmatic, "get it done" approach. When the group decided that the officers should serve as a committee to establish ground rules and organizational guidelines, John suggested that $5 of each company's national membership fee be returned to local areas to assist in financing local chapters.
In 1974, John helped establish the DDA's very first chapter, the Midwest Chapter. He was the chapter's first President and served two years. The Midwest Chapter became the template for other DDA chapters. John was instrumental in working as a team player with all of the officers to grow the chapter, and in May 1976 the chapter's treasury was a whopping $564.61. At the time the $9.00 member registration fee ($12 for non-members) included dinner, cocktails, and the program. He and the other officers established a culture of giving back to the membership, making sure the meetings were informative and inclusive. The chapter was especially cognizant that small die shops could not afford the time and travel that might be required to participate in the national organization.
In 1976, John was elected to be the DDA's first Regional Vice President. In this role he was the spokesperson between the Midwest chapter and the DDA. At a chapter meeting held in May of that year, the members discussed how the Midwest Chapter could improve relations with the national organization. John suggested that all of the chapters share their minutes with each other via a newsletter disseminated by the headquarters, which could also include "all the happenings about the DDA." In June of 1976 the first DDA Newsletter was launched, and it indeed included the minutes from all of the chapters. The newsletter has since evolved to be The Cutting Edge magazine.
Also in June 1976, John was presented with a plaque as Founding Chairman of the Midwest Chapter. This is the only meritorious service recognition he received for his contributions to the success of the DDA which "ranged far beyond the normal contributions from a member." John always played the devil's advocate and would ask questions even though he knew the answers, because he wanted to get people interacting with each other. He would tell funny stories or jokes, and sometimes even played jokes on others, and he fostered a wonderful camaraderie between the members. Later when the DDA was called IADD, he was a great ambassador and was helpful to anyone that needed it.
Ron Murray, former President of The Rayner Company, remembers that "John would always say: 'Let's be friends, learning from each other.'" Ron and John's friendship lasted long after they both retired, through long distance calls and visits.
John never forgot his friends, and in 1996 he showed up unexpectedly at a seminar held in the Rosemont, IL area and visited with the attendees. He was delighted that several people hailed him with shouts of "Hey, Super John," and he told the then new Executive Director Cindy Crouse that he "just wanted to be sure you're all moving the Association forward." Thankfully he gave his stamp of approval when he saw all the progress being made.
In 2001, though long retired, John came to the first Odyssey in Chicago, held at the Rosemont Convention Center, to meet his old friends and also support the new venture. At that time a group of retirees from the Midwest area formed an Alumni Club, and to this day they still meet bi-monthly at different restaurants for lunch.
Although some were once competitors, friendship still grew from all the IADD events. John and Vera came to many of the luncheons, until his health failed. The group still gets together and reminisces about all the good times with the IADD and to fill in current happenings.