Frank Wagner
2010 Unsung Achievement Award Recipient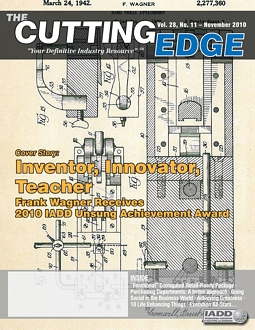 Inventor, Innovator, Teacher
Frank Wagner Receives 2010 IADD Unsung Achievement Award
At the IADD's Annual Meeting in Chicago, IL, USA, Frank Wagner of Wagner Die Supply received the IADD Unsung Achievement Award, given posthumously to leaders within our Association and industry who have gone unrewarded or unrecognized for their significant contributions to the diemaking, diecutting, and converting industry. Below is the tribute to Frank which was presented by Greg Baker, Wagner Die Supply, Inc., Ontario, CA, USA.
At the young age of 15, Frank Wagner began a journey of industry invention, innovation, and mentoring that continued for over half a century.
Born in Hungary in 1903, Frank came to the United States as a young boy and lived with his mother in Chicago, IL, USA. In 1918, he began working for J.F. Helmold & Bro.—a part of his journey that lasted 28 years and included several key industry innovations and patents, and the beginning of a dream.
While at Helmold, Frank helped develop the first seamless cutting punches that were sold commercially. The first punches produced off the belt-driven lathes were used to cut shotgun shell wads. Frank designed and developed the Eureka Bender in 1939—known today as the Helmold Bendall—which was patented in 1942, and became one of the most prevalent pieces of equipment in the diemaking trade worldwide, even today.
In 1945, Frank developed the Feed-Thru punch for Helmold, which received a patent in 1948 and became an important staple component in tooling for the automotive and gasket industries, among others.
Frank also developed several production machines while at Helmold for manufacturing ground-edge cutting rule for steel rule dies. A testament to Frank's innovation and robust quality standards, some of the manufacturing equipment that he designed and built is still in use or became the basis for modernized equipment for producing steel rule.
After a brief trip to the Los Angeles area in 1945 for a bowling tournament, Frank decided to leave Chicago and move to California in 1946. Frank and his son, Bob, started their new company in Alhambra, CA, USA in 1947 and began producing seamless cutting punches as Frank Wagner & Son. By 1950, Frank and Bob gained both national and international recognition as leaders in seamless cutting punch manufacturing.
In 1954, Frank was approached by Simonds Cutting Tools to help develop their steel rule product line. Frank spent many months in Fitchburg, MA, USA with Simonds working on and helping to perfect their steel rule line—in turn, helping Simonds become one of the world's largest producers of steel rule throughout the 1960s and 70s, into the early 80s.
Also in 1954, Frank designed and applied for a patent on the Wagner Rule Bender. A patent was granted in 1958, and his style of bender became the basis for several other manufacturers of rule benders throughout the world once the patent expired.
With the sudden passing of Bob Wagner in 1970, Frank's plans for continuing the business within the family were dashed, and he decided to sell the company to his long-time CPA, friend, and confidant, Ellsworth Knutson, whose family has retained ownership since and continues to maintain the initial values and vision that Frank had set forth over 20 years earlier for his company.
Knutson shares a few insights about Frank: "He was a first cousin of Johnny Weissmuller. According to Frank, when they were young he used to beat Johnny swimming at the Y in Chicago. Johnny went on to win 5 Olympic gold medals in swimming, 52 US National Championships, and set 67 world records, and then became Tarzan in the movies."
"Frank had only a 6th grade formal education, was born in an area that was at that time Hungary, and was sent to live with his aunt in Chicago when he was about six years old. That may have been Johnny's mother."
"He was a very intelligent person and developed several patents, some of which are still used in our industry and also some unregistered inventions such as a shotgun sight made of steel rule, one of which I still have."
"He was also a very good golfer and held the course record for amateurs at San Clemente golf course for a short time."
While Frank is responsible for many things that are now taken for granted in the steel rule diemaking and converting industries, the one vision that he never had the opportunity to personally fulfill prior to his passing in 1994—but was very passionate about—was the formation of a formal training facility for diemakers and diecutters.
Frank's educational vision and mission was finally fulfilled in 2005 with the opening of the Wagner Education and Resource Center (known as WERC) by not only the Knutsons and Wagner employees, but with the support and participation of over a dozen industry-leading companies, including Helmold, Simonds, Zimmer, Bohler-Uddeholm, Sandvik, National Steel Rule, Monroe Rubber and Plastic, Di-Ejection, Sabermatic, Cimex Corp, Dicar, Inc., Asset Machinery, Adams Technologies, and others.
Over 120 guests were in attendance at the July 2005 ceremony, including Bob Wagner's widow, to witness the fulfillment of a dream, through the dedication of the WERC facility to Frank and his son Bob, in honor of their innovations, dedication, and guiding vision for the diemaking and diecutting industries.
Without a doubt, Frank Wagner is deserving of such an honor as the IADD Unsung Achievement Award. While he may have been too humble a man to personally accept such an award if he were alive, he was indeed an industrial visionary, a pioneer and inventor, an innovator and teacher to those who had the privilege to know and learn from him, and even those half a world away, who up until now have never had the opportunity to learn about him or the value of his contributions to our industry.
I had the honor of meeting Frank in the 1980's, early in my diemaking career, and in all honesty, did not comprehend at the time how significant that brief meeting would become to me throughout my career as a diemaker.
Now that I am in a position to actively participate in carrying out his legacy through my own contributions to the company he founded, I can appreciate even more the principles he set forth in business and his unrivaled determination for continual innovation and the advancement of our industry.
I now truly understand how important Frank was, and this award is a fitting tribute to a man who had given so much for the benefit of our industry—and what better way to allow others to share in and appreciate his ongoing vision?