IADD Midyear Meeting - Co-Located with Gasketing/Converting Expo 2024
---
Sunday, March 17, 2024
to Wednesday, March 20, 2024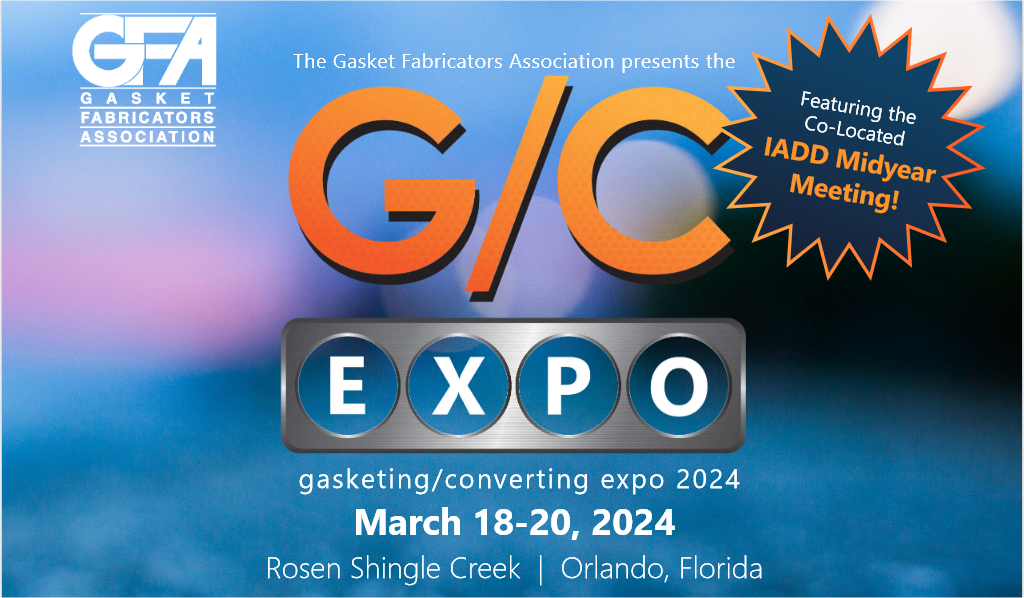 Program: When IADD combines with the Gasket Fabricators Association's highlight event for business programming and cost-effective table top displays, you'll enjoy top-tier networking and industry-related programming.
G/C Expo delivers all of that on their largest stage, with the biggest audience in a forum that attracts the best and brightest to create a valuable opportunity for everyone in the industry. Clear your calendar because the IADD Midyear and G/C Expo cannot be missed!
Exhibit Registration Deadline: January 15, 2024
Early Bird Registration Deadline: January 19, 2024
Registration Deadline: February 16, 2024
Registration Fees: IADD members receive the discounted member rate!
Exhibit at the G/C Expo 2024: If you want access to top quality fabricators and converters, there is no better way than exhibiting at the G/C Expo. The cost-effective table top display format allows you to have unprecedented exposure to decision makers without having to arrange for elaborate displays and logistics.
Please note that if you exhibited in the past, you must be a member of the GFA, FSA, IADD, or ISD in order to exhibit at the G/C Expo 2024. Non-members are only permitted to exhibit one time.
Exhibit personnel for non-member exhibitors must be full-time employees of the company. Rep agencies are not eligible to exhibit.
Register and secure exhibit space today!
Hotel: The Rosen Shingle Creek is conveniently located on Universal Boulevard just off of the Beachline Expressway. This ideal location is also minutes away from Orlando's world-famous attractions like Universal Orlando®, Wet 'n Wild®, Sea World Orlando® and others.
Hotel reservations are to be made directly with the Rosen Shingle Creek by calling 1-866-996-6338 or 1-407-996-6338. Or book your room online.
Each guestroom includes a luxurious Creek Sleeper bed, 50″ flat screen TV, safe, plush robes, mini-refrigerator, and more. Complimentary wi-fi is available in guestrooms and public areas (excluding all meeting space).
Our room rate is $219 USD plus resort fees and taxes.

Agenda
March 17
6:00 PM - 7:30 PM

Cocktail Reception for Early Arrivals

March 18
8:00 AM - 3:00 PM

IADD Board of Directors Meeting


IADD Board Members Only
4:00 PM - 5:30 PM

"2024–2025: Anticipating Business Cycle Changes"


By Jeremy Bess, ITR Economics
6:30 PM - 8:30 PM

Dinner Reception

March 19
6:30 AM - 8:30 AM

Casual Morning Walk

7:00 AM - 9:00 AM

Exhibitor Set-Up

7:00 AM - 9:00 AM

Breakfast

9:00 AM - 10:00 AM

"The DRIVEN Champion: Accelerate Your Life & Business"


By Matt Clark, Mindset & Execution Strategist
10:00 AM - 4:00 PM

Exhibit Hall Open

12:00 PM - 1:00 PM

Lunch (Exhibit Hall Closed)

4:00 PM - 5:00 PM

Exhibitor Tear-Down

4:00 PM - 6:00 PM

Cocktail Reception

March 20
6:30 AM - 7:00 AM

Casual Morning Walk/Run

7:00 AM - 9:00 AM

Breakfast

9:00 AM - 10:30 AM

"Get the Meeting No One Else Can – Intel Secrets to Find the Right Person, at the Right Time, with the Right Message"


By Sam Richter, SBR Worldwide/Know More
10:30 AM - 10:30 AM

Meeting Conclusion for IADD Members

12:30 PM - 4:30 PM

Florida Everglades Airboat Tour


Optional Activity with Additional Fee
1:00 PM - 1:00 PM

Golf Tournament


Optional Activity with Additional Fee
6:30 PM - 8:00 PM

Cocktail Reception
For More Information: