Tuesday, September 19, 2023
at
6:00 AM (CDT)
to Thursday, September 21, 2023 at 3:00 PM (CDT)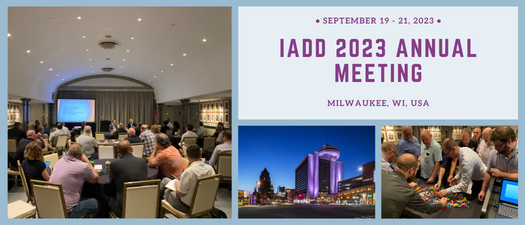 Enjoy two days filled with programming and fun! Hear from industry experts who will help prepare for the future and navigate running a thriving business in an increasingly competitive market. Connect with colleagues, friends, and mentors as we welcome newcomers and fresh ideas to keep our industry pushing forward.
Programs:

Facility Tour – Millennium Die Group
Cole Ippolite, Plant Manager
Millennium Die Group manufactures steel rule dies, including for folding carton, printed folders, gaskets, labels, control panels and overlays, membrane switches and medical disposables. During our tour, gain a new appreciation for how a die shop operates, and learn more about the daily workings and unique parts of this 70-year-old company. Whether you are new to the industry or a seasoned veteran, this educational opportunity is one not to miss!
Stack the Shack
IADD Staff
Can you communicate effectively even in the face of difficult or frustrating situations? Can you and your team build a house of cards before time runs out? Sounds simple enough, right? Communicating with your peers is an obvious expectation but at times can be difficult for some even if you don't notice it. You and your team will be tasked with building a house out of a deck of cards but with a twist!

Manufacturing People Issues
George Bureau, WMEP (Wisconsin Manufacturing Extension Partnership) Manufacturing Solutions
Over the past few years one buzz word heard again and again is "retention." Employee retention can seem like a daunting topic but in a competitive market it is an important one. During this program, reflect on thriving business' recruiting tactics and discuss slower business' efficiency opportunities, such as training and automation.
Talent & Culture Opportunities
George Bureau, WMEP (Wisconsin Manufacturing Extension Partnership) Manufacturing Solutions
Are you getting the ROI from your investment in your people? In this program, you will learn how to pay attention to the employee's experience and why it is important. Hear real examples of other manufacturers who overcame similar hurdles and how you can too. When looking at the human capital that is your employees, success for them is success for you!
Awards Dinner & Recognition
Network with your fellow members while enjoying delicious food. Celebrate award recipients as we honor their achievements with IADD.
Supply Chain, The Real Update
To Be Announced
What is a digital supply chain? Does it affect your company, and how? Supply chain management has evolved over the past 50 years to become a highly sophisticated, technology-dependent and collaborative discipline that combines the business functions of purchasing, operations, inventory management and warehousing, customer service and logistics. This program will equip you with the competencies and tools that you need to understand and lead the change in the transition from physical to digital supply chains.
Who's on Deck?
To Be Announced
While there is not a crystal ball or magic set of cards that can tell us the future, it is important to be thinking of what comes next or who might be next in line. The industry has seen many retirees in the last few years. This leads to the question, who's on deck? Learn what employers are looking for in a leader and how mentoring the next generation can lead to big returns.
Agenda
September 19
8:30 AM - 4:00 PM

Board of Directors Meeting

6:00 PM - 8:00 PM

Welcome Reception

September 20
8:30 AM - 12:00 PM

General Sessions (including Millennium Die Group Facility Tour)

12:00 PM - 1:15 PM

Lunch (on your own)

1:00 PM - 2:15 PM

General Sessions

6:15 PM - 7:00 PM

Reception

7:00 PM - 10:00 PM

Awards Dinner

September 21
9:30 AM - 12:00 PM

General Sessions

12:00 PM - 1:00 PM

Business Meeting
For More Information: