President's Column - December 2022
Date posted
November 15, 2022
Hello Loves!

I find myself facing the challenge of article two. The thing is, it's October 3rd and I really want to write about my experience at the South Chapter Golf Outing that I attended last month. But this article comes out for our December edition, so how can I pass on writing all things holiday related?

You can see the pickle I find myself in.

But I like a good challenge… What to do, what to do?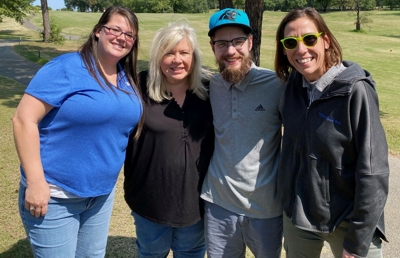 I know! I am going to talk about my South Chapter experience, just like I wanted but I am going to ask you, my loves, to see the parallel I drew.

Why do I want to share this with you? DG (Darrel Griffin, Stafford Cutting Dies, Inc.) will do his annual write up on it to tell you how kick ass it was, like he has 14 years in a row. So why am I insisting to do the same? Because my experience of this trip had spirit from start to finish. This trip truly captured the spirit of the IADD strongly for me. And in my eyes, it's no different than the holiday spirit.

So, here's my experience.

It was an early Wednesday morning start. I needed to leave the house no later than 6 am. Although I have experienced plenty of travel at this point in my career, I am only slowly finding my rhythm again as I re-emerge into the travel world. Both my recovery and minimal travel during the Pandemic have thrown me off my game a bit. As my fourth Uber driver cancelled on me, I began to feel my travel anxieties awaken. I climbed back up the stairs as I tried to lull them back to sleep. It was my brother who I needed awake! I knocked on his bedroom door and informed him Plan B was a go and then "patiently" waited for him to get the sand out of his eyes and his butt in the car! We bickered as we pulled out of the driveway in his car, running on fumes, as mine sat idle with a full tank.

Ten minutes into our commute, I could see that the traffic pattern wasn't quite the norm. An accident had added at least 30 minutes… It's at this point that I'm able to release the majority of my anxiety. Clearly the universe wants me to run out of gas on the side of the highway and find a different flight! This is out of my hands and whatever shall be shall be. Tom (my brother) and I relaxed into conversation for the remainder of the ride. Maybe a little too relaxed… One extra loop around the airport and finally I'm ready for the airport challenge of this journey! Once inside, and I still don't know why, but a security guard led me right to the front of the line. Whatever the reason, I was grateful! I was in my seat and able to check my phone before take off, and I saw that Tommy Boy was able to make it to a gas station and was even to the office early. Whew!

When I landed in Charlotte, NC, USA, Rob Melbert, Essential Products, picked me up at the airport. We chatted off each other's ears until we got to Stafford Cutting Dies Inc. Once at Stafford, DG joined in the chats and brought us up to speed on what's been done and what was left to do. With the help of Jennifer Caskey, Cliff Little and Austin Murray (Stafford), we packed the cars up and headed to Jamestown, NC, USA.

Once in Jamestown, we assembled our Bag Crew and got busy! This year's crew included: DG, Jennifer, Cliff, Austin (Stafford), Jeremy Guest and Chad Craig (Diansuply, Inc.), Gino Gualtieri (Central Die Supplies Inc.), Rob McCann (Bobst North America Inc.), Rick Putch and myself (National Steel Rule Co.). On year 15, I gotta say, we are impressive. We had the gift bags done in no time and ventured over to Ruby Tuesday's to see what's on tap!

Our Thursday morning for the outing started early. We ordered some breakfast to go, loaded the cars back up and headed to the golf course. The course welcomed us right in and let us get organized and set up. As golfers and volunteers alike trickled in, I couldn't help but smile. Although I'm not quite recovered enough to golf yet, it felt good to get out. I gave out hugs left and right and saw some faces I haven't seen in years.

While Austin and I had a fabulous day together, riding around in the Rehydrate Cart, snapping pics, making new friends and chatting with old ones, we couldn't help but notice we weren't quite as in demand as the Dehydrate Cart driven by Anne Barrett (Carton Craft Supply Inc.) and Sarah Farley (Ameritek, Inc.). Hmmm.

Around 1:30 or 2:00pm, we switched gears and drove back to the clubhouse, so we could get the gazebos ready for the barbeque and prizes. As we pulled up, I saw a tuft of white hair that made me blink my eyes and do a double take. Clint Medlock has arrived. WHAT? That guy is so cool! I had tried my best to not discuss at all with any of my fellow volunteers that DG was going to be honored with an IADD Pillar Award. I wasn't sure if his fellow Stafford colleagues knew or not. (They did not).

As the golfers finished their rounds and settled into the picnic benches with heaping plates of Cookie's 'Que, DG gave thanks to all of the golfers for coming out. Gino Gualtieri took over the mic to present DG with his very deserving award. Darrel was honored with his Pillar Award. It was so neat to see him receive the award in front of some fellow Stafford folk. They all should be proud. I know I am!

As the event broke up and people headed home for the day, I helped clean up and firmed up plans with the stragglers and locals. I had a lovely evening out with Sarah Farley, Rob McCann, Anne Barrett, Jerome Wojciechowski and Rick Ruckh (Carton Craft Supply Inc.), Gino Gualtieri, Ed Riga (Impact Alliance LLC), Wade Hartman and Mark Gocklin (Keystone Folding Box Co.). The weather stayed perfect for us and we all enjoyed each other's company and good conversation. I think the food was good, but I'll be honest… I was still so full of Gary Cooke's barbeque, I barely ate!! The company is why I was there anyway though. I got to sit down with a group of people that I really, really enjoy and just hang out. We bull-frogged all night, whatever that means?!?! (I'm still not sure I get it!)

Rob McCann earned himself a 5-Star Uber rating making early morning rounds gathering a few bodies to bring with him to the airport. Wade, Mark, Rob and I all had early flights back to Newark, NJ, USA. Thank goodness for these guys! They all helped get me through Greensboro's, NC, USA airport and made sure I was all good once we'd landed in Newark.

See what I mean? How can I not be proud to be your Lady Prez? Y'all treated me and each other with such respect and kindness. It's times like these you learn to live again. It's times like these you give and give again.

THIS is the IADD spirit. And I felt it strong. Keep it alive and well, my loves!

Wishing you all the happiest of holidays!


Jennnifer Thoroe,
IADD President

jennifer@steelrule.com
Jennifer Thoroe is Director of Customer Service & Business Development for National Steel Rule, a steel rule manufacturer based in Linden, NJ, USA. She joined forces with National on November 1, 2018 after working in the industry and volunteering with the IADD for over 15 years. She moved up to NJ from GA in the summer of 2019. One pandemic and three moves later, Jennifer is finally settling into her home near the Jersey Shores with her awesome super-fantastic brother Tom and his even cooler dog, Kelowna.

She has consistently used her time and talents to bring greater value to IADD members, whether through chapter activities, managing volunteers, Board service or overseeing myriad membership recruitment and retention activities. For this, Jennifer received the 2017 IADD Cutting Edge Award, one of the Association's highest honors. She is the first woman to serve as IADD president.
The President's Column appears in The Cutting Edge, the IADD's monthly magazine.