President's Column - February 2023
Date posted
January 15, 2023
Let's talk chicken!!

What?

Yeah, it sounds a little weird, but hear me out.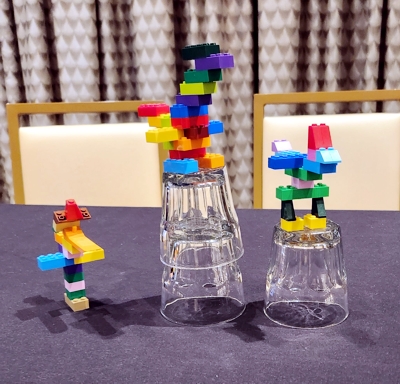 What if I told you I was talking about chickens with one foot?! A dinosaur chicken? Chickens with a wingspan like Jordan?!

Well, you'd probably not think this was any less weird… yet.

I'm talking Lego chickens!!

Recently, I was teamed up in a group of four and we were given a task. The teams were composed of three builders and one designer. I was the designer. My task was to quickly study the design of a Lego chicken and to the best of my ability communicate back to my teammates on how to construct that same chicken.

The challenges were immediate.

First, I was a little anxious. I am not embarrassed to admit that. I am a 40 year old woman and I have never been a designer to a team before.

I realized after studying the print and memorizing the color combo of legos would not work as IADD CEO Jenny Holliday shouted "the colors of the legos do not matter!!" Not only did the color not matter but also, turns out it is also not indicative of a certain size or shape.

Well, crap!

This all would have been useful to know two minutes ago!!!! It seems I may have misused my 90 seconds to study the print!

Sneaking a quick glance at my table (which was NOT allowed), I saw my team had already built an entire chicken. I looked around the room at other teams' tables. They all had!! WTF?!? Now I realized we had to try and communicate how to redesign work they had already begun… just based off the concept of such a creation. Whoa! Designers had our work cut out for us!

Communication was definitely a challenge here, but it wasn't the only challenge. There were more variables at play. More things to be considered.

Not only did we have to try to communicate how to properly build a chicken but also try to convince our teams to make the changes needed to be able to build the proper chicken. There was a point system involved that allowed the builders opportunity to speak to their designer more as well as go back to the "lego store" to trade out pieces for a redesign.

The goal of course was points!! In the real world; points are money.

There were so, so many things that I loved about this challenge.

It was interactive. It tested team-skills. It tested communication skills. It produced a lot of creative Lego chickens!

The thing I loved most of all?! TAKING FIRST PLACE!!!! Just kidding. Although it's up there!!

What I love most is that I am able to get past my anxieties now with my IADD family. I look around the room now and I am able to realize that I am not the only one feeling a little nervous; a little uncomfortable with these types of new challenges. That's the point. That's why we're here. Growth.

I also love that this activity represents only 90 minutes of our Annual Meeting in San Antonio, TX, USA in October 2022. I took away valuable lessons from each activity I participated in and every speaker that we had.

Turns out there is quite a lot about the IADD to L-O L-O L-O L-O-V-E (I'm talking 'bout love)!

If you weren't able to join us to help us celebrate our 50 years at our Annual in Texas, I do hope you will join us in Milwaukee, WI, USA for our Odyssey Expo trade show. If you can't make it to an event but still want to get involved, please let me know. I would love to hear from you!




Jennnifer Thoroe,
IADD President

jennifer@steelrule.com
Jennifer Thoroe is Director of Customer Service & Business Development for National Steel Rule, a steel rule manufacturer based in Linden, NJ, USA. She joined forces with National on November 1, 2018 after working in the industry and volunteering with the IADD for over 15 years. She moved up to NJ from GA in the summer of 2019. One pandemic and three moves later, Jennifer is finally settling into her home near the Jersey Shores with her awesome super-fantastic brother Tom and his even cooler dog, Kelowna.

She has consistently used her time and talents to bring greater value to IADD members, whether through chapter activities, managing volunteers, Board service or overseeing myriad membership recruitment and retention activities. For this, Jennifer received the 2017 IADD Cutting Edge Award, one of the Association's highest honors. She is the first woman to serve as IADD president.
The President's Column appears in The Cutting Edge, the IADD's monthly magazine.