President's Column - July 2022
Dear IADD Members and Industry Friends,

When it was formed 50 years ago, IADD's leaders quickly understood that the key to industry and association success is education. In fact, the IADD's Statement of Purpose declares, "By sharing collective knowledge, expertise and information, the IADD leads and stimulates creativity and innovation, provides opportunities for professional growth, serves the diverse needs of all industries engaged in diecutting and demonstrates commitment to ensuring progress through participation." Through the years, the IADD has grown more sophisticated, not only in the topics offered, but in the methods of providing those offerings.

In this seventh article in a series leading up to the IADD's 50th Anniversary Annual Meeting in October 2022 in San Antonio, TX, USA, we will explore just a few of the many examples of how education and training have been among the most important contributions of the IADD to the industry.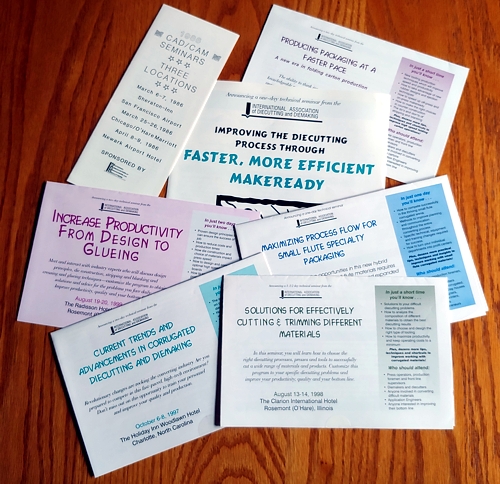 Right from the start, the IADD produced high quality, targeted seminars, panels, keynotes and demonstrations, whether it be managerial programs like Managing the Small Rapidly Growing Firm (1977), A Diemaker's Secret of Success (1978), Financial Planning (1980) or Managing the Manager (1981), or technical programs like Reciprocating Autoplaten Diecutting (1978), Uses of Laser (1980) or CAD-CAM Rule Manufacturing (1983). For five decades, various iterations of education committees, program planning task forces, chapter officers, ad hoc program groups and now the Technical Services Committee have provided valuable content for a multitude of midyear, annual, chapter, Xchange and stand-alone meetings. It's impossible to state exactly, but looking through the archives, I would estimate that the IADD astoundingly has presented several thousand topics throughout its 50 years!

We know that creating effective training for adult learners requires acknowledging their unique characteristics and tailoring the training accordingly, which is why the IADD continues to expand on the ways that it delivers education to the industry. Not every employee can travel to meetings, so in the early 1980s IADD created a self-teach manual on hand rule bending, complete with pre-lasered dieboard. Also popular were a series of printed publications covering in-depth technical topics on both the flat and rotary sides of the industry. As time elapsed and technology improved, these have made way for digital downloads and videos of the same important content.

Chapters were some of the first to explore hands-on training at local meetings in skills like rule bending, nicking and rubbering, and in the late 1990s they even held classes in computer navigation and online ordering, with attendees seated at individual PCs to learn how to use a mouse (!!!) and hone their skills. Ultimately, standard-style presentations were expanded to include mini-trade shows, diemaking and diecutting facility tours and on-site demonstrations. In 2001, IADD unveiled the Odyssey Expo, a cornucopia of education, training, vendor displays and networking—people who attend often describe it "like being a kid in a candy store."

These days, as on-demand learning became a priority for many, IADD was proud to unveil its Diecutting Academy, a foray into online education in cooperation with The Packaging School, with Diecutting 101 as its first course. Training available anytime, anywhere, and at the student's own availability and pace. Feedback has been very positive so far, and since there is such an interest and need for this type of training, the IADD has decided to expand its offering with the development of a sister course called Diemaking 101. Release is expected sometime before the end of the year, and further offerings are being evaluated.

No matter how it is delivered, if you are an employer, it is important to remember that adults seek training to improve their job performance by learning the latest developments in their field, building on their skills and enhancing their effectiveness. They may also attend training for personal growth—to expand their horizons by acquiring new information, developing new skills or fulfilling inner desires. Are you providing your employees with these education and training opportunities? Are you providing follow-up support to help them incorporate what they have learned into their daily practice?

With so many ways to get educated, there's no excuse for not investing in your employees. ROI is not limited to performance and productivity improvements, but also to employee satisfaction and feelings of fulfillment, which help foster loyalty and belonging. A win-win scenario!

Take care,




Gino Gualtieri,
IADD President

ggualtieri@centraldie.com
Gino is Vice-President of Central Die Supplies Inc., a wholesale distributor of diemaking, diecutting, converting and printing supplies, located in Montreal and Toronto, Canada. He lives in Montreal with his fantastically amazing wife of 16 years, Rosa, and their awe-inspiring daughters, Isabella and Ariana.

Gino has been working at the family business since his teens, but really dedicated himself to the company after getting his undergraduate degree in engineering in 1998. Central Die Supplies has a super team of colleagues that he is happy and grateful to be a part of.

Gino grew up playing hockey, baseball and soccer (football outside of North America). More recently, he was an avid participant in obstacle course races and other trail runs. Getting older is not easy, so he has turned his physical activities towards yoga and rowing. It is important to stay active to keep up with the kids!

Otherwise, Gino likes to travel, is an avid listener of podcasts and audio books, and loves watching quality TV shows through online streaming services like Netflix and others.
The President's Column appears in The Cutting Edge, the IADD's monthly magazine.