Back to Products
VIDEOS V-019
Videos | V-019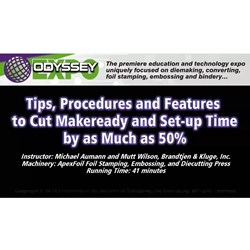 Tips, Procedures and Features to Cut Makeready and Set-Up Time by as Much as 50%
Press runs are shorter and expected turnaround times are decreasing. Consistent, achievable procedures and new technology will help decrease press set-up and makeready times. This video, recorded at Odyssey 2019, covers techniques and accessories that can speed the makeready process, along with new features in the market that address the key properties of foil stamping and diecutting: Time, Temperature and Tonnage. Learn about new patented features to control these three Ts. Recorded 2019.

Instructors: Michael Aumann and Mutt Wilson, Brandtjen & Kluge, Inc.
Running time: 41 min.
IADD members* receive a 25% discount on most items; login to access your discounted product.
Member discounts are only available to active IADD patron, company, affiliate and associate members in good standing. *NOTE: Individual membership is a modified form of membership which is not eligible to receive this discount. If you would like to upgrade your membership, please contact us.
---