Back to Products
VIDEOS V-211104B
Videos | V-211104B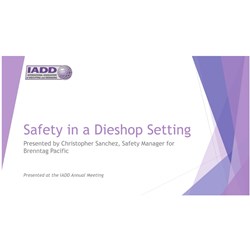 Safety in a Dieshop Setting
There are many potential hazards in a dieshop. In this session, you will learn best practices to keep employees safe and safety audit tips to ensure your shop meets the most common safety standards. The program covers:
OSHA Inspections
Employee Training and Safety Meetings
Near Miss Items
Emergency Action Plans
OSHA Emergency Temporary Standard
This video was recorded at the 2021 Annual Meeting.
Running time: 52 min.
IADD members* receive a 25% discount on most items; login to access your discounted product.

Member discounts are only available to active IADD patron, company, affiliate and associate members in good standing. *NOTE: Individual membership is a modified form of membership which is not eligible to receive this discount. If you would like to upgrade your membership, please contact us.
---