Back to Products
VIDEOS V-806
Videos | V-806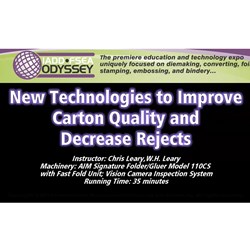 New Technologies to Improve Carton Quality and Decrease Rejects
This video, recorded at Odyssey 2015, provides an overview of the latest in quality control/inspection options that can help decrease overall rejects on a folding/gluing machine as well as virtually eliminate human inspection processes. Topics covered include in-line print inspection, camera inspection of glue, inserts, flaps, etc., carton traceability with a cloud database, as well as developing a QA system for efficient rejection modules. Recorded 2015.

Instructor: Chris Leary, W.H. Leary
Machinery: AIM Signature Folder/Gluer Model 110CS with Fast Fold Unit; Vision Camera Inspection System
Running time: 35 min.
IADD members* receive a 25% discount on most items; login to access your discounted product.

Member discounts are only available to active IADD patron, company, affiliate and associate members in good standing. *NOTE: Individual membership is a modified form of membership which is not eligible to receive this discount. If you would like to upgrade your membership, please contact us.
---